This post is also available in: Español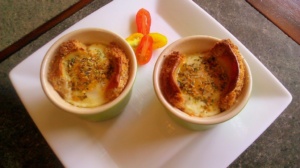 I love France and their food concept, simple but elegant always letting the product be the star on the plate and on the palate. When treating my husband for brunch I prepare this special breakfast that I have named "French Breakfast", bon appétit!
INGREDIENTS
2 eggs per person
Slice of buttery bread (could be any kind, croissant, and brioche)
Slices of creamy gruyere cheese
Butter
French herbs (Herbes de Provence)
Salt
Preparation time: 15 minutes. Serves as many people as you like just have enough ingredients. Approximate cost per person $1.50 depending ingredients market price. Check for local market availability. You will need ramekins, oven and a cookie sheet.
Turn on the oven and let it reach 415oF, butter the ramekins, place the slice of buttery bread, add the slice of gruyere cheese, crack the egg on top, place a small cube of butter on top, salt, and drizzled with French herbs. Place the ramekins in the cookie sheet and cook in the oven for 10 minutes. Check the oven you don't want to overcook, the egg has to be silky consistency.
Serving suggestion: Place the ramekin in a plate accompany with petite tomato or with fruit and voilá you are in for a delicious and romantic meal in no time!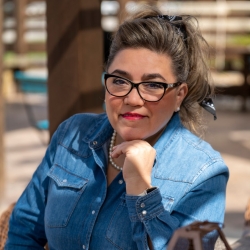 Latest posts by Chef Adriana Martin
(see all)