This post is also available in: Español
This shop and recipe for the Pastor Pork Chops has been compensated by Collective Bias, Inc. and its advertiser. All opinions are mine alone. #AllNaturalPork #CollectiveBias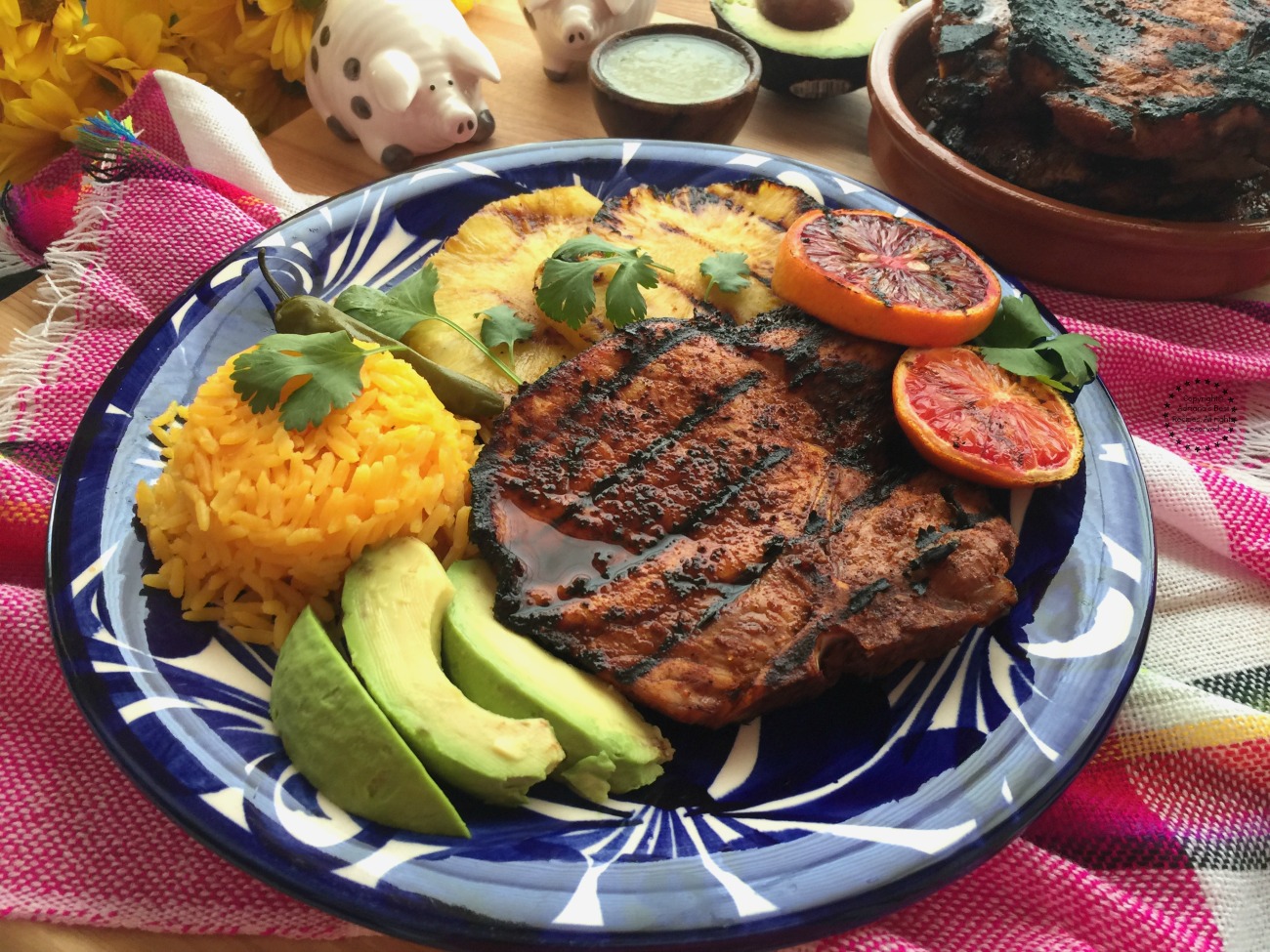 Grilling season has started at Adriana's Best Recipes test kitchen and we just prepared a mouthwatering recipe for Pastor Pork Chops using Smithfield All Natural Fresh Pork, fresh blood oranges, pineapple and traditional Mexican seasonings. But the best thing of all is that this dish, aside from being finger-licking is ready in less than 30 minutes!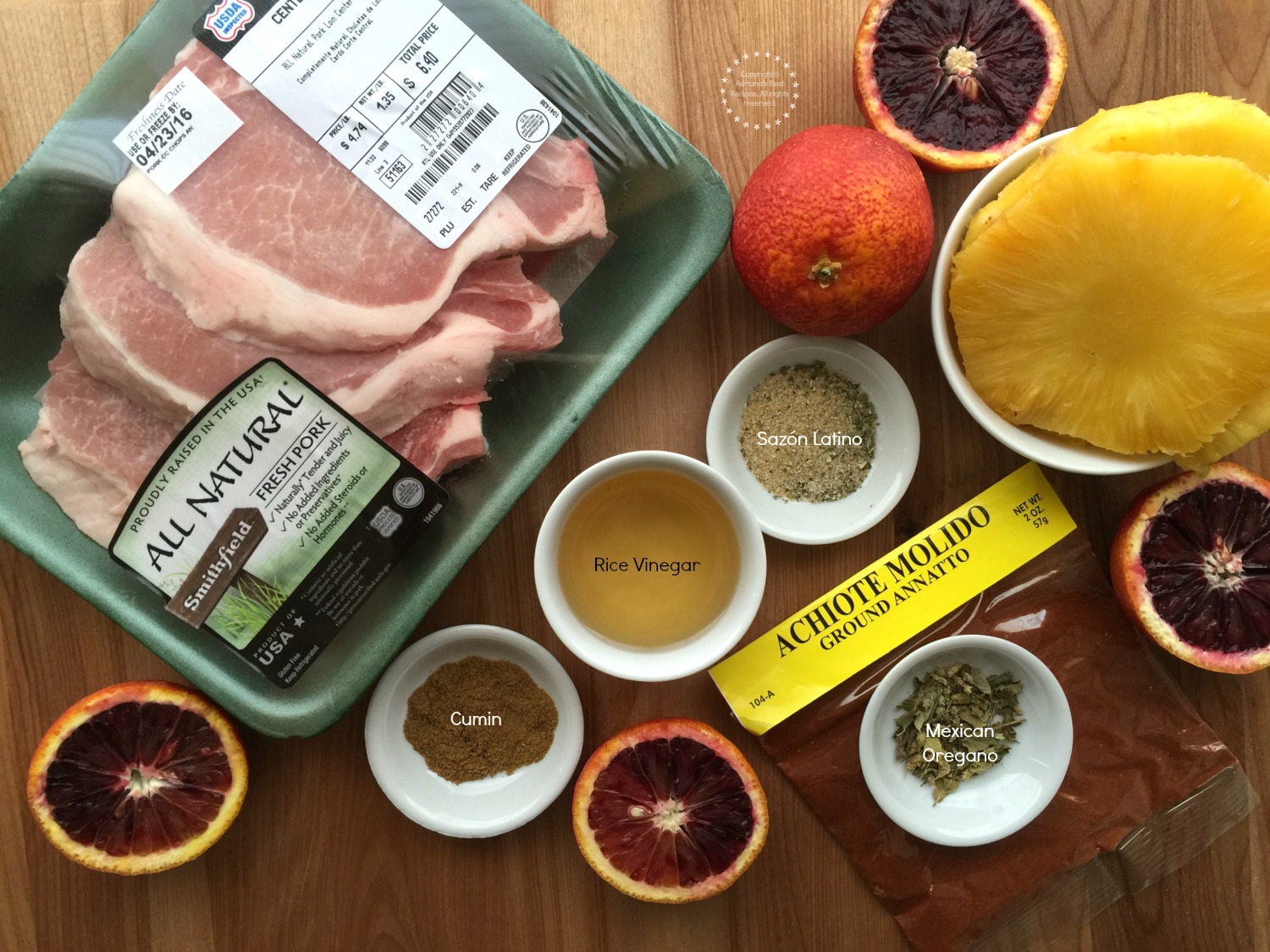 Al pastor style cooking equals infusing a lot of flavor with a marinade made with achiote, citrus juice, vinegar, oregano and cumin. In Mexico when you say the magical words "al pastor" it is synonymous of a party of flavors in your mouth, plus the enjoyment of an interesting pairing with grilled pineapple, cilantro and salsa verde to complete the bite. Typically for al pastor pork the recipe calls for thin pork steaks however I am suggesting the use pork chops because they are easy to prepare and packed with flavor.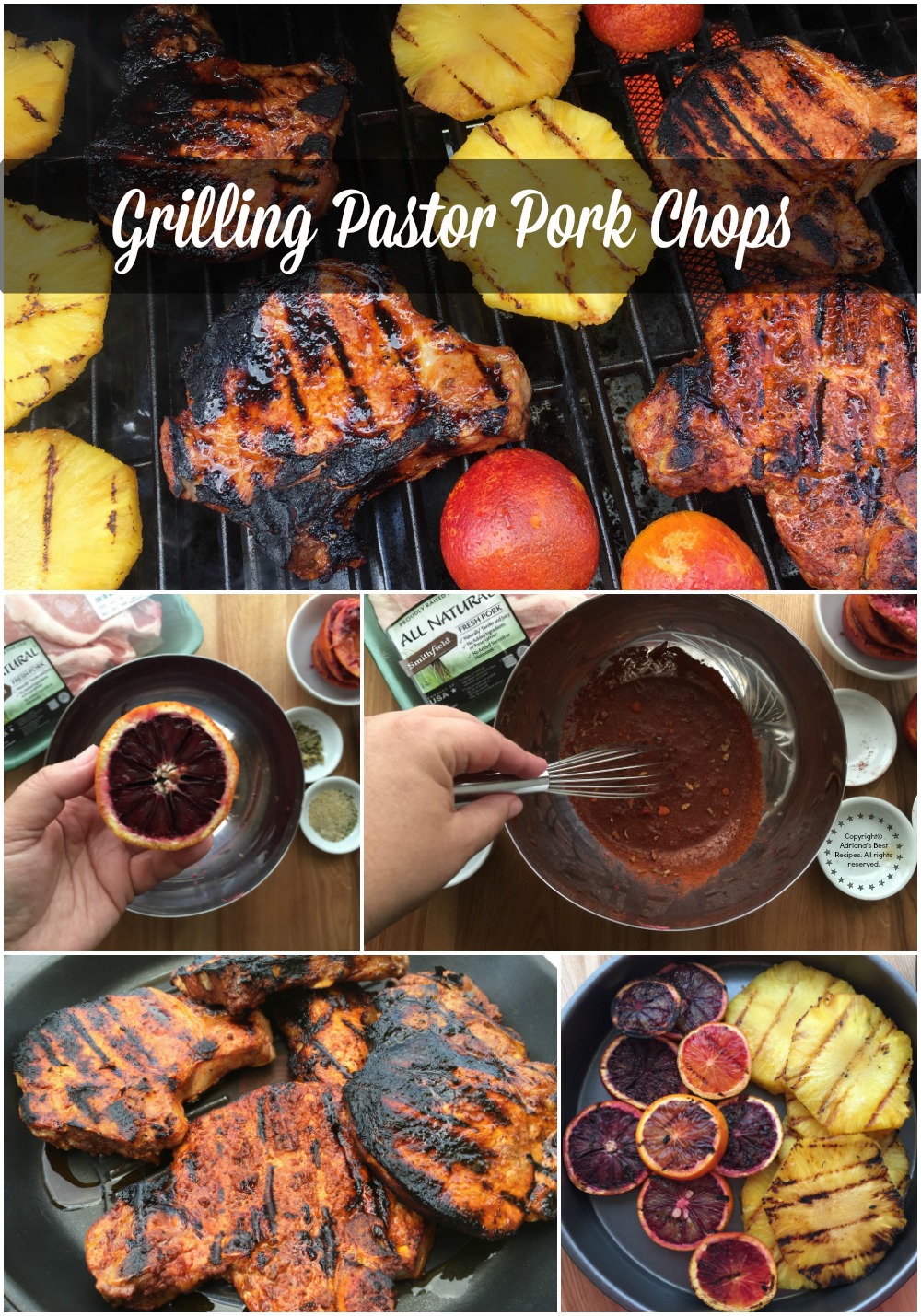 I have chosen the Smithfield All Natural pork chops because they are juicy and tender. This is very important when grilling with direct fire. You want to have a meat that can hold the searing temperature without becoming tough. Aside from the fact that the Smithfield All Natural Pork Chops are free of added steroids, hormones or artificial ingredients. Another plus when bringing quality pork to my table.

Now you can earn .75 when you purchase (1) Smithfield All Natural Fresh Pork (while supplies last) at Walmart.
In my latino culture we eat pork meat very often, and my family loves when I have a pork dish for dinner. And Smithfield All Natural Fresh Pork helps me with that.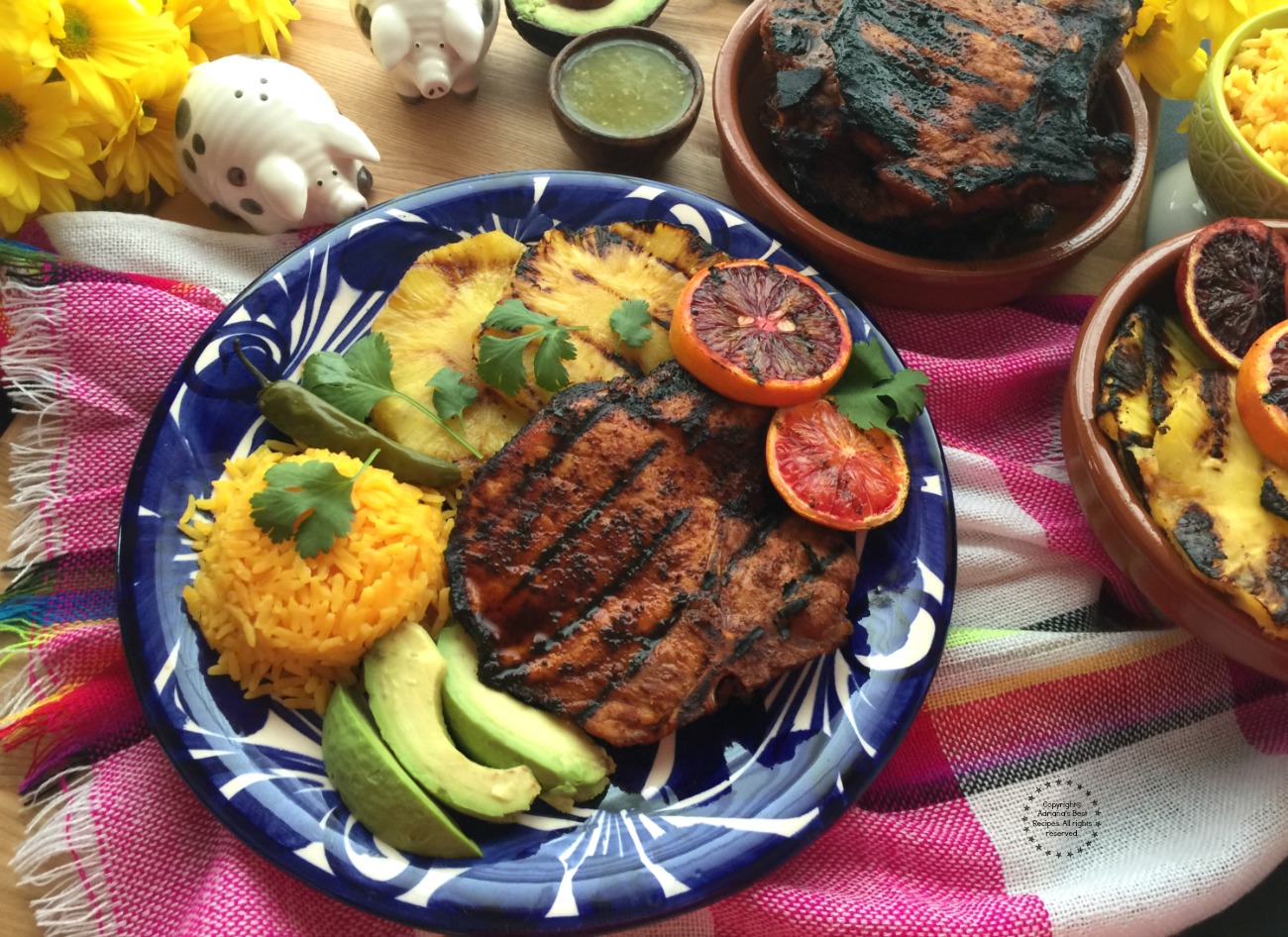 This brand sells high quality pork meat that it is easily prepared and cooked using different techniques, such as: grilling, roasting in the oven or sautéed in a pan stove top.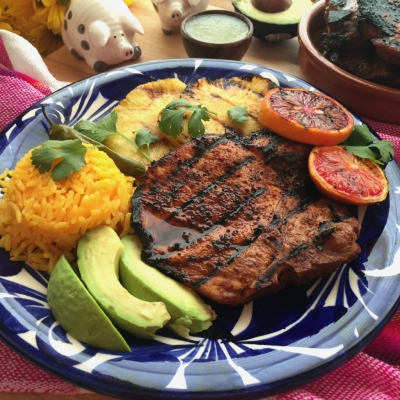 Pastor Pork Chops
Grilling season has started at Adriana's Best Recipes test kitchen where we cooked mouthwatering Pastor Pork Chops with Smithfield All Natural Fresh Pork.
Ingredients
2

packages of Smithfield All Natural Fresh Pork Chops

6 bone-in pork chops

6

blood oranges

1/2

cup

of rice vinegar

1

teaspoon

of cumin

1

tablespoon

of latino seasoning

1

teaspoon

of Mexican oregano

2

tablespoons

of ground annatto

6

slices

of fresh pineapple
Instructions
Start making the marinade combining the juice of three blood oranges, the rice vinegar, the cumin, the latino seasoning, the oregano, and the ground annatto.

Stir with a whisk and add the pork chops. It is recommended to leave the meat at least for 15 minutes so that the meat can absorb the flavors.

Turn on the grill on high and let it reach the appropriate temperature. Grill the pork chops on direct flame and sear for five minutes on both sides. Move the pork chops to a lower temperature grilling rack and continue cooking for 10 minutes. Meat will be ready when reaching an internal temperature of 145°F. Move the meat out of the grill and let it rest. Do not slice.

Grill the fruit no more than 3 minutes on each side until getting the grilling marks and get ready to serve the pork chops.

You can enjoy the pork chops with a side of yellow rice, avocado slices and salsa verde.
I have been visiting pork farms in the United States and I can tell you the Smithfield All Natural Fresh pork chops I am using in this recipe for Pastor Pork Chops came from porks raised in the US by family owned farms that hold the Smithfield® brand very highly. Because their products are made with commitment, care and compassion.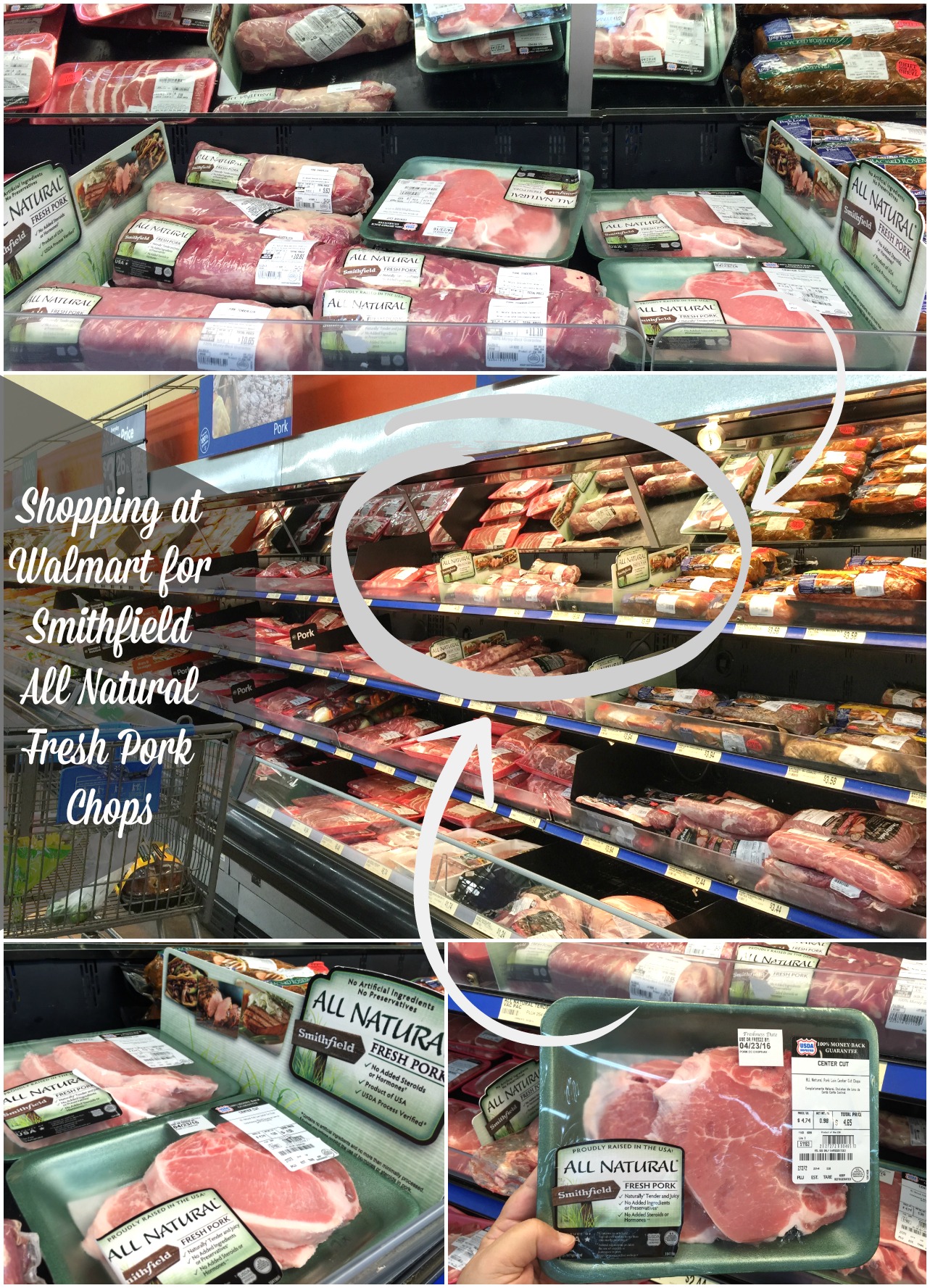 I am glad that I can find my favorite Smithfield All Natural Fresh Pork at my local Walmart. Where you can find an array of options, such as: Smithfield All Natural Back Ribs, Smithfield All Natural Pork Tenderloin, Smithfield All Natural Boneless Loin Filet, Smithfield All Natural Boneless Pork Chops, Smithfield All Natural Shoulder Roast and Smithfield All Natural Bone-In Pork Chops.
To learn more about how Smithfield® provides quality pork, visit this site.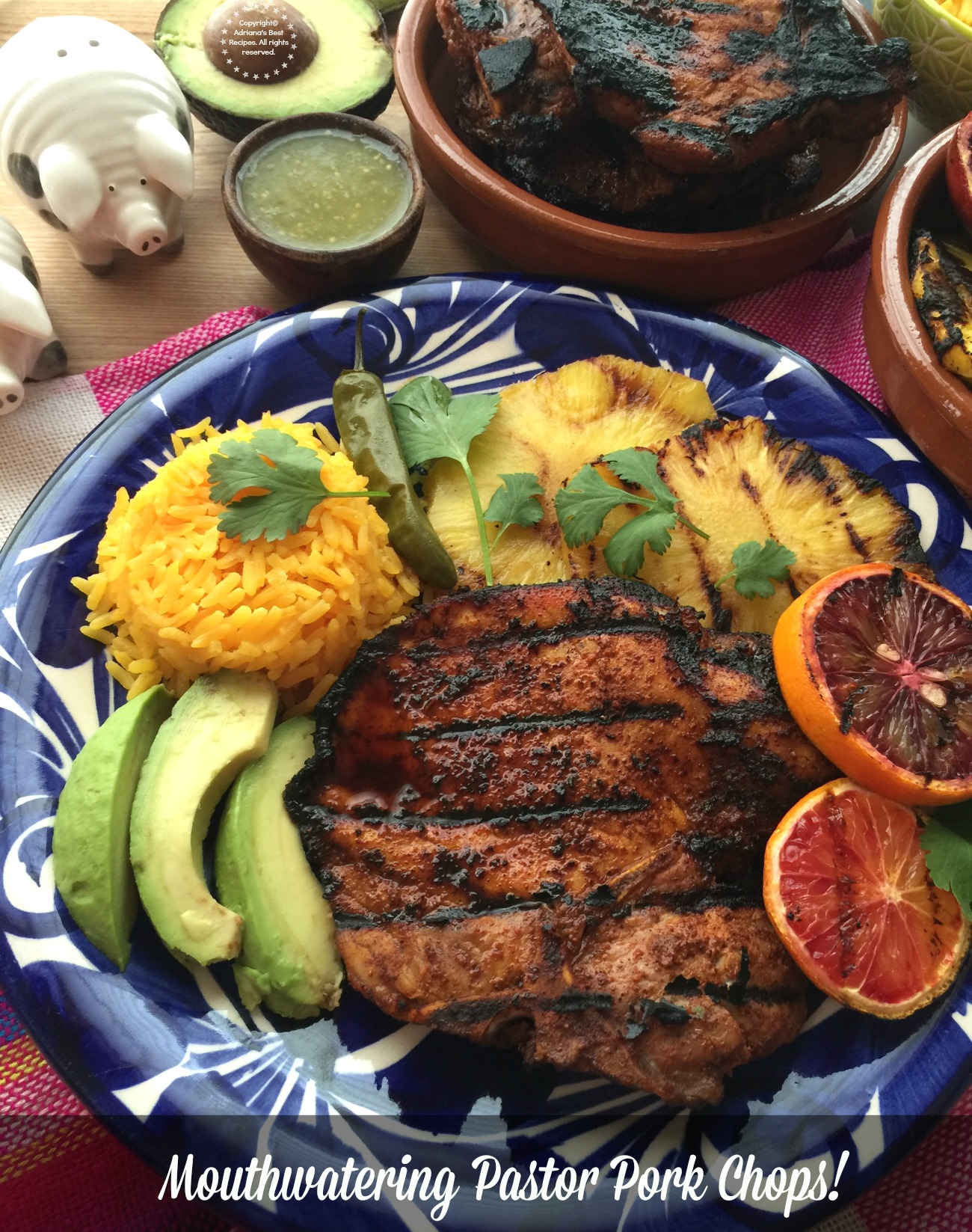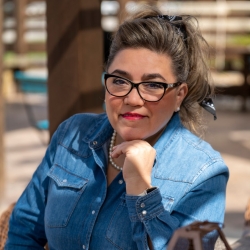 Latest posts by Chef Adriana Martin
(see all)