This post is also available in: Español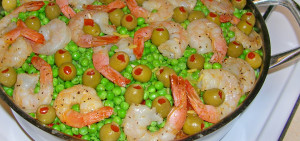 Preparation time: 30-35 minutes
Serves 5-8 people
For me paella is a celebratory meal. In my family Mama Licha my abuela used to cook it and make it a family and friends affair. We all would have a task to complete, then join the backyard where a wood fire would be ready to prepare the best paella, authentic Spanish olive oil, lobster tails, chorizo, chicken thighs, shellfish of many kinds, pimentos and of course lots of fresh azafran  (saffron) and long grain rice. This task was difficult, though end result incredible. Here is my version of my abuela Alicia's paella, less complicated but marrying all the celebratory smells and flavors. This dish is great to serve in any occasion including a super bowl or a family get-together.
INGREDIENTS
Chorizo Cantimpalo (Spanish sausage) 4 links cut in rounds
Chicken tenderloins in squares, 1 pound; could replace with 4 thighs or 2 breasts cut in 2 pieces each
Jumbo size uncooked shrimp (deveined and cleaned), 1 pound
2 cups of frozen petite peas
3 canned pimentos cut in strips
2 green peppers cut in small cubes
30 pimento stuffed Spanish olives
2 medium garlic cloves or 1 elephant garlic clove
2 cups of parboiled long grain rice
2 cups of chicken stock
2 cups of hot water
Saffron, Spanish olive oil, salt and pepper
Preparation time: 30-35 minutes. Serves 5-8 people. Approximate cost per person $10.00 depending on shrimp, saffron and imported from Spain olive oil market price. Those ingredients are on the expensive side. Check for local market availability and buy when in season or on sale. You will need three bowls in the cooking process as well as a "paellera" or a pan intended to cook rice.
Turn on the stove and cook the Spanish sausage in a big pan preferably a "paellera", no need to add (oil chorizo has a lot of fat), wait until golden brown. Retire from the pan and set aside in one of the bowls. Use renderings from the sausage to fry the chicken. Make sure chicken gets fully cooked, use a thermometer if necessary. Put cooked chicken in a separate plate or a bowl. Take the shrimp and precook for few seconds don't fully cook it you just want to have the flavors of the chicken and the renderings of the sausage into the shrimp. Take out the shrimp from the stove and locate in a different bowl. In the same pan add a small amount of olive oil, fry the green pepper and the garlic at medium fire, add the rice stir, add the 2 cups of chicken stock and one cup of boiling water, saffron, salt, and pepper. Add the chicken, the chorizo and the stuffed olives, try to distribute evenly. Cover and reduce fire. Wait 15 minutes then add frozen petite peas and the pimentos strips. If necessary add more hot water. The secret for non sticky rice is to control water and not stir the grains, remember that the water has to be hot to avoid uneven cooking. Wait 10 minutes add the shrimp and cover pan again. Shrimp cooks very fast avoid overcooking as shrimp tends to get chewy if left longer. Turn off the stove and be ready to enjoy a wonderful meal.
Paella can be served along with grilled asparagus, a simple green salad and paired with a full bodied Spanish red wine like Marques de Caceres. If full bodied wine is not your taste try a younger red: Beaujolais or Concha y Toro.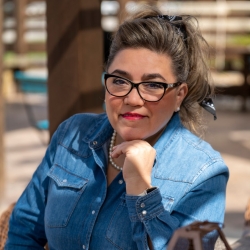 Latest posts by Chef Adriana Martin
(see all)