This post is also available in: Español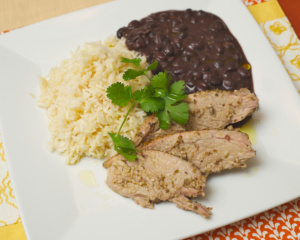 My husband is Cuban and his family eats pork in special occasions like Christmas, weddings and birthdays, and of course they use "La Caja China" for roasting. To celebrate my husband's heritage here you have my own Cuban style pork loin version approved by my mother in law.
INGREDIENTS
2-3 pounds of good fresh lean pork loin
Full head of garlic cloves or 3 elephant cloves finely chopped
1 cup of lemon juice or naranja agria
Cumin, oregano, black pepper, olive oil, salt or sazon
Preparation time: 30 minutes though needs to rest overnight in the fridge. Serves 8-10 people. Approximate cost for this recipe is $3.00 per person. You will need a roasting pan, a crystal or plastic container with a cover or saran wrap, aluminum foil and an oven preferably gas oven.
Place the pork loin in plastic container, rub the oil, spices, salt, and add the lemon juice, then the chopped garlic on top. Cover and let it rest in the fridge for 24hrs. Following day take it out of the container, and place in a roasting pan, add more olive oil, cover with aluminum foil and cook at 410oF for 20 minutes. Take off the foil and cook for other 10 minutes to allow browning. Use a thermometer to make sure pork is cooked. Take it out of the oven and let it rest before cutting. The leaner the pork the fast it cooks, do not overcook to avoid meat to be leathery or dry. You want juicy and flavorful pork.
Serving suggestion:
Cut in slices and serve with white rice and black beans, garnish with chopped cilantro and a slice of lemon.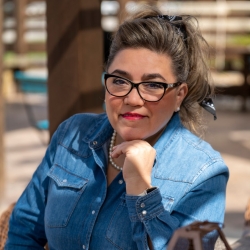 Latest posts by Chef Adriana Martin
(see all)