This post is also available in: Español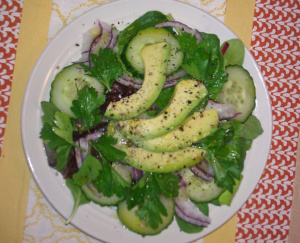 This is a great way to start a meal. I name it green because I use seasonal green veggies. Lettuce and field greens have health benefits and is a refreshing way to start the palate. Try to use the freshest ingredients for better results. Butter lettuce and baby spinach add a buttery texture while arugula gives a spicy flavor. Lots of different selections can be found at your local supermarket. Start tasting them all!
INGREDIENTS
1 bag of field greens or spring mix
1 avocado Hass
1 cucumber
1 green bell pepper
Slices of red onion for color and additional flavor
Preparation time: 10 minutes. Serves 4 people. Approximate cost per person $3.00 depending on Greek olive oil market price. Also avocados could be expensive when not in season. Can replace with other green ingredient or not use it. Check for local market availability and buy when in season or on sale. You will need salad plates and a bowl or a dressing mixing bottle/shaker.
FOR THE DRESSING
One cup of good olive oil (prefer Greek since has a robust taste, but can use Italian extra virgin too)
Half cup of lemon juice
2 spoons of Dijon mustard
Cracked black pepper, salt, Italian spices
How to prepare the dressing:
Add all ingredients together into a mixing bowl or a dressing mixing bottle/shaker. Make sure all ingredients are well incorporated and taste. If needed more salt or pepper now is the time to do it. Remember the secret to a good dressing is to have 2 portions of oil for one of vinegar or lemon juice and to use fresh and good quality products.
STAGING THE SALAD
Take a salad plate place the field greens evenly, cut thin rounds of cucumber, thin strips of green bell pepper, thin slices of red onion, and slice the avocado. Place all ingredients evenly for a nice presentation and leave the avocado on top. Place avocado slices doing a half moon like chef's do. When ready to eat drizzle the fresh dressing and enjoy a healthy low calorie salad. You can add canned tuna, grilled chicken or grilled fish fillet and that is a meal full of goodness and great nutrition.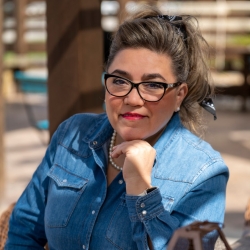 Latest posts by Chef Adriana Martin
(see all)