This post is also available in: Español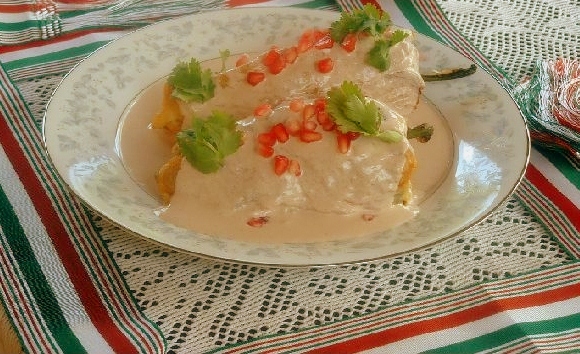 September is the month when Mexico commemorates it's independence to start the  festivities I'm sharing with you a dear recipe from my Aunt Marcela. This is an original  from Puebla, the home of the Nogada Chiles and a family tradition of hers and her mom as they were used to prepare this delicacy every year to enjoy together as a family.
Nogada Chiles are a legendary tradition and historians say this was a dish served only on very special celebrations and believe the nuns of the convent of Santa Monica, Puebla are the creators of this recipe which was first served to Agustin de Iturbide, emperor of Mexico and creator of the Mexican flag; the nuns' inspiration behind this dish were the colors of the Mexican flag: green, white and red along with the local produce available in the state.
Nowadays Nogada Chiles are a staple of the traditional Mexican cuisine nonetheless a delicacy to the palate and only available in Mexico for the months of September  through November.
INGREDIENTS
12 poblano chiles
5 peaches
5 pears
5 apples
1 cup chopped acitrón (candied bisnaga fruit, if not found replace with candied pineapple)
1 thick pineapple slice
1 big plantain
1/2 cup of  raisins
1 cup chopped almonds
4 tomatoes
1 cup of chopped onion
1 half cup chopped parsley
6 chopped garlic cloves
1 pound of ground beef
1 pound of ground pork
1/2 teaspoon ground cinnamon
1/2 teaspoon ground black pepper
1 cup of pomegranate seeds
Parsley leafs to decorate
2 cups of deep frying oil (peanut, sunflower or canola)
For the batter:
8 eggs
1 cup flour
1/2 teaspoon of ground white pepper
For the Nogada sauce:
3 cups fresh walnuts
1 teaspoon sugar
1/2 teaspoon of nutmeg
1 pinch of salt
3 tablespoons dry sherry
3 cups Mexican style sour cream
1/2 teaspoon ground cinnamon
How to prepare the "nogada sauce":  Place all the ingredients in the blender until getting a smooth, thick sauce. Soak walnuts overnight in milk for better results.
Preparation time: 2 hours, serves 12 people. Approximate cost $4.50 per person. You will need a mixer, 2 frying pans, 2 bowls, spoons, roasting pan. You can prepare a day in advance, this dish is laborious but it is worth it, believe me.
Roast the chiles in a roasting pan or a "comalito", when ready place them in a plastic bag for ten minutes to allow them to sweat, this process helps the next step which is peeling and scraping out the seeds, just do it gently to keep the chilies intact for stuffing.
Finely chop all the fruit, almonds, tomato, onion, parsley and garlic. Fry the onion, tomato, garlic and meat in a frying pan, add the fruit, almonds, parsley, cinnamon, pepper, sugar and a bit of salt. Let it cook until juices reduce this will be the stuffing to use for the chiles.
Stuff the chiles by spooning the prepared meat into each chile. Place flour on a plate or in a shallow dish, season with white pepper coat each chile on the flour prior submerging in the batter.
For the batter beat the egg yolks in a bowl until they are pale and thick, in a separate bowl whisk the whites until they form soft peaks, you can use an an electric mixer if desired. When ready fold in the yolks, a little at a time. Take each chile and submerge in the batter, cover well.
In a frying pan have ready hot oil for deep-fry around 350°F, fry the chiles until golden, let them rest on paper towels to remove excess oil and set aside.
To serve, place one chile in a nice dish, cover it with "nogada sauce", decorate with pomegranate seeds and some parsley leafs.
Enjoy this dish with your family and friends and surprise them with this unique and flavorful dish worthy of presidents and emperors!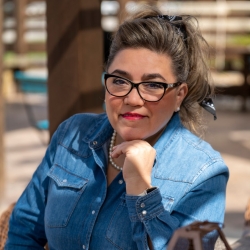 Latest posts by Chef Adriana Martin
(see all)