This post is also available in: Español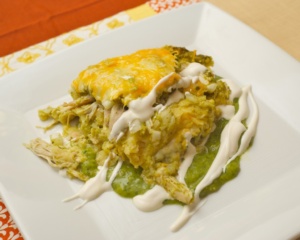 While living here in the US many of my friends have become "enchiladas verdes" fans. My inspiration behind this dish are the famous "enchiladas suizas" served in a very popular cafeteria in Mexico City. Here you have my spicy treasure and best kept secret and a perfect way to use turkey or chicken leftovers.
INGREDIENTS
2 ½ cups of shredded chicken or turkey breast
4 cups of fresh made salsa verde (refer to salsa verde recipe available in this site click hyperlink)
1 cups of finely chopped white onion
1 large bag of shredded cheese (Monterey jack and cheddar combination)
2 cups of Mexican style sour cream
20 fried corn tortillas
Non-stick oil spray and aluminum foil
Preparation time: 45 minutes. Serves 4-8 people.
Approximate cost per person $2.50 depending on ingredients market price.
You will need a large rectangular pyrex and an oven.
These enchiladas are built by layering all the ingredients for doing so spray your pyrex with non stick oil spray, then cover the bottom with 2 spoons of salsa verde, place one layer of fried tortillas, cover well using approximately 10 tortillas. Next layer will be the shredded chicken breast, chopped onions and the shredded cheeses. Drizzle 2-3 spoons of salsa verde and sour cream. Repeat procedure. You need two full layers. If your pyrex is deeper you can accommodate a third layer.
Watch this video to see the cooking process:
Cover with aluminum foil and bake for 15-20 minutes. Check and take off aluminum foil to allow cheese to brown you like to make the top "au gratin". Looks very nice and adds depth of flavor and a crunchy top to the dish.
You can serve this family style, bring your pyrex to the table and serve directly from the pan. Accompany with white rice and black beans. You can have sour cream and salsa verde for your guests to spoon over the dish if they decide. Other great option is to drizzle some of my guacamole version, which ads other layer of unexpected spicy flavor.
¡Viva México!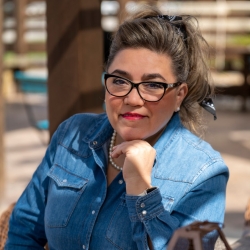 Latest posts by Chef Adriana Martin
(see all)