This post is also available in: Español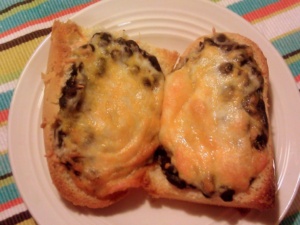 This dish takes me to my high school years when this was served as an economic breakfast option for students in several restaurants in Mexico City; now you might be wondering but what "molletes" are, this is an oven baked baguette with refried beans and melted cheese, super delicious!
INGREDIENTS
1 small baguette or hoagie bread cut in halves
½ cup of refried beans could be black or pinto beans
1 teaspoon of butter
1-2 spoons of shredded cheese could be Monterrey Jack or the Mexican type cheese combination
Preparation time: 10 minutes. Serves 1 person. Approximate cost per person $0.50 depending ingredients market price. Check for local market availability. You will need an oven, baking sheet and a dish for serving.
Place the bread in the baking sheet, spread butter in the bread, add the refried beans and the shredded cheese. Bake at 450oF until cheese melts. Serve with green or Mexican style salsa. After the first bite you will get hooked into this easy and economic breakfast option.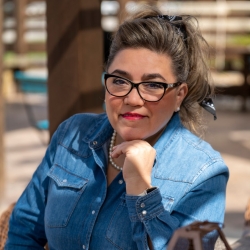 Latest posts by Chef Adriana Martin
(see all)