This post is also available in: Español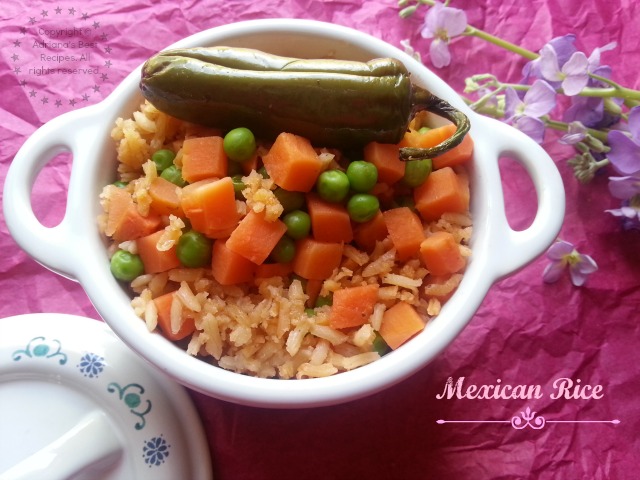 This is part of a sponsored campaign with Latina Mom Bloggers and the United Soybean Board. However, all opinions expressed are my own.
The Mexican Rice Recipe is one of those old time favorites you need to have in your repertoire  of dishes when preparing traditional Mexican cuisine must haves. This Mexican rice is staple of many popular dishes as it is the perfect pair  with chicken soup, mole, enchiladas, burritos, pipian and many other wonderful dishes that are part of my heritage. When preparing traditional recipes, like this Mexican rice recipe I remember the good times around the family table with my folks in Mexico. Unfortunately many of my beloved have departed so by cooking their recipes it allows me to bring back those traditions to my family table and educate my own family on my traditional Mexican flavors. And I have found that using soybean oil I can cook my favorite traditional dishes like this Mexican Rice recipe without compromising taste, while saving, since soybean oil is tenth of the cost of some other oils in the market. That is why for this Mexican Rice recipe I am using pure soybean oil. Soybean oil is one of the most versatile ingredients in my pantry. The oil has a neutral flavor that helps me create some of my favorite traditional meals without compromising taste.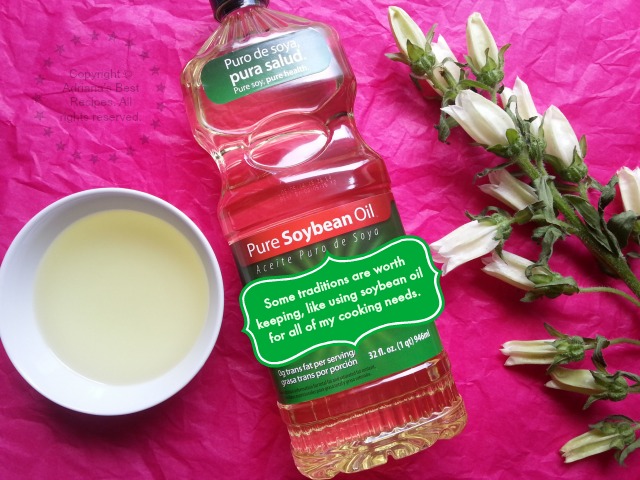 INGREDIENTS
1/2 tablespoon of soybean oil
1 cup of long grain rice
3 jalapeno peppers
2 garlic cloves
1 bunch of fresh cilantro
1 cup of Mexican style tomato sauce
2 cups of warm water
1 chicken bouillon cube
1 teaspoon of salt and pepper
1 cups of frozen peas and carrots
Preparation time: 30 minutes. Serves 8 portions. Cost per portion is less than $1.00 dollar depending on the cost of the ingredients at your local supermarket. You will need a skillet or a rice pot with a lid and measuring cups to prepare this mexican rice recipe.
Place the skillet or rice pot on the stove, add the soybean oil and when hot add the rice. You will cook rice for few minutes, then add the chiles jalapenos, and the garlic, saute for few minutes. Add the Mexican style tomato sauce to the fried rice. Season con the chicken bouillon, salt and pepper to taste. Stir well. Add one more cup of the warm water, the cilantro and place the lid. Cook rice for 15-20 minutes until ready. If the rice needs more water you can add few drops of warm water but be careful to not add too much to avoid rice to be more tender than it should. At the end add the frozen carrots and peas and place the lid back again to allow veggies to cook . Make sure to turn off the stove and leave the rice covered with the lid until ready to serve.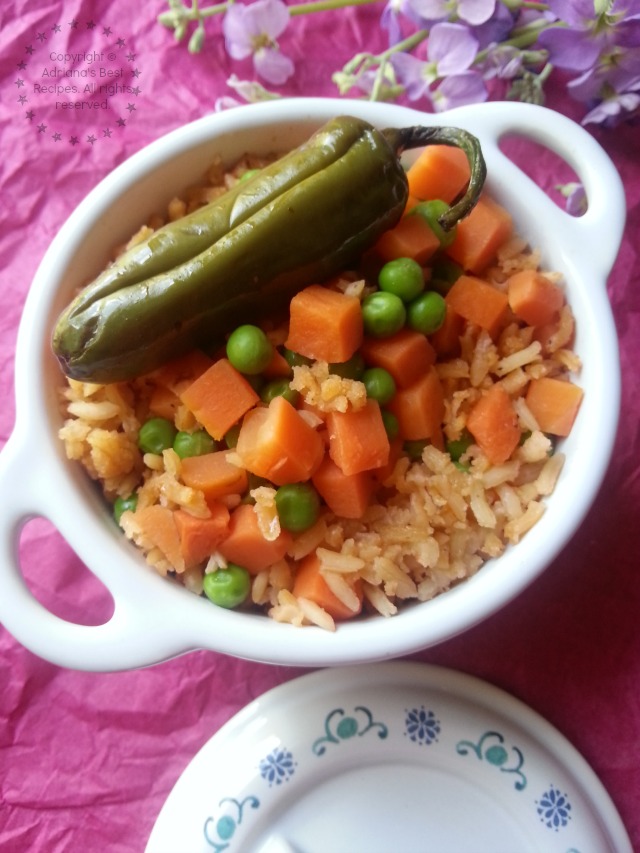 In my culture we eat this Mexican Rice or arroz rojo as a side dish for mole, enchiladas and other traditional Mexican dishes. I invite you to share your own recipes and traditions by participating in the Soy Connection's Digital Time Capsule by submitting a video of your favorite  traditional recipe.
The United Soybean Board invites you to reflect on special moments in the kitchen preparing traditional recipes with your family. Share a cherished recipe and the memories it stirs up from now until September 30, 2014 for a chance to become a featured video at soyconnection.com/hispanictraditions.
Some of my favorite family recipes originated in my grandmother and great grandmother's kitchens. The stories behind the recipes are cherished moments that I will pass on to my children. As a Soy Connection Ambassador, I encourage you to keep memories and cooking traditions alive by recording your stories and sharing them with us.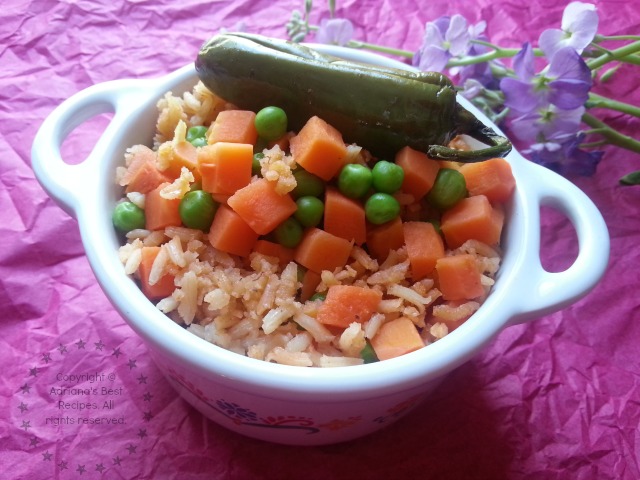 And to help you with your recipe development for that special dish that has your Latino flavors and reflects our culture the United Soybean Board is sponsoring a giveaway for a chance to win one (1) $50.oo Amazon gift card. This is an easy entry, don't miss the chance to win!
Giveaway Rules and Regulations
In order to qualify for the giveaway, you need to visit SoyConnection.com read about soybean oil and leave a comment about soybean oil facts learned on this post. Entries/Comments that do not follow the submission guidelines will be automatically deleted and invalid.
Winner will be chosen by tallying up all the entries and then using Rafflecopter to generate a random number.
You may only enter once per entry method.
Participants to the giveaway  must leave a valid email address on their entry.
Winner will be notified via email and have 72 hours to respond with a valid mailing address and contact info.
If there is no response winner will be disqualified and another winner will be chosen at random.
Open to United States ONLY. Winner must have a valid US address and be 18 years or older.
Void where prohibited. No purchase necessary.
Prize will be shipped by product representative. We are not responsible for any delays in delivery or lost items.
Giveaway will close on September 5, 2014 at noon EST.
Soybean oil accounts for approximately 58% of vegetable oil used in homes and commercial cooking! Just check the ingredients label to be sure.
Don't forget to follow the United Soybean Board on Facebook to get the scoop on soybean oil and more!


This is part of a sponsored campaign with Latina Mom Bloggers and the United Soybean Board. However, all opinions expressed are my own.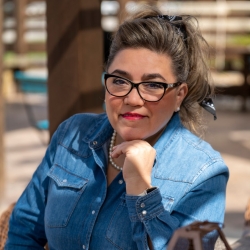 Latest posts by Chef Adriana Martin
(see all)