This post is also available in: Español
Grilling tradition runs deep in my family, grew up enjoying "Mexican Carne Asada" with the family after Sunday mass and when a big soccer game was happening. We would all gather around the grill, tell stories, laugh and be together as a family. Today I'm the Chief Griller of the household and want to celebrate those memories by sharing this traditional grilled steak recipe so that you can prepare at home because we ladies rule at the grill too!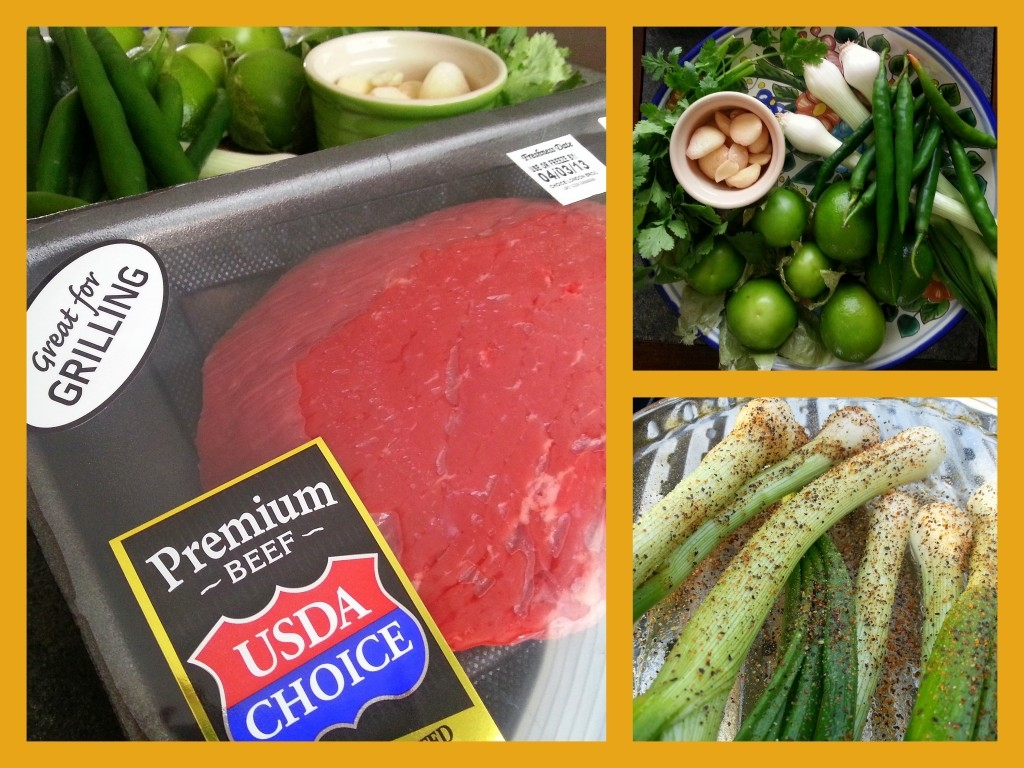 INGREDIENTS
1 pound of London Broil or flank steak Walmart Choice Premium Beef
1 pound of petite Vidalia onions
2 avocados Hass
3 limes
Corn tortillas
Green salsa
Cilantro
Salt and pepper
Olive oil
For the marinade:
1/4 cup of lime juice (2-3 limes approximately)
1/3 cup of olive oil
2 teaspoons of ground cumin
1 teaspoon of ground black pepper
1 teaspoon of sea salt
1 teaspoon of garlic powder
1/2 teaspoon of ground oregano
3 garlic cloves chopped
Preparation time: 2.5 hours. Serves 4-6 people. Cost per person $4.00 depending on local ingredients cost. You will need a grill preferably gas, with 35,000 to 45,000 BTUs, and one of those that has a searing feature for better grilling results. Prepare the marinade combining all ingredients together, add the marinade to the meat and let it rest on that sauce for 2 hours in a plastic container well sealed and inside the fridge. The London Broil is also known as Flank Steak, this meat tends to be tough that is why I recommend to marinade to get better tasting meat. In the mean time clean the onions, add some olive oil and dust with salt, cumin and pepper before grilling. Then prepare your salsa verde, to learn how to prepare click here.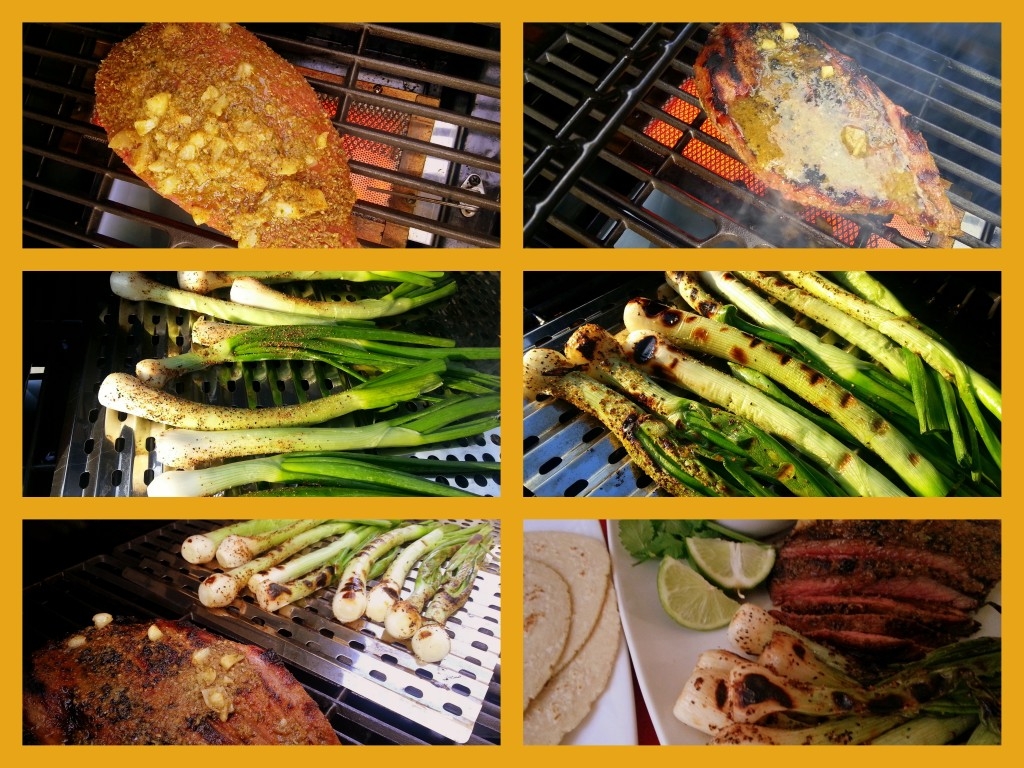 When ready to grill the Mexican Carne Asada prepare your grill by spraying grilling oil or brushing canola oil to the grilling racks to avoid sticking, let grill reach a temperature of 450 degrees F and that is your cue to start cooking the meat. London broil can get dry very fast so avoid overcooking; the trick to get juicy slices of meat is to marinade and sear them well with direct flame. You can get that with a grill that has a searing feature if yours doesn't have one use direct flame instead and grill on both sides for 5 minutes each side on high; then move to the grilling rack with medium temperature around 400-450 degrees F and let it cook for 20-25 minutes until getting an internal temperature of 130 degrees F. Using a vegetable grilling rack grill your onions on both sides at medium temperature. When ready let meat rest in a plate for 10 minutes and then slice. Serve the Mexican Carne Asada with a side of grilled onions and prepare carne asada tacos with warm corn tortillas, drizzle with salsa verde, lime juice and garnish with cilantro and avocado Hass slices.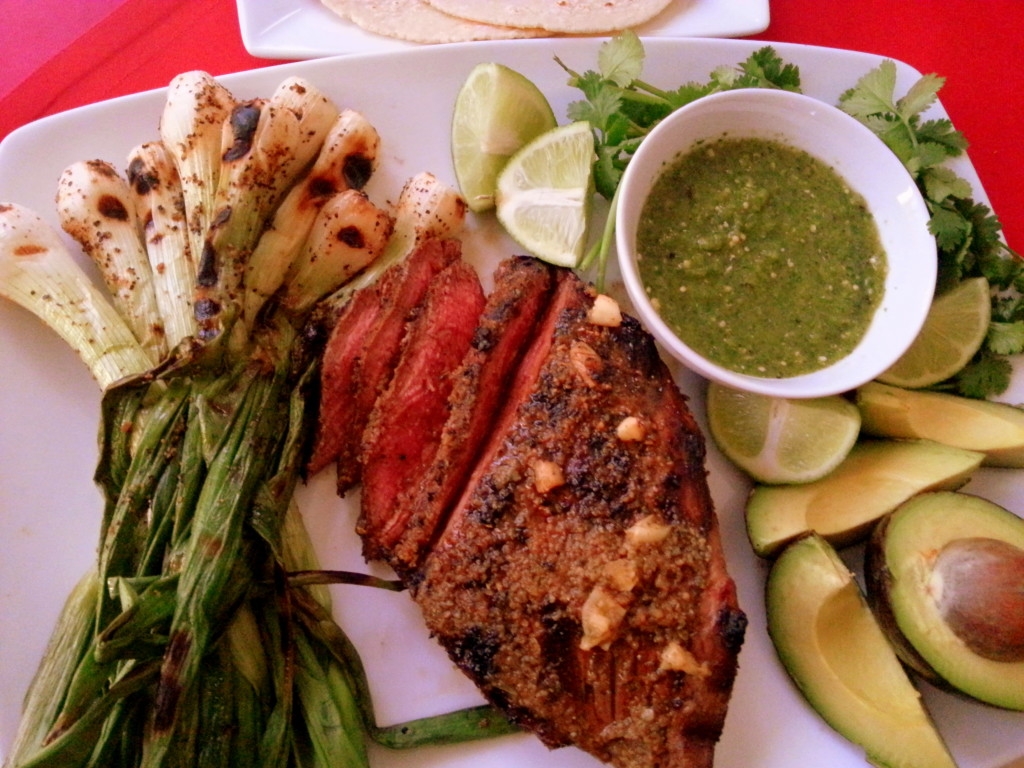 While this cut of meat is known for its toughness when you buy good quality really makes a difference when looking for a tender juicy piece of meat at a good price. I was surprised that the quality and great price I was looking for I could find at my local Walmart store where I learned you can find the highest quality choice steak certified by the USDA for quality named Walmart Choice Premium Beef and they are so confident about this that Walmart offers a Money Back Satisfaction Guarantee and of course after you taste this steak with the my special flavors you will be back to buy more!
This March and April Walmart stores located in eight different cities will host a firefighter competition to determine who has the best steak-grilling chops in town. I invite you to join the festivities where you will be able to taste test Walmart Choice Premium steaks, sample Dr. Pepper and A.1. steak sauce, and cast your vote for the best firefighter grilled steak. I'm sure it will be a lot of fun!

The locations here these events are to happen are:
San Antonio, Texas: March 30
Walmart
5555 De Zavala Rd.
San Antonio, Texas 78249
Firefighters start grilling at noon, winner announced at 2 p.m.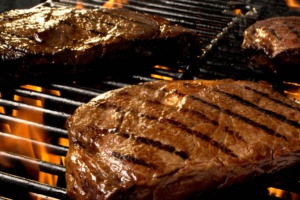 Tampa, Fla.: April 6
Walmart
4302 W Gandy Blvd.
Firefighters start grilling at noon, winner announced at 2 p.m.
Charlotte, N.C.: April 13
Walmart
3850 E Independence Blvd.
Charlotte, NC 28205
Firefighters start grilling at noon, winner announced at 2 p.m.
Atlanta, Ga.: April 20
Walmart
1550 Scenic Hwy N
Snellville, GA 30078
Firefighters start grilling at noon, winner announced at 2 p.m.
Kansas City, Mo.: April 27
Walmart
8551 N. Boardwalk Ave
Firefighters start grilling at noon, winner announced at 2 p.m.
Houston, Texas: May 4
Walmart
111 Yale St.
Houston, TX 77007
Firefighters start grilling at noon, winner announced at 2 p.m.
Indianapolis, Ind.: May 11
Walmart
3221 W 86th St
Indianapolis, IN 46268
Firefighters start grilling at noon, winner announced at 2 p.m.
Los Angeles: Week of May 20
TBD
This is part of a sponsored campaign with Latina Mom Bloggers and Walmart Stores . However, all opinions expressed are my own.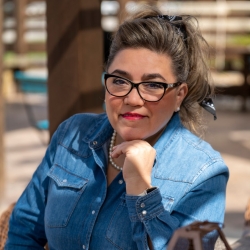 Latest posts by Chef Adriana Martin
(see all)