This post is also available in: Español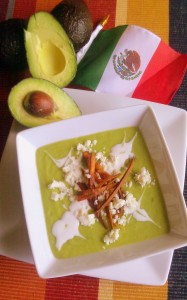 Today I want to celebrate my Mexican heritage with a special recipe using Hass avocados from Mexico. Did you know that Mexico is the world leader in avocado growing and consumption? Hass avocados aside from being absolutely delicious they are available year round, they are cultivated in the rich volcanic soil of Michoacán, a state located in Western Mexico, which its natural climate and altitude benefits the growing of this precious ingredient that is also hand picked. But don't get confused 'Hass" is not a brand it is an avocado variety and the ingredient you will need to prepare this easy and luscious soup.
INGREDIENTS
6 Hass Avocados from Mexico (ripe)
5-6 cups of chicken stock
1/3 cup of Mexican style sour cream
1/2 cup of crumbles of Cotija cheese
2 corn tortillas cut in juliennes (strips) to prepare fried tortilla strips
Salt & pepper
Canola oil
Preparation time: 20 minutes. Serves 6-8 people. Approximate cost per person $2.00 depending on ingredients market price. You will need a mixer, measuring cup, sauteing pan, a wooden spoon and a pot for cooking soup.
Cut your ripen avocados lengthwise around the pit and twist to open, take the pit off with a knife and scoop the avocado flesh with a spoon and place in the mixer using 3 cups of the stock. Mix well until you have a thick creamy consistency. Turn on your stove, place the soup pot, add the rest of the stock and let it get to a medium temperature, when ready add the avocado mix and combine with the rest of the stock by moving gently with a wooden spoon and reduce heat to low. Add salt and pepper and let is simmer for 3-5 minutes cover and turn off the stove. In a sauteing pan fry the tortilla strips until golden brown, serve the soup in a nice bowl, decorate with the Mexican sour cream, cheese crumbles and the  fried tortilla strips.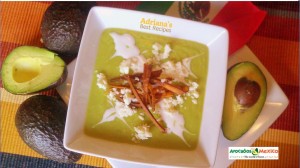 If you want to make this soup a vegan option replace chicken stock with vegetable organic stock, the sour cream with Greek yogurt and the Cotija with crumbles of goat cheese and follow same instructions. Hass avocados are great source of fiber and vitamins like potassium, C,K, folate, and B6 and are valued by chefs all around the world.
If you love avocados like me and want to join me in the celebration, Avocados from Mexico has a special invitation for you to enter "Aguacate Lindo y Querido Recipe Contest"!
You could win $500 and a trip to Houston in September, get a private cooking class with Mexico's renowned Celebrity Chef Aquiles Chavez, host of Aquilisimo and El Toque de Aquiles, two of the most watched cooking shows in Mexico and which can be seen here in the United States on Utilísima network.
Don't miss out on this opportunity,  submit your recipe starting 9 am ET today May 14, 2012 through 11:59 pm ET on Friday, May 25, 2012.

This is part of a sponsored campaign with Latina Mom Bloggers and Avocados From Mexico. However, all opinions expressed are my own.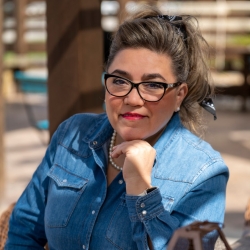 Latest posts by Chef Adriana Martin
(see all)