This post is also available in: Español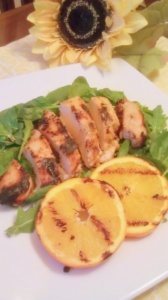 Summer is a very inspiring season for me, bright colors, sun and a bounty of veggies and fruits readily available at my local farmer's market, that is why today I'm sharing my latest inspiration using fresh Florida oranges,baby spinach and organic chicken.
INGREDIENTS
4 organic chicken breasts
1 bag of organic baby spinach and arugula
3 Navel oranges cut in rounds
For the marinade:
1/2 cup of orange peel marmalade
1/2 cup Nakano rice vinegar
1/3 cup of Navel orange juice
2 tablespoons of spicy mustard
1/2 teaspoon of garlic powder
1/3 teaspoon of  ground pepper
1/2 teaspoon of  smoked paprika
1/3 teaspoon of  sea salt
Combine all ingredients until having a uniform consistency.
For the salad dressing:
1/3 cup of Navel orange juice
1/2 cup of Nakano balsamic blend rice vinegar
1 cup of olive oil
Salt & Pepper
Combine all ingredients and taste, use until ready to serve.
Preparation time: 45 minutes. You will need a grill, grilling utensils and spray, a bowl and a plastic container. Approximate cost per person $3.00 depending on local ingredients cost.
Pour the marinade  over the chicken breasts, make sure to marinade covers the chicken generously, store in a plastic container and let it rest inside the fridge for 20-30 minutes.
Spray the grilling rack with grilling spray to avoid the meat to stick and let the grill reach 250 F, grill the breasts for 10-15 minutes on both sides and the orange rounds for 3-5 minutes on both sides.
To serve place a bed of arugula and baby spinach and drizzle with the homemade dressing. Slice the breast and serve on top of the salad. Decorate with the grilled orange rounds. You can enjoy this dish with a glass of cold Pinot Grigio or a fruity Riesling.
This dish is low calorie and very easy to prepare, if desired you can use pork chops or pork loin, this citrus marinade goes well with both chicken or pork.
Happy summer grilling!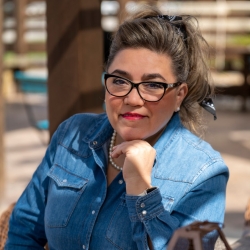 Latest posts by Chef Adriana Martin
(see all)