The homemade EnvyTM apples easy jam is a collaboration with EnzaFruit, Publix Stores, and Publix Aprons Cooking School. However, all opinions are my own.
If you are an apple lover, you need to try the EnvyTM apples easy jam and learn about my canning and homemade jam cooking tips!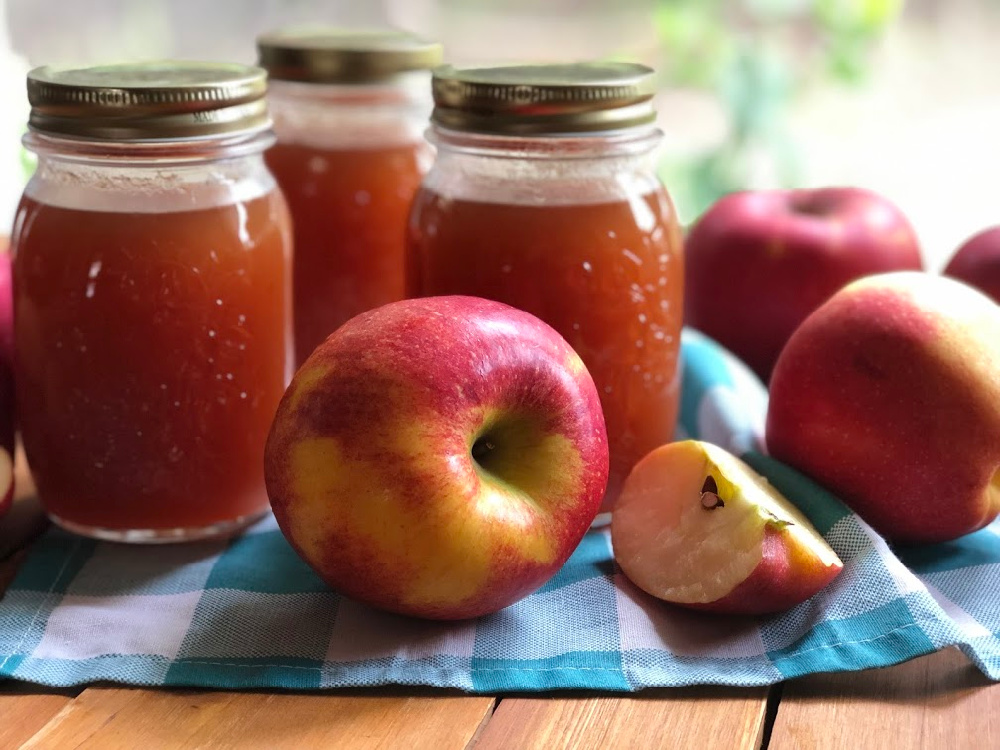 Making jams is easy; the secret is to use the freshest fruits right at the peak of the season. Resulting in a delightful jam capturing the best features and flavors.
We are apple snobs and have a few favorites. But the ENVY brand is by far our preferred brand for apples. Luckily I find them at my local Publix. I like to eat them raw, with yogurt, add to lunchboxes, use for smoothies, and for making apple jam.
Why we chose ENVY Apples?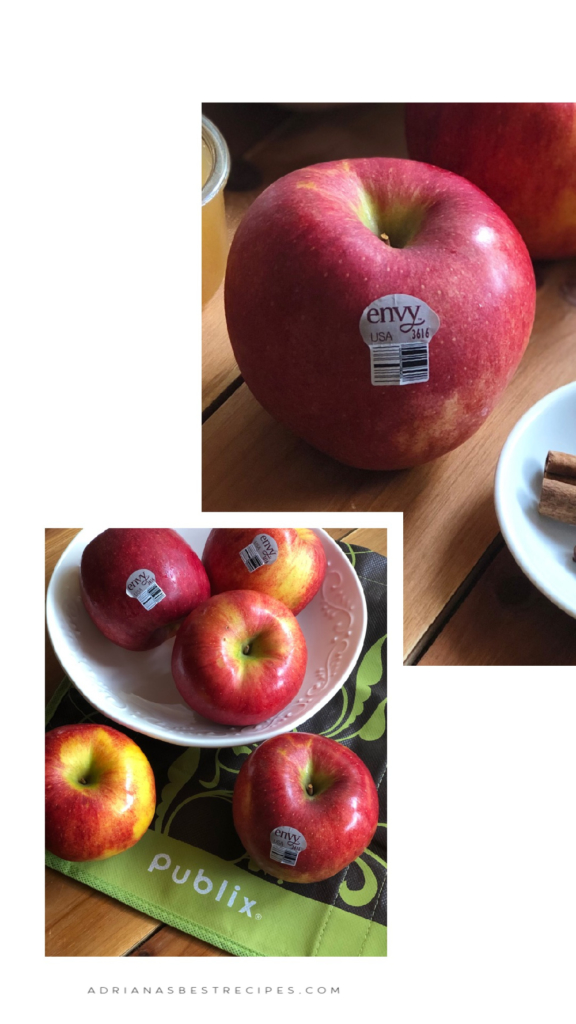 The ENVY apples are pretty special. They were born using natural plant-breeding methods, crossing Braeburn with Royal Gala apples. This crop originated in New Zealand, but it grows in Washington state and Chile.
These apples are sweet, have a beautiful color, and are crisp. But best of all they do not brown after slicing or chopping. Making them a perfect option for fresh salads, for the kid's lunchbox and to prepare beautiful overnight oats and apple cups for breakfast.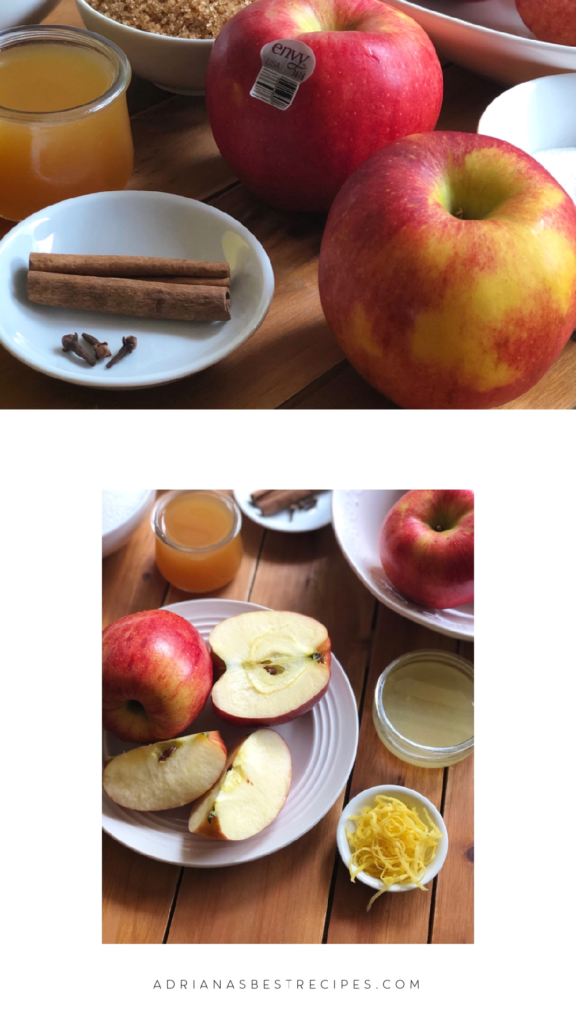 Making jam and canning is an easy process!
Some of you think that making your jam at home is a daunting process. Thus you opt for purchasing commercial brands. However, making homemade jam is simple and allows you the freedom to create your formulas and flavors.
After making this apple jam for the first time, you will get hooked. It feels good to make your fruit preserves and make them last thanks to the canning technique.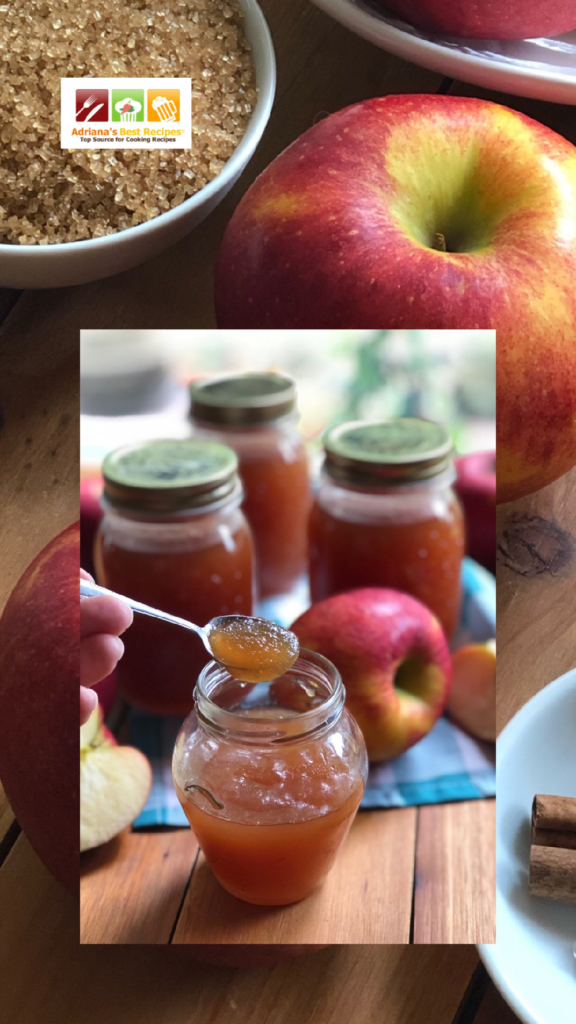 But first, head over to Publix and shop for the apple jam ingredients. Including four ENVY apples, refined and turbinado sugar, cinnamon sticks, cloves, yellow lemon, apple cider, and butter. Don't forget the pectin and three 17 ounce mason jars.
Canning tips and techniques
When canning, we need to follow safety rules as canning requires the use of boiling water and making sure the canning process has been done correctly to avoid the jam going bad.
For canning, we recommend using a canning pot. The classic pot requires a gas stove, but there are pots appropriate for induction heating or electric furnaces, for best results choose the correct pot.
Invest in canning tools. Have handy a canning funnel, a ladle, a canning jar lifter with rubber grips, a good pair of kitchen tongs, a magnetic lid lifter and bubble remover.
Wash and sterilize the mason jars before use.
Keep the mason jars warm to avoid shocking them with the hot jam.
Immerse the mason jars at least 2 inches making until the water covers them from bottom to the top.
Keep the filled jam jars in the boiling water for 10-15 minutes.
If the canning process is successful, the lids will pop to confirm the jar correctly sealed.
If the jar does not seal correctly, the jam should be kept in refrigeration or repeat the process until lids make a popping noise.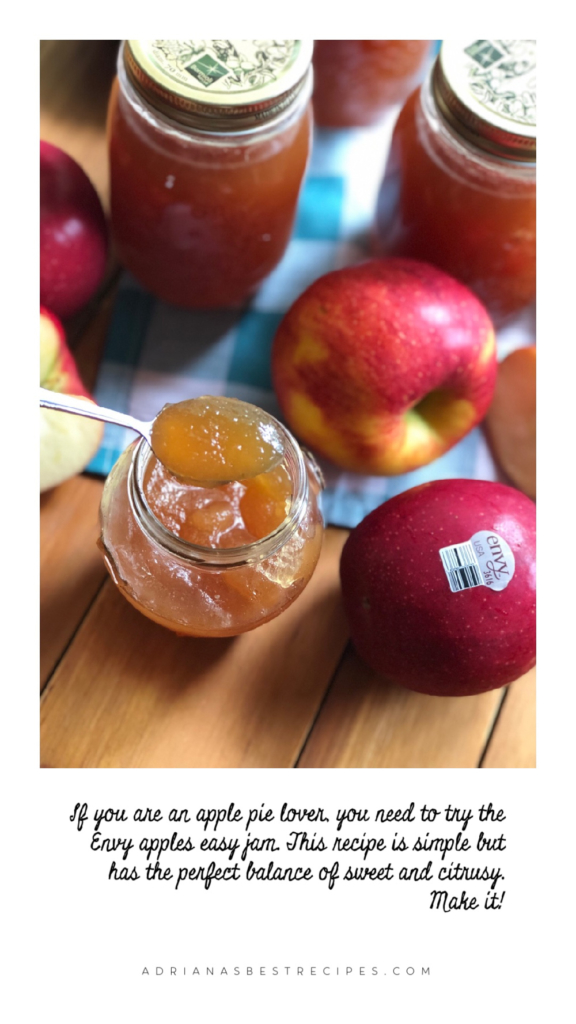 Follow the step by step recipe tutorial and enjoy homemade jam at home!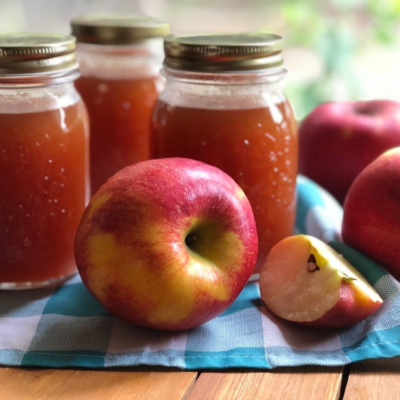 Envy Apples Easy Jam Recipe
If you are an apple lover, you need to try the Envy apples easy jam. This homemade jam is simple and has the perfect balance of sweet and citrusy. Head over to Publix and buy all the ingredients, including the ENVY apples, sugar, lemon, cinnamon, cloves, pectin, and butter. You will enjoy canning this special apple jam. This recipe makes three 17 ounce mason jars.
Equipment
Canning pot with a rack and the utensils

Chopping block

Knife

Blender

Citrus zester

Large pot

Three mason jars with lids (17 ounces each)
Ingredients
4

large ENVY apples

cored and cut into chunks

1

tablespoon

yellow lemon zest

1

cup

apple cider

1/4

cup

yellow lemon juice

1

cup

turbinado sugar

2

cinnamon sticks

3

cloves

1

cup

water

4

cups

refined sugar

1/2

teaspoon

butter

1

package

pectin

1.75 oz
Instructions
Wash the ENVY Apples with soapy water. Cut and remove the core. Slice into chunks and set aside. These apples do not turn brown after cutting. Do not remove the apple peel as it contains natural pectin.

Add the apple chunks with the lemon zest to the blender and pour the apple cider and part of the lemon juice. Blend until getting a purée consistency.

Pour the apple purée to a cooking pot and add the turbinado sugar, the cinnamon sticks, and the cloves. Add the remainder of the lemon juice and water, and mix.

Cook stovetop for fifteen minutes until all ingredients are incorporated and the apple purée turns into an amber color.

Add the refined sugar and dissolve using a spoon. Cook for other fifteen minutes on high flame, remove the cinnamon sticks and the cloves.

Add the butter and melt. This ingredient helps control the foaming for a better jam finish and luscious consistency.

When this preparation reaches a full rolling boil, add the pectin whisking vigorously until setting. You will know pectin is ready when leaving a thick coat in the walls of the pot.

Clean the mason jars with water and soap. It is recommended to sterilize before canning and to keep the jars warm to avoid cracking.

Ladle the jam to each jar. Clean the mouth with a paper towel and place the lids. This step helps in achieving successful canning.

Place the mason jars in the canning pot and boil for 10-15 minutes. Remove and place on a flat surface. When the lids start popping means the canning was successful.

Keep the jars in the pantry away from the light. After opening the jars refrigerate to preserve the freshness.
Video
Notes
Follow safety measures when cooking with boiling water and hot jam. 
Use proper tools and oven mitts to handle the hot Mason jars, pots, and utensils.
Do not reduce the sugar content on the recipe as that will affect the setting of the pectin. 
If you are unsure if the Mason jars sealed it is better to keep in refrigeration. 
Nutrition
Calories:
42
kcal
Carbohydrates:
11
g
Protein:
1
g
Fat:
1
g
Saturated Fat:
1
g
Cholesterol:
1
mg
Sodium:
1
mg
Potassium:
10
mg
Fiber:
1
g
Sugar:
10
g
Vitamin A:
4
IU
Vitamin C:
1
mg
Calcium:
1
mg
Iron:
1
mg
On Saturday, September 28th join us at the Publix Aprons Cooking School at Dr. Phillips in Orlando. Class starts at 6:30 PM. Register at the Publix Aprons site.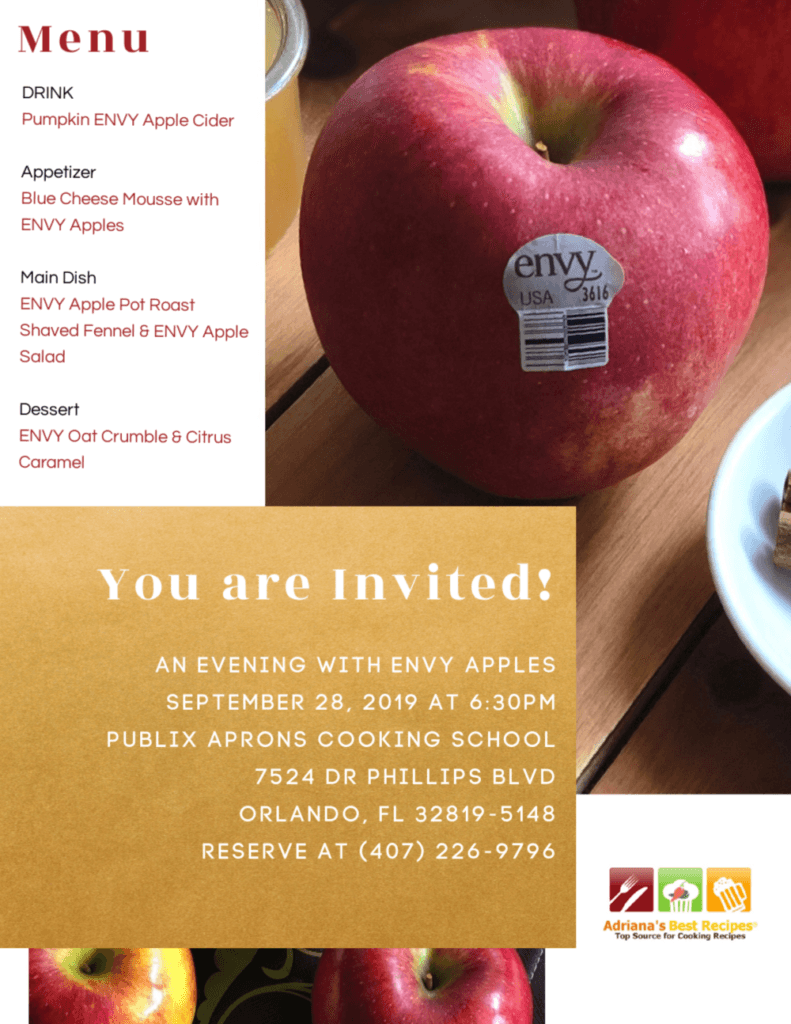 Price is $50 per seat. Get $10 off by using promo code: ENVY928
Please call The Publix Aprons Cooking School Event Planning line at 407-226-9754 for any questions, or to register over the phone.
The menu includes a Pumpkin-Spiced Apple Cider aperitif. My very own recipe: the fabulous Blue Cheese Mousse served with ENVY apple slices. Shaved Fennel and Envy Apple Salad. A Pot Roast and Envy Apple Oat Crumble with Citrus Caramel Topping.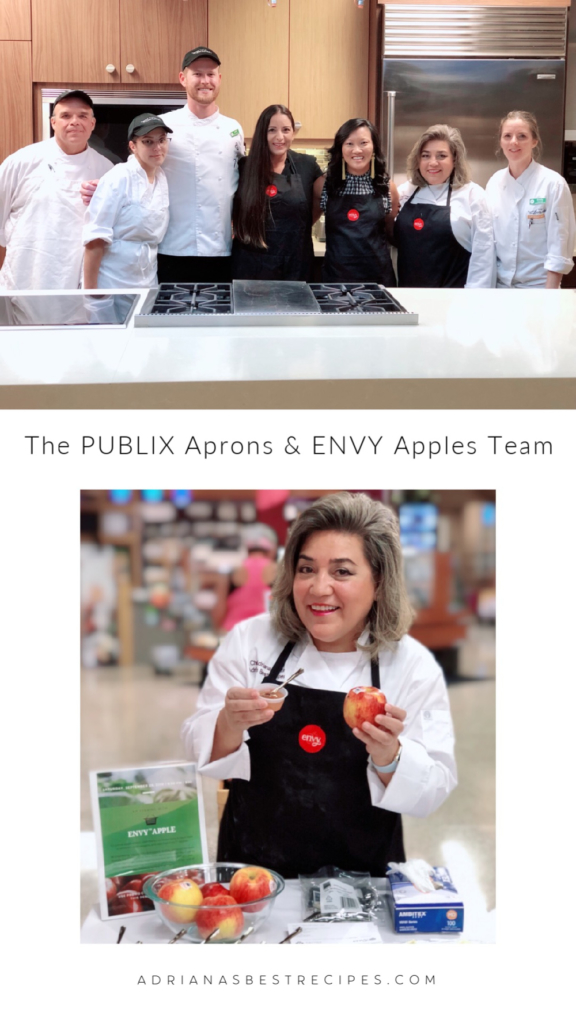 EnvyTM apples can be found nationwide at grocery stores including Publix, Whole Foods, Walmart, Market 5 one 5, Central Market, Raley's, King Soopers, IGA, Wegmans and more.
For the store nearest you visit envyapple.com and click on the store locator.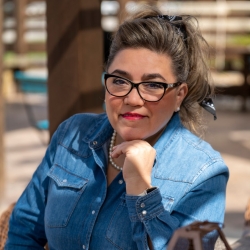 Latest posts by Chef Adriana Martin
(see all)