This post is also available in: Español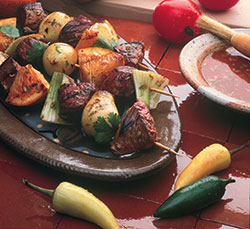 Recently I received Cedar Springs lamb samples from Mountain States Rosen and got inspiration for cooking Kabobs on the grill, because grilling is not only for men we girls like to grill too!
INGREDIENTS
1 fennel bulb
1 cup tomato vegetable juice
1 cup orange juice
1/4 cup finely chopped onion
1/4 cup chopped cilantro or parsley
2 tablespoons fennel seed
1 teaspoon of salt
1/2 teaspoon of pepper
2 pounds Mountain States Rosen lamb, boneless leg, cut in 1-inch cubes
1 cup small boiled onions
2 oranges, cut into chunks (with skin)
12-inch bamboo skewers, soaked in water
Preparation time: 20 minutes, serves 8 people. Marinade will need 12 hours for ultimate taste and results so you can cook a day before your gathering. Cost varies you could expect to spend $10.00 per serving depending on local market price of the ingredients. You will need bamboo skewers, a metal bowl, and a grill.
Remove green stems from fennel bulb. Peel off 6 outer layers. Cut into 1-inch squares; reserve. Finely chop remaining fennel. In large non-metal bowl, stir together chopped fennel, juices, onion, cilantro or parsley, fennel seed, salt and pepper. Add lamb cubes, fennel cubes and onions; cover and refrigerate overnight, turning occasionally.
Use a 12-inch bamboo skewer to make kabobs by alternating lamb cubes, orange chunks, fennel squares and onions. Repeat, making all skewers. Broil or Grill 4 to 6 inches from source of heat for about 10 to 14 minutes, turning once.
You can serve with rice and a refreshing salad.
Lamb is a great source of protein and essential vitamins and minerals. A regular 3-ounce serving averages about 43% of the Recommended Daily Allowance (RDA) of protein. Try it you will be surprised how good it is!
Recipe and image courtesy of the American Lamb Board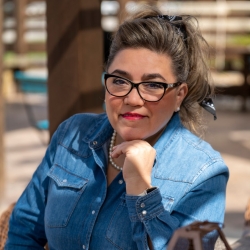 Latest posts by Chef Adriana Martin
(see all)