This post is also available in: Español
"This is a compensated campaign in collaboration with BUSH'S Cocina Latina™ and Latina Bloggers Connect."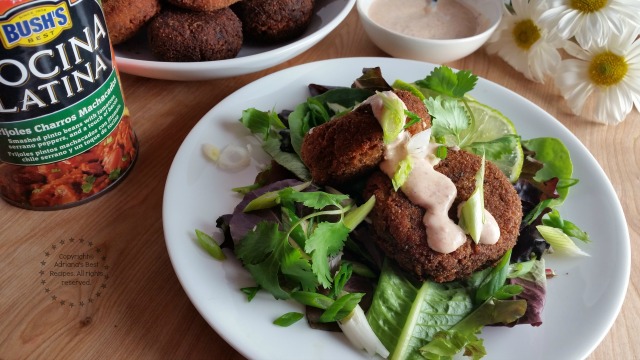 I love black bean cakes and taking inspiration from that traditional latino recipe I have developed my own recipe called Charro Bean Cakes using as the main ingredient the new BUSH'S Cocina Latina Frijoles Charros inspired by traditional Hispanic recipes for us Latinas to serve and enjoy with our family. These charro bean cakes are very easy to make, freezer friendly and are great for holiday party entertainment or to be served as a main meal for lunch or dinner.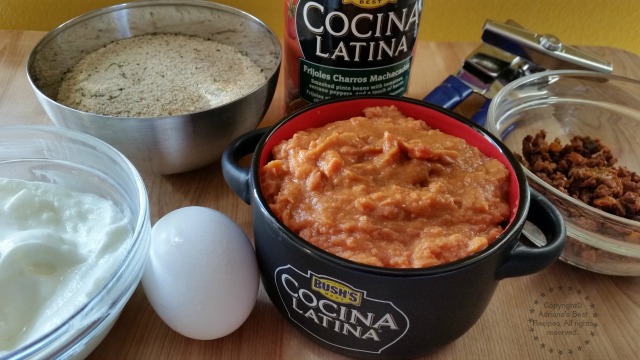 INGREDIENTS
1 can of Bush's Cocina Latina Frijoles Charros Machacados
1/2 cup of fried Mexican chorizo
1/4 cup of Greek yogurt
3 cups of Italian style breadcrumbs (2 for the mix and 1 cup of breading)
1 egg
1 teaspoon of cumin
1 teaspoon of Mexican oregano
1 teaspoon of black pepper
1 cup of peanut oil
1 bag of Spring mix
1 lemon cut in rounds
1/3 cup of cilantro leaves
1/2 cup of creamy chipotle dressing (1/2 cup of mayo, few drops of lemon juice, 1 teaspoon of chipotle sauce)
Preparation time: 45 minutes. Yields 12 charro bean cakes. You will need a mixing bowl, a whisk, wax paper, baking sheet, a frying pan, paper towels, serving plates.
See this video tutorial for step by step process or follow these instructions to prepare the Charro Bean Cakes recipe:
1.- Pour the content of one can of Bush's Cocina Latina Frijoles Charros Machacados on a bowl and add the chorizo, the yogurt, 2 cups of the breadcrumbs, one egg, the cumin, oregano and the black pepper.
2.- Stir the charro bean cake mix until all ingredients get incorporated and you get the consistency of a dough.
3.- With a spoon form the bean cakes and then cover with the remaining breadcrumbs for making the breading. Place the charro bean cakes on a baking sheet covered with wax paper and freeze for 10 minutes.
4.- Put the frying pan in the stove and pour the peanut oil. When the peanut oil gets hot fry the bean cakes until getting a golden crust on both sides.
5.- Then place the fried charro bean cakes on a plate covered with paper towels to absorb the excess oil.
The serving suggestion for the charro bean cakes is to either eat them with a spring mix salad and drizzled with tangy chipotle dressing or eat as a snack or appetizer during a party.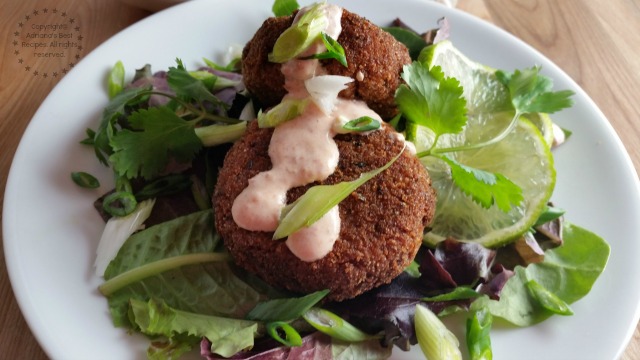 This charro bean cakes make a great party food, you can make days ahead, freeze and then fry the day of the party. The Bush's Cocina Latina Frijoles Charros Machacados are traditional smashed pinto beans prepared according to a recipe inspired by regional flavors and family traditions, using ingredients like tomatoes, serrano peppers and bacon.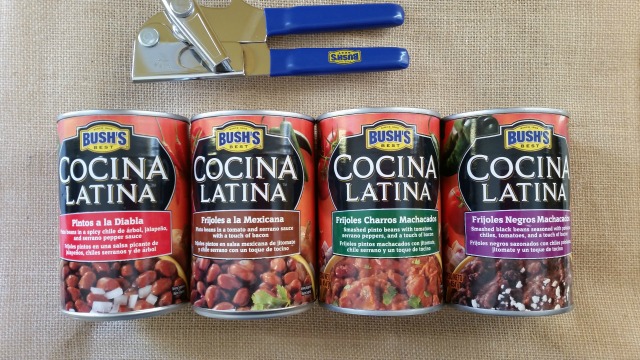 BUSH'S Cocina Latina® is inspired by traditional Hispanic recipes and the kitchen wisdom handed down from the real experts – moms, grandmas and aunts. I am impressed with the traditional flavors of BUSH'S Cocina Latina. They inspire me to be more creative in the kitchen and add a Latin taste to everyday meals. With the selection of four rich Hispanic flavors available for Bush's Cocina Latina (with great-tasting ingredients like garlic, onion and cilantro), you can guarantee there will be a favorite for everyone in your family. Frijoles Bush's invites you to visit FrijolesBush.com for authentic Bush's Cocina Latina chef recipes, pairings and tips.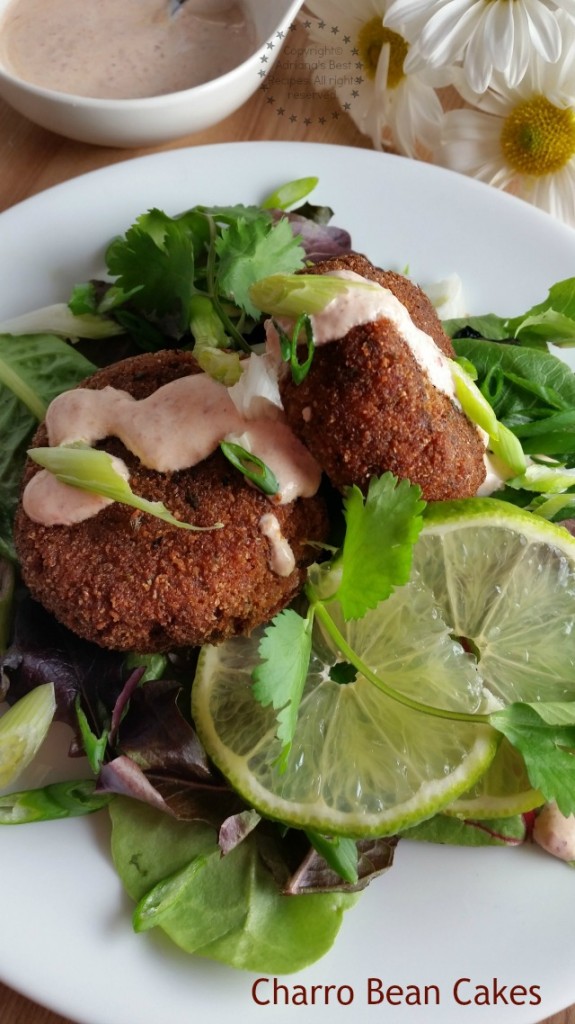 Let's turn #ElFrijolazo on and cook my recipe for Charro Bean Cakes for your upcoming holiday parties!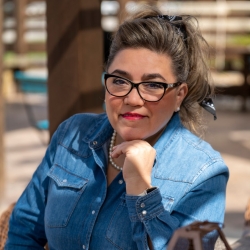 Latest posts by Chef Adriana Martin
(see all)