This post is also available in: Español
This recipe for the Almond Mole is brought to you by California Almonds.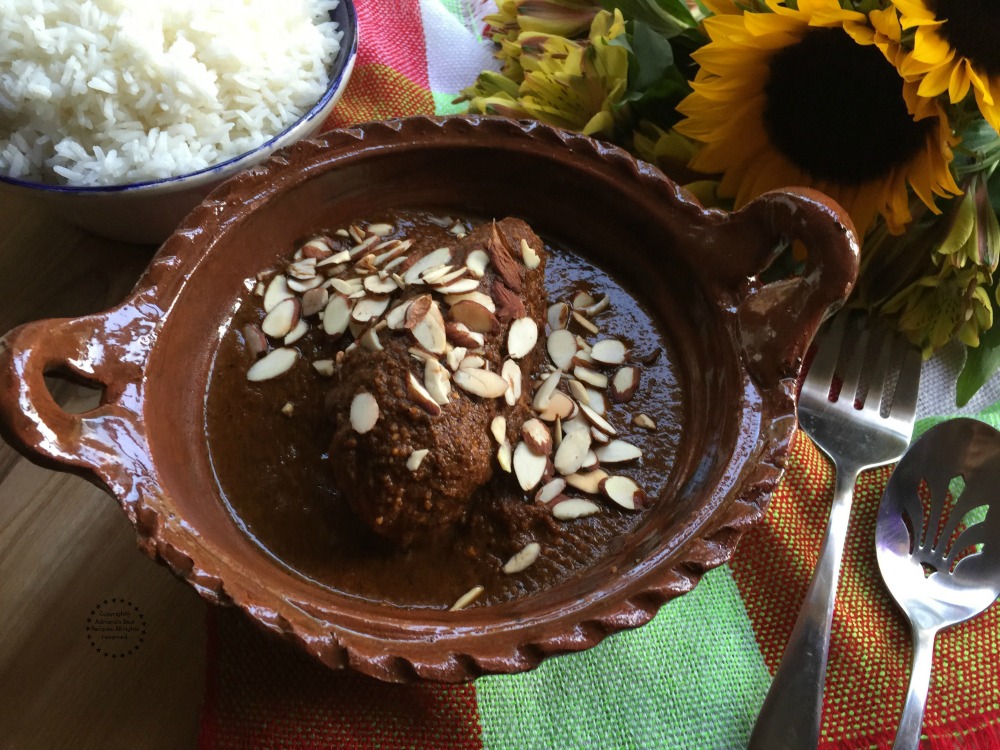 Almonds have been always a favorite nut and an ingredient that my family has used for special savory dishes not only desserts. Inspired in my Mexican heritage and Day of the Dead, I have created a delectable almond mole.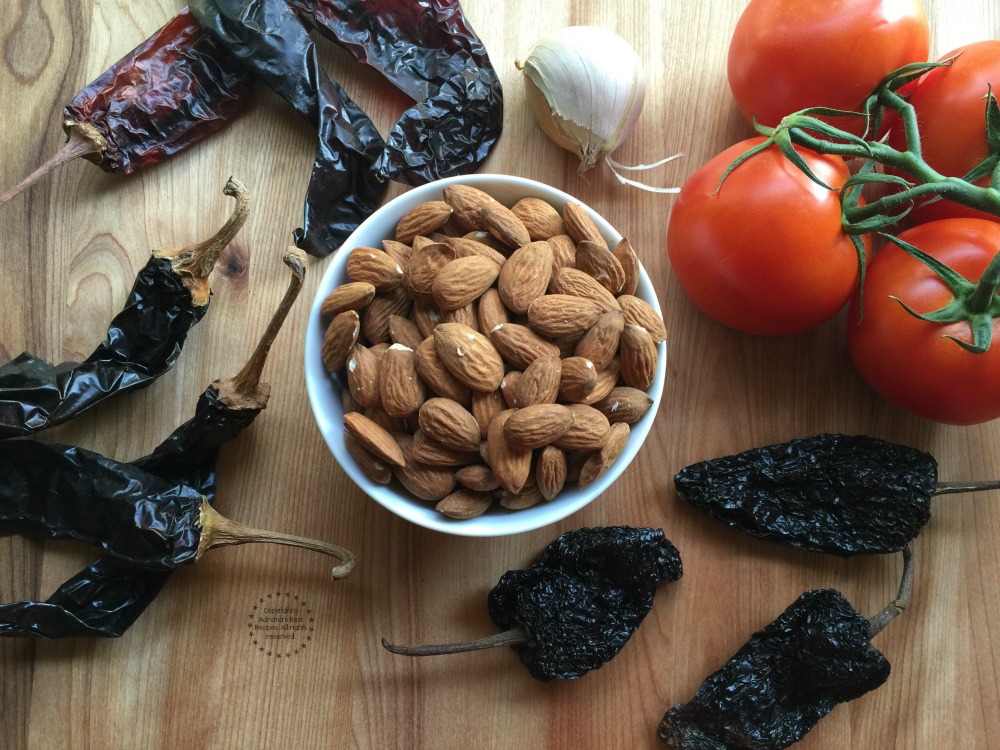 This mole has almonds as the main ingredient combined with  tomatoes on the vine, ancho and guajillo peppers, roasted garlic, raisins, cumin, cinnamon, and chicken bouillon. In order to achieve a velvety consistency I have blanched the almonds and roasted them to enhance the flavor. This mole is not sweet, yet it is creamy, with the right amount of heat and very flavorful.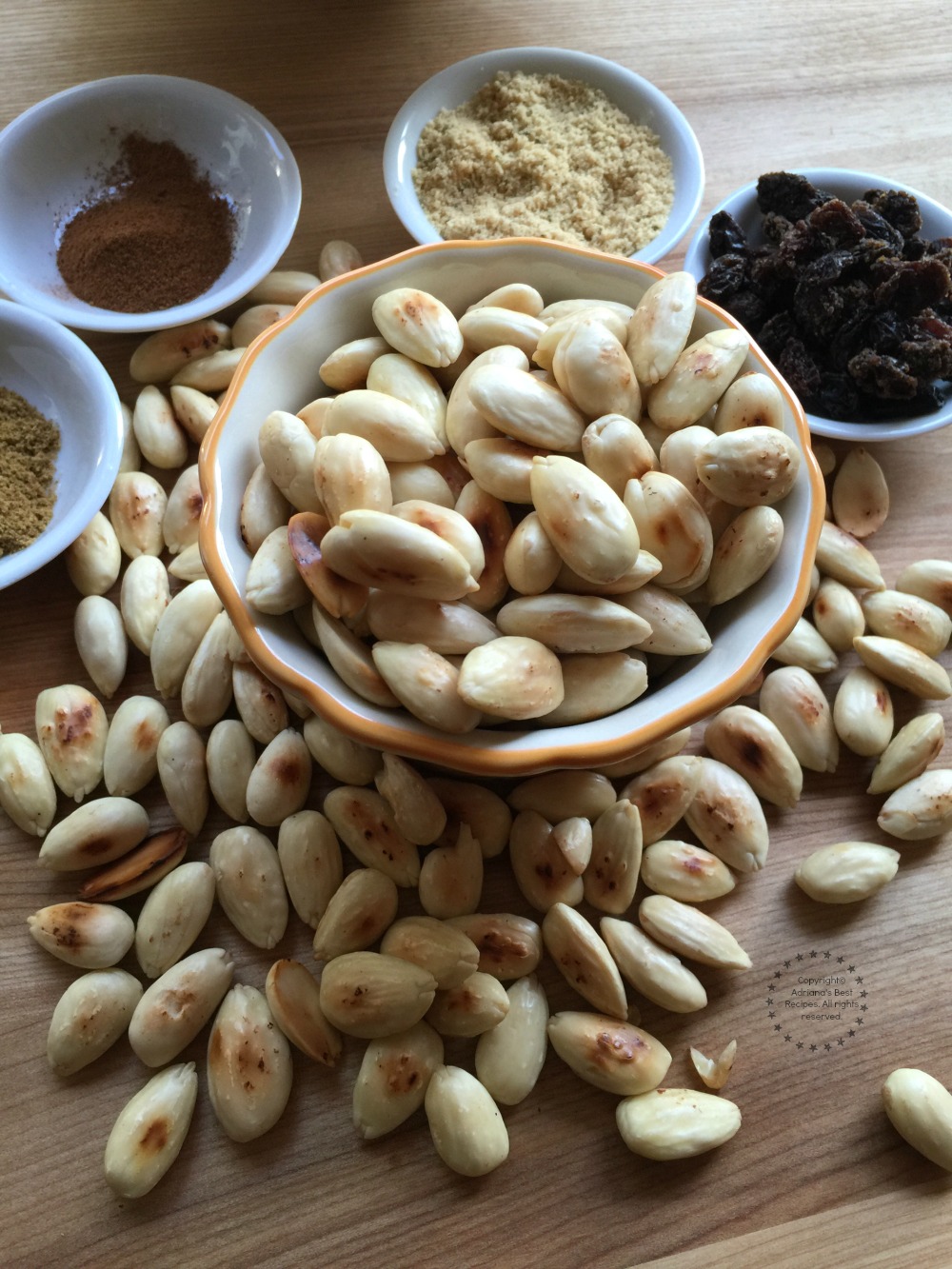 In the traditional Mexican cuisine there are many dishes that include almonds as one of the ingredients. There is one that is very famous called "almendrado". Made with pasilla peppers and other condiments. I used this idea of the almendrado to create my own twist for an almond mole.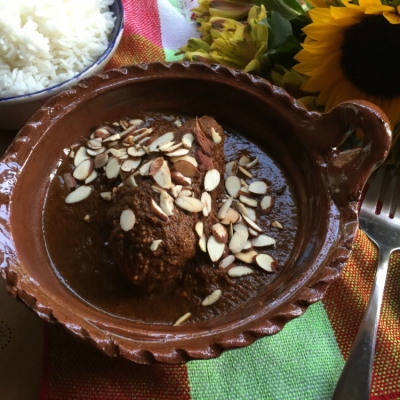 Almond Mole for the Holidays
Delectable almond mole, made with almonds as the main ingredient and combined with tomatoes on the vine, ancho and guajillo peppers, roasted garlic, raisins, cumin, cinnamon, and chicken bouillon.
Ingredients
2

cups

of raw almonds

6

guajillo chiles

3

ancho chiles

1

large garlic clove

or 3 small garlic cloves

4

tomatoes on the vine

or 2 large tomatoes

2

cups

of water

1

tablespoon

of raisins

1

tablespoon

of cumin

1

tablespoon

of cinnamon

1

tablespoon

of chicken bouillon

2

cups

of chicken broth

4

chicken breasts
Instructions
Before starting the cooking process for the almond mole, poach the chicken breasts in water and poultry seasonings. To get the ultimate smooth texture chicken must be cooked at low temperature and covered. Do not let it boil.

Blanching the almonds is easy. Add hot water to a soup pan and add the almonds. Let them soak for 10 minutes and when the almond skin can be easily taken off almonds will be ready to peel. Remove the water and peel one by one. Place the white almonds on a roasting pan and roast on medium heat. This will allow the almonds to enhance their flavor. When ready just set aside.

To prepare the sauce it is important to roast the tomatoes, the garlic and the peppers. This will provide deeper flavor notes to the almendrado. When done add to a soup pan and add water. Cook this for 10 minutes until peppers are soft.

In the blender add the the cooked peppers, the garlic and tomatoes. Blend well until getting a chile sauce. Strain to remove seeds.

Clean the blender and add the blanched and roasted almonds with the chile sauce, the raisins, the chicken bouillon, the cumin, the cinnamon and some of the chicken stock. Blend well until getting a mole consistency. Add to a pan and cook at medium heat on the stove. Add the poached chicken breasts and serve with white rice and thinly cut almonds for extra crunch.
Almonds have been a valuable ingredient in my family's pantry for many years. And somewhat this ingredient was considered a luxury in Mexico. In the past, almonds were expensive because they were imported mainly from Spain.
Those almonds that I was used to enjoy with my grandmother were called marcona almonds. And this were only used for very special occasions and celebrations. Now, the situation has changed as almonds are more affordable and other varieties are available that are less expensive. That is why almonds have become a snack of choice for those seeking a healthier diet not only in Mexico but also here in the United States.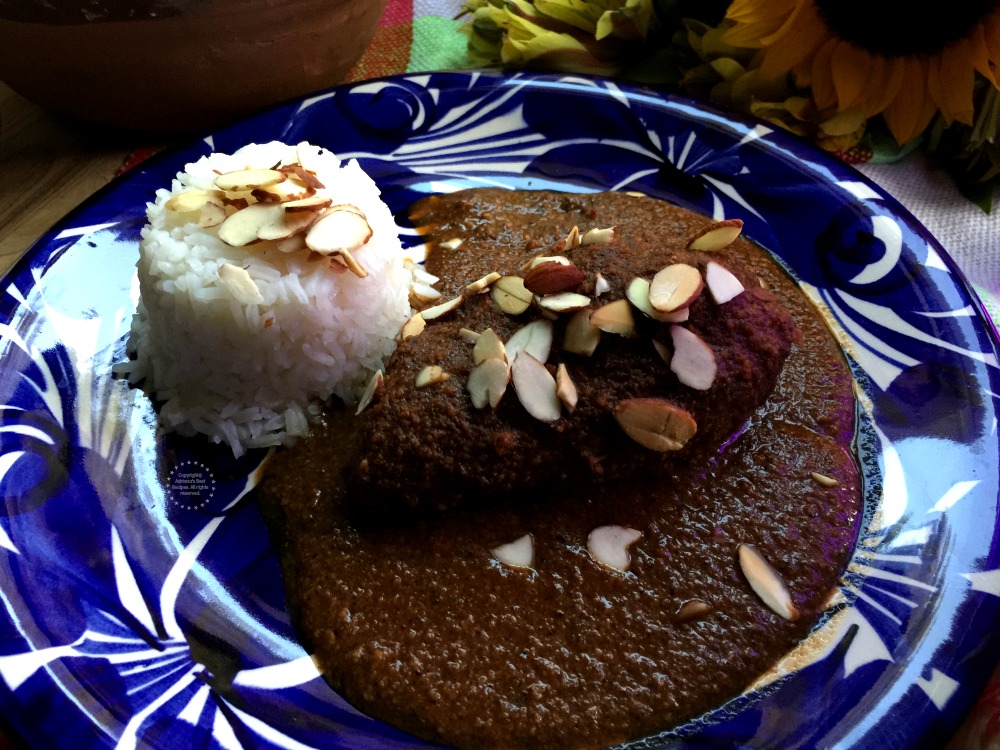 The almond mole that I am suggesting to include in your upcoming Day of the Dead dinner feast, is a simple recipe. But requires patience and to follow the recipe steps. As any good dish, not rushing the cooking process will assure a successful outcome. This almond mole I am serving over a poached chicken breast that melts in your mouth and a side of white rice. Both, the chicken and the rice complement very nicely the almond mole sauce.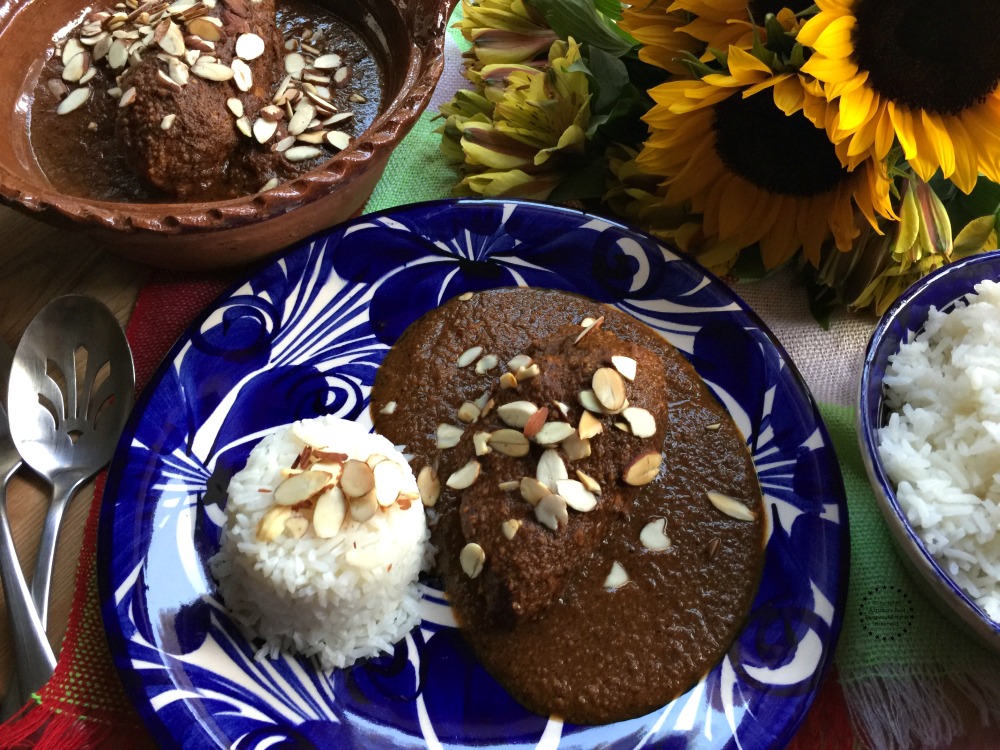 Did you know that almonds originally were brought to America by Franciscan missionaries that came from Spain to settle in California. Spanish cuisine includes almonds in many of their traditional dishes, sauces and sweets. Some of my favorites are the Catalonian romesco sauce,  horchata, mazapanes and turrones. So it is understandable that these missionaries, among their religion they also brought almond trees to plant their beloved Spanish almonds in American soil. I am so glad these missionaries brought almonds to America and that now they are grown in California. Few weeks ago I had to chance to attend an almond harvest with experts from California Almonds. I will share in another article my experience and all the things I  learned about almonds; how they are grown and how they have become a favorite in the US for a healthy snack.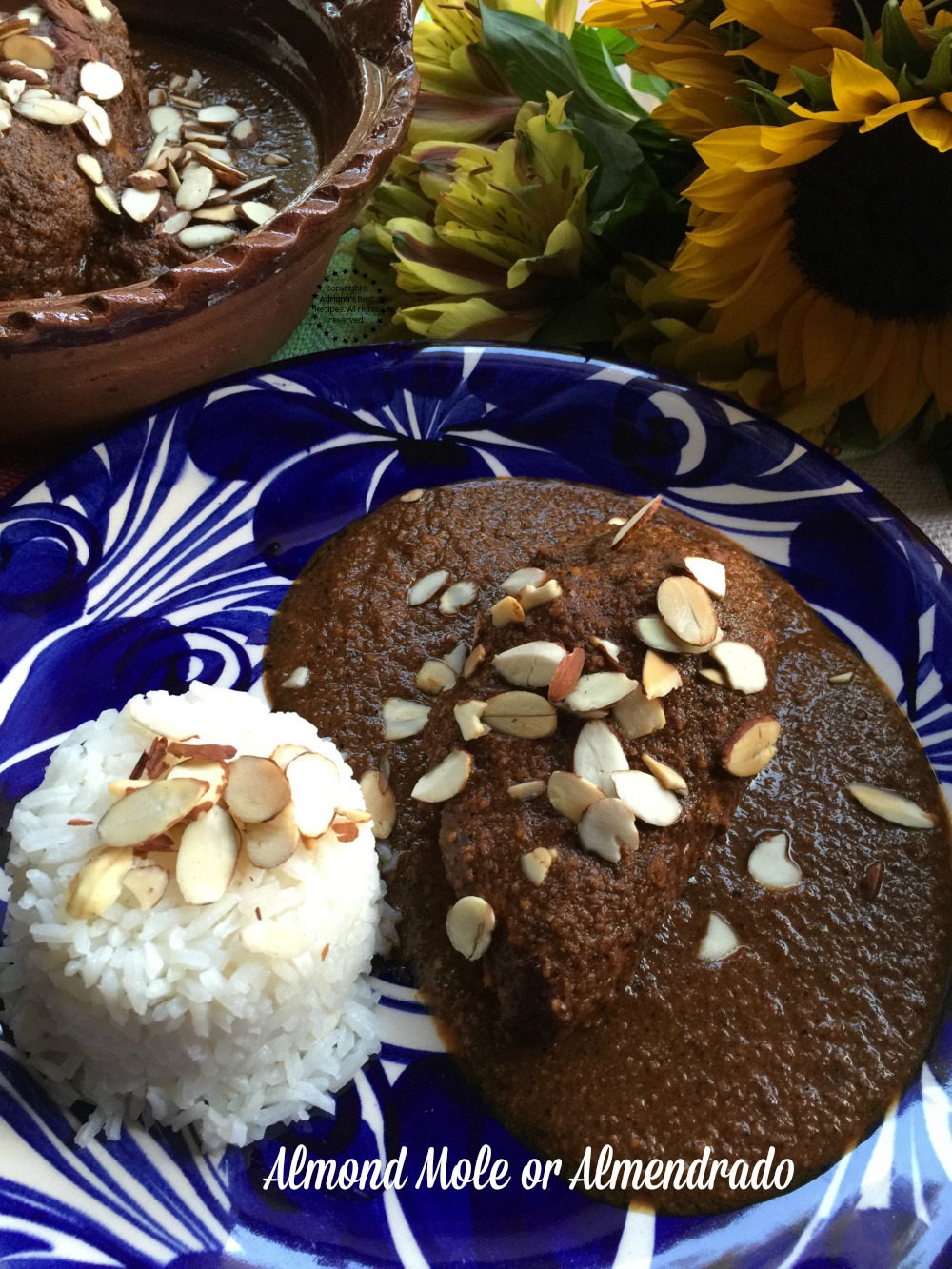 In fact, last September 30th FDA has officially declared almonds as a healthy. As they contain predominantly "good" monounsaturated fats and 14 percent of the Daily Value for fiber plus other attributes that are good for us.
So stay tuned!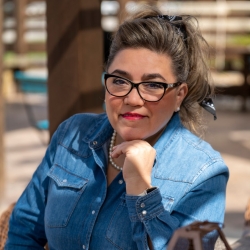 Latest posts by Chef Adriana Martin
(see all)