This post is also available in: Español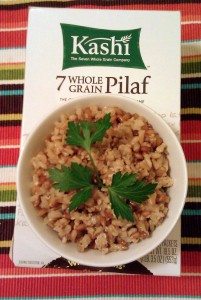 In my search for new ideas and flavors I found this great option that it is not only healthy but delicious, Kashi Whole Grain Rice Pilaf, here my suggestion for preparation.
INGREDIENTS
2 packets of Kashi Whole Grain Rice Pilaf (the box includes 3 small packets)
3-4 cups of vegetable broth (canned is a good option if desired)
2 garlic cloves
1 tablespoon of olive oil
 salt
Preparation time: 30 minutes. Serves 4-6 people. Approximate cost per person $1.00 depending on ingredients market price. Serves 4-6 people. You will need a pan intended to cook rice.
Turn on your stove and heat 3 cups of the vegetable broth, add 2 garlic cloves, salt and olive oil, when turns to a boil add the 2 packets of  Kashi Whole Grain Rice Pilaf, lower the flame and cover. Leave rice alone do not stir wait and check moisture if needs more broth add accordingly, do not stir. Let it cook takes around 20-30 minutes depending how you like it, myself I prefer al dente.
You can enjoy this side dish alone or with chicken, fish, fillet, or any protein you like. You can also use it cold and add to your favorite salad, great option for lunch. The flavor is nutty and delicious if you want to add an Asian twist drizzle some sesame oil. If you are a fan of rice like me this one won't disappoint you.
The packet also suggests the rice can be served with sweet sides if you do then avoid the vegetable broth, garlic and olive oil, just follow the directions on the package. Very surprised with this product I thought Kashi only did cereals and fruit bars but I was wrong, if you cannot find this product in your area go to your local organic market and ask for a combination of brown rice, whole oats, rye, hard red wheat, barley and sesame seeds.
Whole grain is important to promote good health try to incorporate this into yours and your family's daily diet.
Note: This post is not paid advertising for the brand it is truly a product review done in my test kitchen.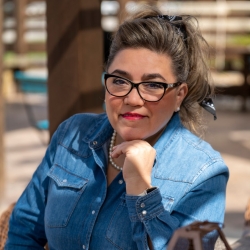 Latest posts by Chef Adriana Martin
(see all)