This post is also available in: Español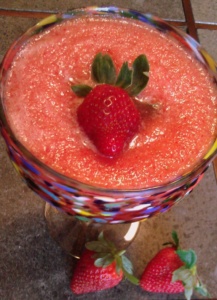 Better way to celebrate the beginning of the Spring is with a refreshing beverage, sharing with you my latest inspiration using organic strawberries from Florida's local Wish Farms and Tequila Patron.
INGREDIENTS
8-10  organic strawberries, medium size
1 cup of freshly squeezed lemon juice
1/3 cup of agave nectar
1/2 cup of tequila blanco
2 tablespoons of anisette liquor or cointreau
Ice
Preparation time: 5 minutes. Makes 4 drinks. Approximate cost per person $4.00 depending on ingredients market price. You will need a blender and margarita glasses.
Combine all ingredients using the blender, make sure to add enough ice to achieve a frothy consistency. Serve in a nice margarita glass and decorate with a fresh strawberry.
Stay cool, and get ready to enjoy a refreshing cocktail with your guests.
Please drink responsibly and do not drink and drive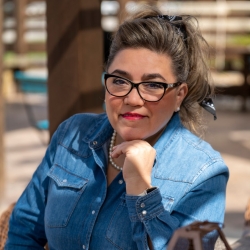 Latest posts by Chef Adriana Martin
(see all)