This post is also available in: Español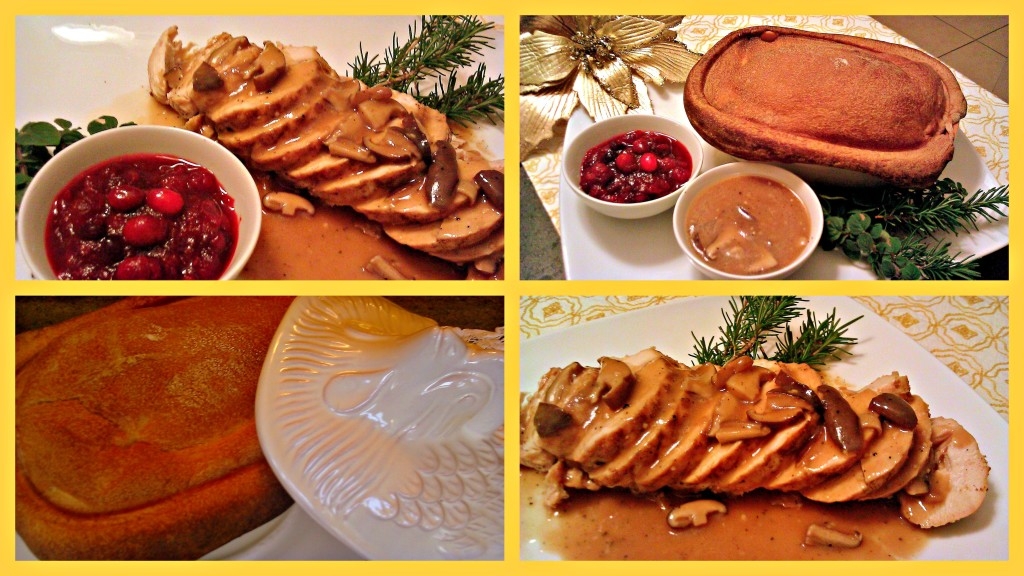 Turkey day is fast approaching and we moms and wives get a little or a lot overwhelmed when we think we have to prepare an amazing Thanksgiving or Christmas feast to please all the family,  that is why today wanted to share with you my hassle free turkey dinner, this is what you will need:
INGREDIENTS
1 turkey breast roast (3 to 5 pounds, comes frozen make sure to defrost inside the fridge for 24 hours prior cooking)
1 bunch of fresh poultry seasoning (fresh oregano, thyme, sage, rosemary)
1 teaspoon of paprika
1 teaspoon of salt
1 teaspoon of powder garlic
1 teaspoon of ground black pepper
2 teaspoons of butter
1/2 cup of white wine
1 pound of fresh pizza dough (store bought)
For the gravy:
1 small package of gourmet mushroom selection (shitake, oyster, morels, baby portabellas)
1 can of organic chicken broth (12 ounces)
1 teaspoon of garlic paste
1 teaspoon of butter
1 packet of turkey gravy seasoning
1 cup of white wine
1 small sprig of rosemary
Renderings of the cooked turkey (previously strained)
Salt and pepper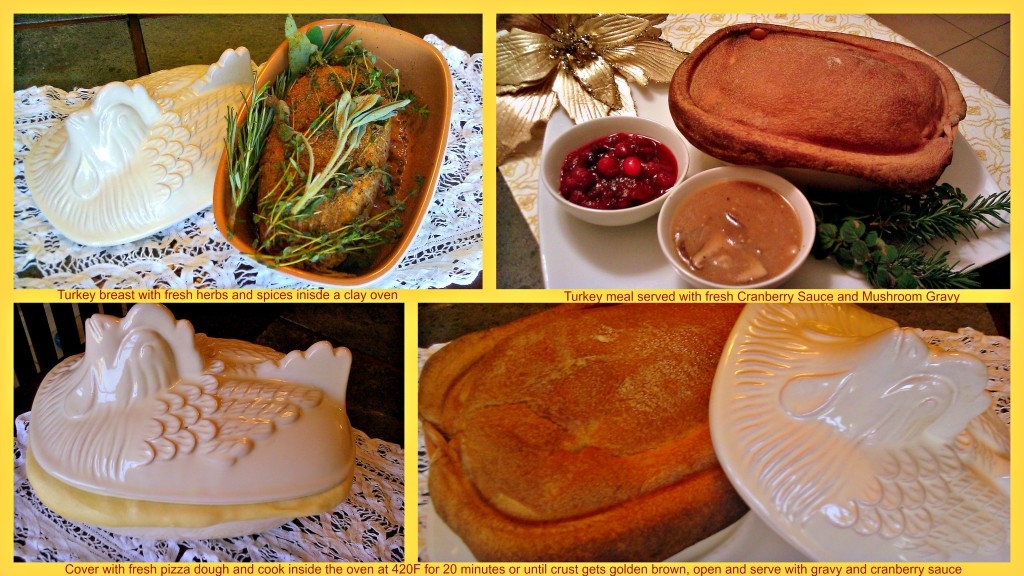 Preparation time: 45 minutes. Serves 6-8 people. Cost per person is $3.50 depending on local ingredients cost. You will need an Italian clay oven to bake poultry and small birds, you can find it in specialty stores investment is worth it as you will use it for other recipes. If cannot find you can use a dutch oven like Le Creuset.
Defrost the turkey and season with spices, salt and pepper, put it inside the clay oven and add the poultry fresh herbs, the butter and the wine. Cover with the pizza dough and place the lid. Set your oven at 420F and bake for 20-30 minutes until crust is golden brown; the pizza dough will keep the turkey moist.
I decided to use a turkey breast because my family doesn't like rest of the turkey parts so to simplify my life and make it easier I opt for buying only the turkey breast it is economical and easier to handle.
In the mean time turkey is in the oven prepare the gravy using a small pot, turn on the stove at medium flame, add the butter, the garlic and the mushrooms, then add the rosemary, the turkey gravy seasoning, salt, pepper, the wine and the chicken broth. Cook until gravy has a thicker consistency, if need more wine add as needed. When the turkey is ready add the renderings and continue cooking at low flame.
Place the gravy and the cranberry sauce is a bowl, slice your turkey and enjoy with a nice salad.
Happy holidays!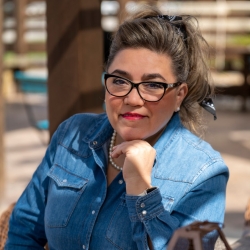 Latest posts by Chef Adriana Martin
(see all)