This post is also available in: Español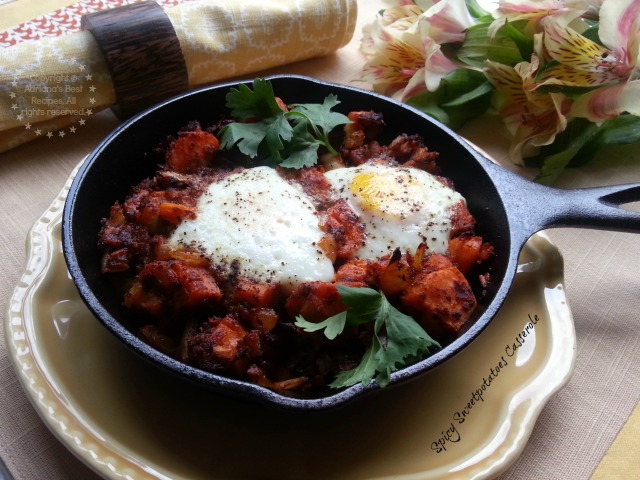 This is a compensated campaign in collaboration with California Sweet Potatoes and Latina Bloggers Connect.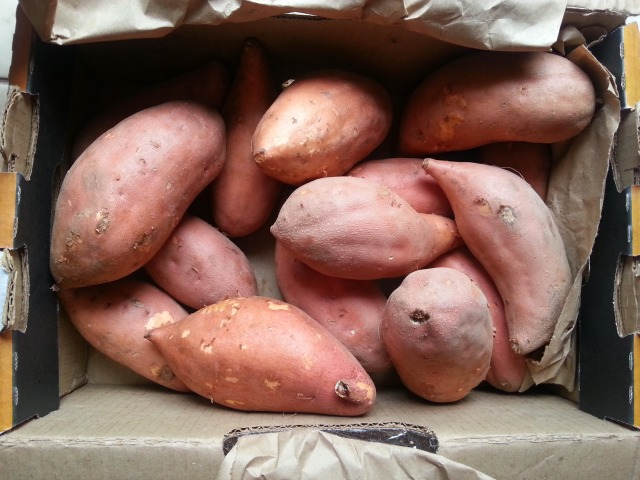 I enjoy a lot breakfast for dinner and brunch on a lazy Saturday morning and the California Sweetpotatoes are bold flavored and versatile veggies that are great for everyday sweet or savory dishes especially when combined with my latino flavors like chorizo and serrano peppers. But you might be wondering aren't sweetpotatoes written "sweet potatoes". A California Sweetpotato is not only grammatically correct but a handy way to remind you that a sweetpotato isn't  simply a "sweet potato". In fact, it's not a potato it is an entirely different vegetable, blessed with a totally different nutrients than the white potato.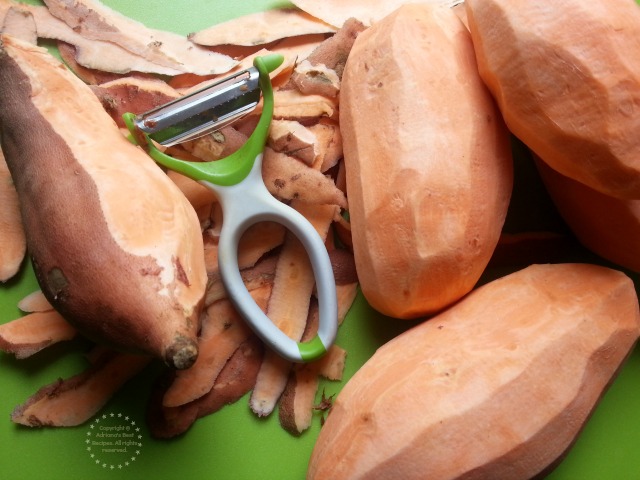 These sweetpotatoes are low in carbs, high in vitamins and minerals and designated superfood. Though there are many varieties of sweetpotato, with different colors, flavors and textures, sweetpotatoes are not the same thing as yams but they are often mistakenly called yams. Real yams, which are generally imported into the US, are dry and starchy and members of the Yam plant family. The scientific name of the relatively small, moist sweetpotato is Ipomoea batatas and it's a member of the morning glory family. Everything we find in the stores today called either sweetpotatoes or yams are in fact sweetpotatoes and California grows both "dry flesh" and "moist flesh" varieties.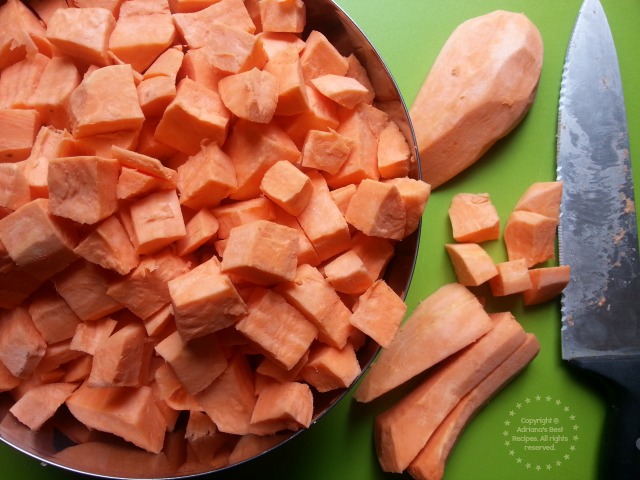 California Sweetpotatoes go great with my Mexican flavors that is why today I am preparing Spicy Sweetpotatoes Casserole or also known as spicy sweetpotato hash excellent to pair with farm eggs or for stuffing peppers, sopes, tacos or tostadas. This recipe is vegetarian option as I am using soy chorizo and fresh eggs from my favorite local farm, so let's cook!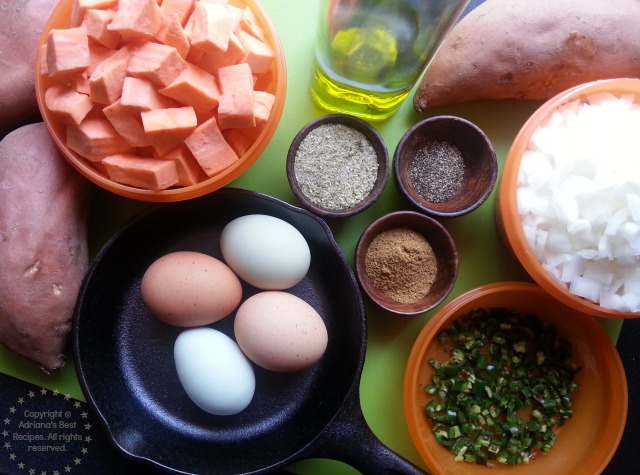 INGREDIENTS
4 cups of California Sweetpotatoes peeled and cut in cubes
1/3 cup of olive oil
2 teaspoons of ground cumin
2 teaspoons of sazon seasoning
1 teaspoon of ground black pepper
1 cup of soy chorizo (can use Mexican style pork chorizo if desired)
2 serranos finely chopped
1 medium size white onion diced
4 fresh farm eggs
2 sprigs of cilantro for garnishing
Preparation time: 60 minutes. Serves four portions. Cost per portion less than $5.00 dollars. You will need a roasting or baking sheet, an iron skillet, knife, peeler, a chopping block and patience.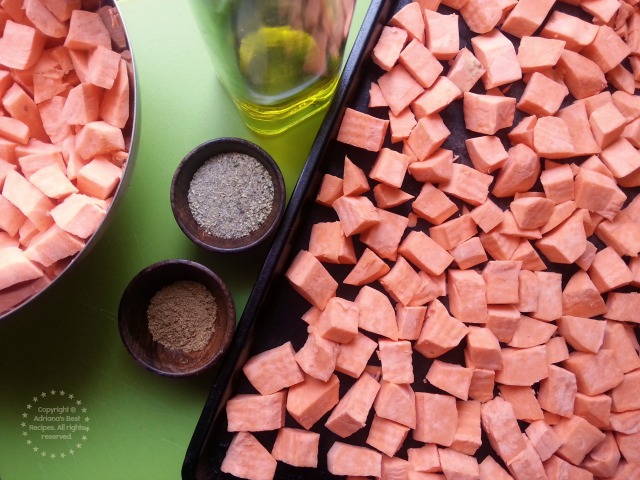 I love layered flavors so I take the time to roast the sweetpotatoes and season them separately to give even more depth to the ingredient and make the natural flavor of the sweetpotatoes shine. Start washing your sweetpotatoes with water and soap and it is recommended to use a vegetable brush for removing impurities. Then proceed to peel and cut in cubes.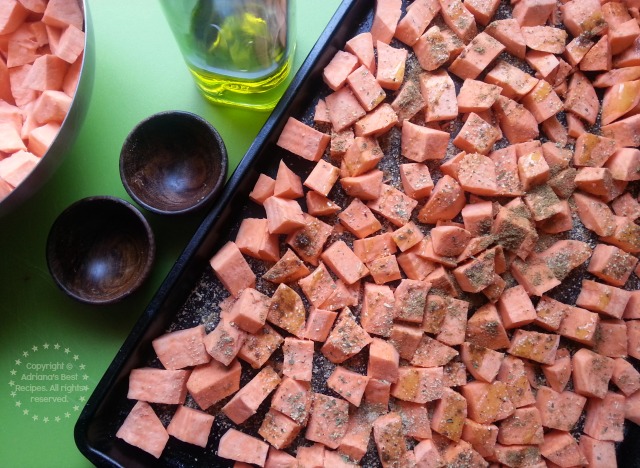 Place the sweetpotato cubes in a baking sheet, drizzle with olive oil and season with cumin, sazon and ground pepper. Roast the sweetpotatoes at a medium heat using the broiler and let them cook for 10-15 minutes.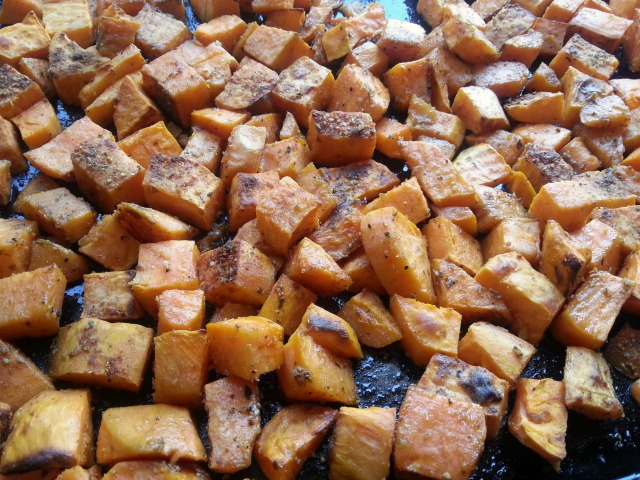 Sweetpotatoes cook very fast despite being such a firm vegetable. You want the sweetpotatoes to be golden brown and still firm since you will saute again for the spicy sweetpotatoes casserole and you don't want them to be mushy.
In a sauteing pan or a skillet add the soy chorizo and cook until golden brown at medium flame, you can add some olive oil if desired if not let the chorizo cook on its own fat if using pork chorizo. Then add the serranos and the onions and combine. Finally add the roasted sweetpotatoes and incorporate with the rest of the ingredients. Let it cook for another 5 minutes, turn off the stove.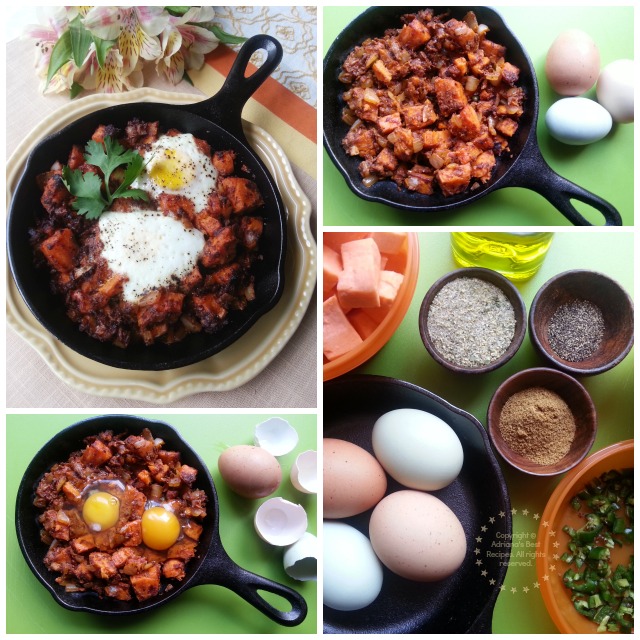 To assemble the Spicy Sweetpotatoes Casserole with Eggs add 1 cup of the spicy sweetpotatoes hash to an iron skillet and add the eggs. Turn on the oven and bake at 375 degrees fahrenheit for 10-15 minutes until egg is cooked. Enjoy this meal for breakfast, dinner or for brunch. It is absolutely delicious and a complete meal. If you have leftovers Spicy Sweetpotatoes leftovers you can use for scrambled eggs, to use as stuffing for peppers, enjoy on tacos or on tostadas.
Important California Sweetpotatoes facts:

California's generous sunshine and warm, dry climate provide the perfect conditions for the highest quality product by enabling lush, rapid growth and a year-round sweetpotato supply.
Sand grown rather than being grown in dirt, California Sweetpotatoes are raised in a unique region in the San Joaquin Valley in sand.
Naturally sun-cured on the vine, California Sweetpotatoes are cured in the ground before harvest to increase shelf-life, rather than being picked first and then cured in sheds.
Beautiful shapes and skin texture are made possible by hand-planting, selecting, sorting, sizing and packing. Getting up-close and personal with each sweetpotato not only ensures it meets the high California quality standards, it minimizes scaring and scratching that often results from a mechanized process.
It's all in the family with deep roots that extend back several generations. John Bettencourt Avila (1865-1937), a Portuguese-American who settled in Merced County, California has been called the father of the Sweetpotato industry.
Most California Sweetpotatoes are still family grown on legacy farms in Merced and surrounding counties.
Wider variety – color, size, shape, flavor! There are many types of sweetpotatoes—you can find 12 different varieties at local farmers markets around California and commercially.
Food-Safe(r) – California agricultural regulations are among the strictest in the world to ensure food safety and environmental accountability.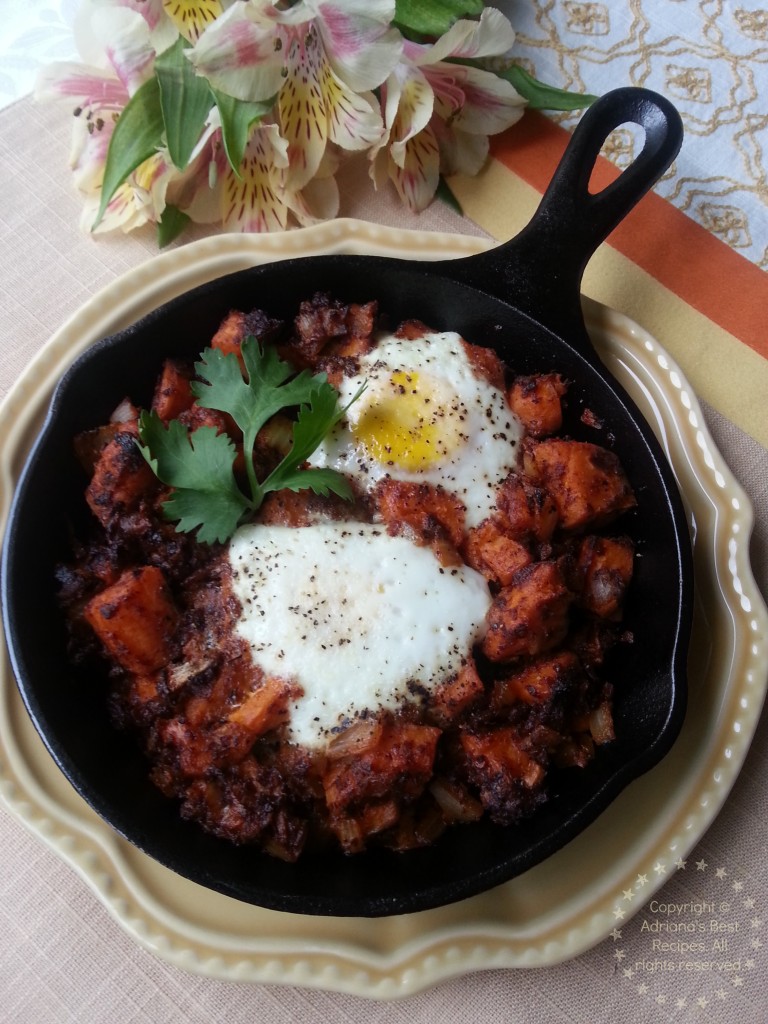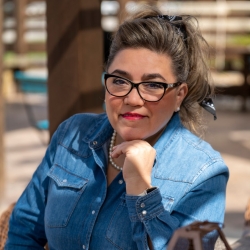 Latest posts by Chef Adriana Martin
(see all)