This post is also available in: Español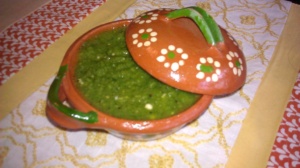 This salsa is a must in my home because my husband is addicted to it; he loves to scoop it and add to all dishes I cook for him. If you want to become addicted too here is the recipe.
INGREDIENTS
10 tomatillos cleaned and washed
5 serrano chiles (I personally like it spicy so I add 10 serranos but it is your choice on how much heat you want to add)
4 garlic gloves
1 bunch of cilantro
Salt
Preparation time: 15 minutes. Makes many servings. Approximate cost per person $.15 depending on ingredients market price.
You will a roasting pan or "comalito", a food processor or a blender and a crystal container with a locking lid.
This salsa has a life of approximate one week if kept refrigerated appropriately. I recycle the crystal containers where tomato sauce is sold you know that kind that is use for pasta marinara; these containers are excellent for storing salsas in the fridge.
Place all ingredients with the exception of the cilantro and the salt in the roasting pan. Roast until light brown. Place ingredients in the food processor or the blender. Make sure to place the lid to avoid accidents. Blend until all ingredients come together, if you need to add water add some but not too much as then the salsa will become soupy. Add the cilantro and the salt and blend again until all ingredients are incorporated. Taste and if need more salt add and blend again, pour into the container and enjoy for a week!