This post is also available in: Español
One of my childhood favorites was indeed this pasta and rice that I have called Rice N Roni Mediterranean Style. This is my mother's recipe for special occasions, the combination of rice and pasta might sound too much but indeed is a pair made in heaven. Here the ingredients you will need: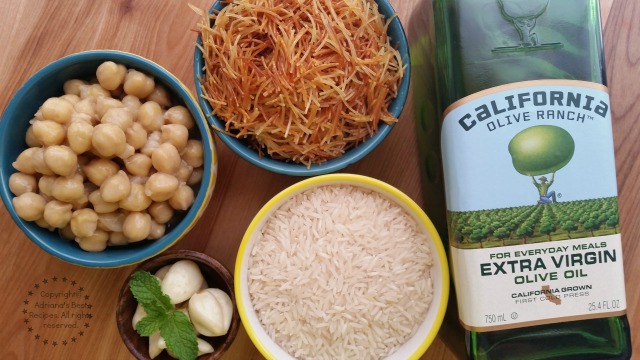 INGREDIENTS
2 cups of long grain white rice (can use Basmati if desired)
2 cups of vermicelli pasta (fried fideo until golden brown)
2 cups of garbanzo beans (cooked, could use canned if desired)
3 cups of boiling water
3 garlic cloves
1 bunch of fresh mint
3 tablespoons of olive oil
Sea salt or MAGGI® Bouillon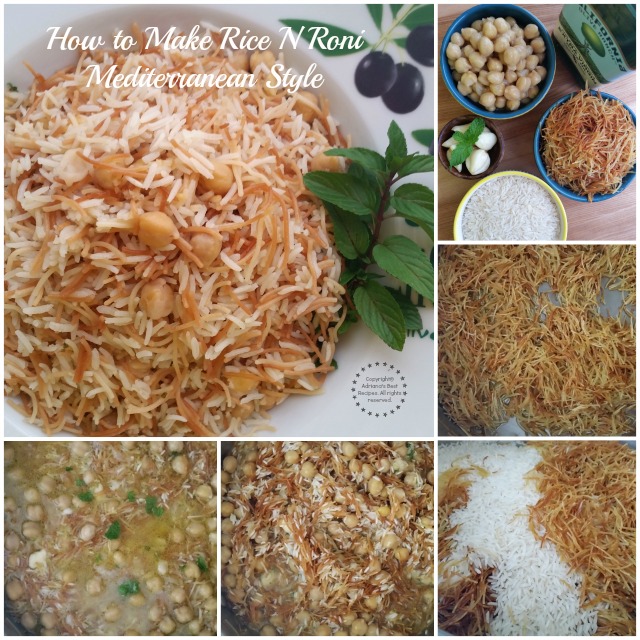 Preparation time: 30 minutes. Serves 6-8 people. Approximate cost per person $1.70. You will need a pan intended to cook rice and a sautéing pan.
Turn on your stove and heat the water, while you wait prepare the garlic but cutting in slices that you can remove later. Place the sautéing pan on the stove, put some oil and fry the vermicelli pasta until golden brown, when ready place in a plate.
Place the rice pan in the stove and fry the garlic, season with salt, and the rice and mix all ingredients well. Then add the 2 cups of water, the garbanzo beans, the mint and the fried vermicelli, lower the flame and cover.
Leave rice and the pasta alone do not stir wait and check moisture if needs more water use the half cup you saved and cover the pan. Add more boiling water as needed, better to use less than a lot, rice consistency should be al dente.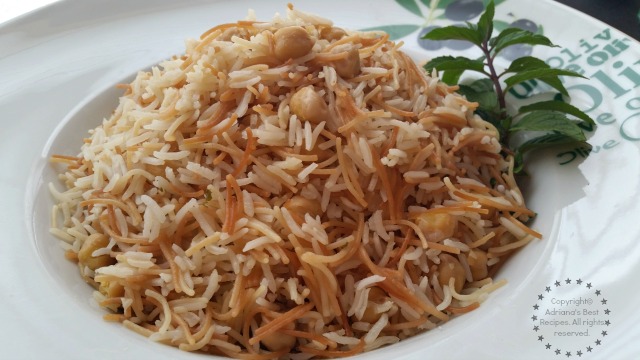 The secret to perfect rice is to use boiling water and add for one cup of rice 2 cups of water or a little less depending on your taste and do not stir for better results.
When ready to serve drizzle with olive oil and decorate with mint, if you like the mint flavor you can even julienne some and add to the rice both pair well with this recipe . This rice can be served with chicken, meat, pork or fish or eaten alone with a slice of avocado. This is a perfect dish for a summer grilling party.
Enjoy!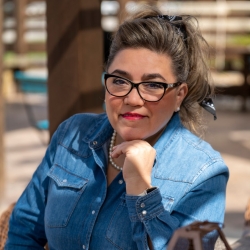 Latest posts by Chef Adriana Martin
(see all)