This post is also available in: Español
"I worked together with the California Raisin Marketing Board to create this recipe and was compensated for my time. The opinions below are mine and mine alone and do not represent those of the California Raisin Marketing Board."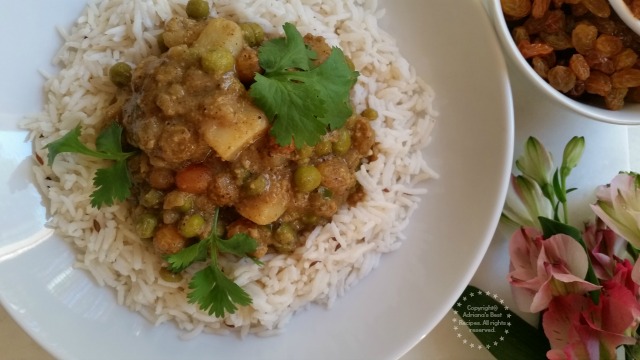 The Potato Korma recipe is a traditional vegetarian Indian dish that has a lot of flavor from the different spices and the natural sweetness of the yellow raisins. This dish is fulfilling and has different layers of spices that melt in your mouth in every bite. Indian and Mexican cuisines share the love for spices and many of the flavor profiles include the warmth of the cumin, smokiness of the coriander and the sweetness of the cinnamon. I am a big fan of Indian dishes and that is why I wanted to bring this recipe for you to try at home. Let's cook!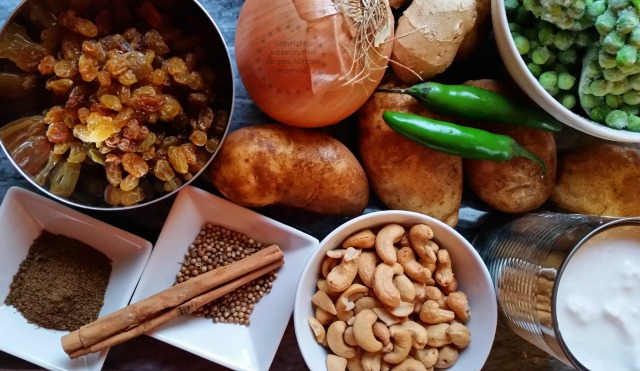 INGREDIENTS
4 large potatoes washed, peeled and cut in cubes
1 large yellow onion chopped finely
2 teaspoons of chopped ginger
1 tablespoon of butter or ghee
1 tablespoon of cumin
1 serrano pepper chopped
1 cup of California yellow raisins
2 tablespoons of roasted cinnamon and coriander powder
1 teaspoon of turmeric powder
1 cup of cashews
2 cups of coconut milk
2 cups of vegetable broth
2 cups of frozen peas
4 – 6 cups of fragrant basmati rice cooked with cumin seeds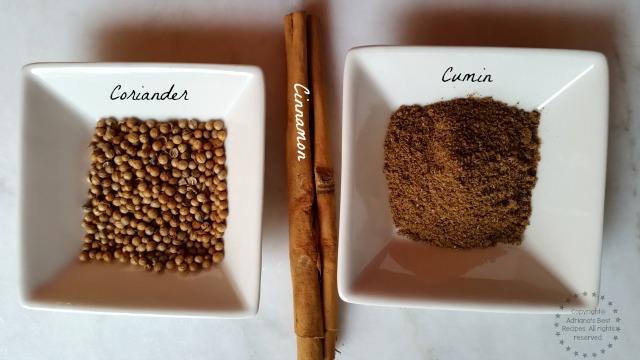 Preparation time: 60 minutes. Serves 4-6 guests. Cost per serving less than $4.00 dollars. You will need a large pot, peeler, knifes, cutting board, cooking spoons, measuring cups and spoons. A spice grinder and a sautéing pan.
See the video tutorial to learn how to make the potato korma step by step and follow this instructions:
1.- Chop all the ingredients to start the cooking of this potato korma recipe. Place a large pot on the stove add the butter or ghee and start sautéing first the onion, then the ginger and add the cumin to start developing the flavors.
2.- Add the diced potatoes and combine with the ingredients. Then add the chopped serrano pepper and the roasted  indian spices and mix.
3.- Season with turmeric powder and continue mixing. Then add the sun-kissed yellow raisins and mix again.
4.-Blend the coconut milk with the cashews and pour this into the potato korma dish. Add vegetable broth and allow to simmer for 30 minutes covered.
5.- Add the frozen peas and simmer for other 10 minutes before serving.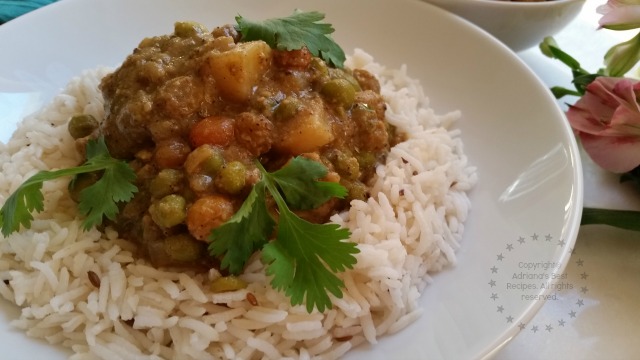 Serve the Potato Korma with California Yellow raisins over a bed of fragrant basmati rice perfumed with cumin seeds and finish with fresh cilantro leaves. When I prepare my menu for the holidays I always include a vegetarian dish to offer a different option for my family and guests to try and also to embrace those that have a vegetarian lifestyle.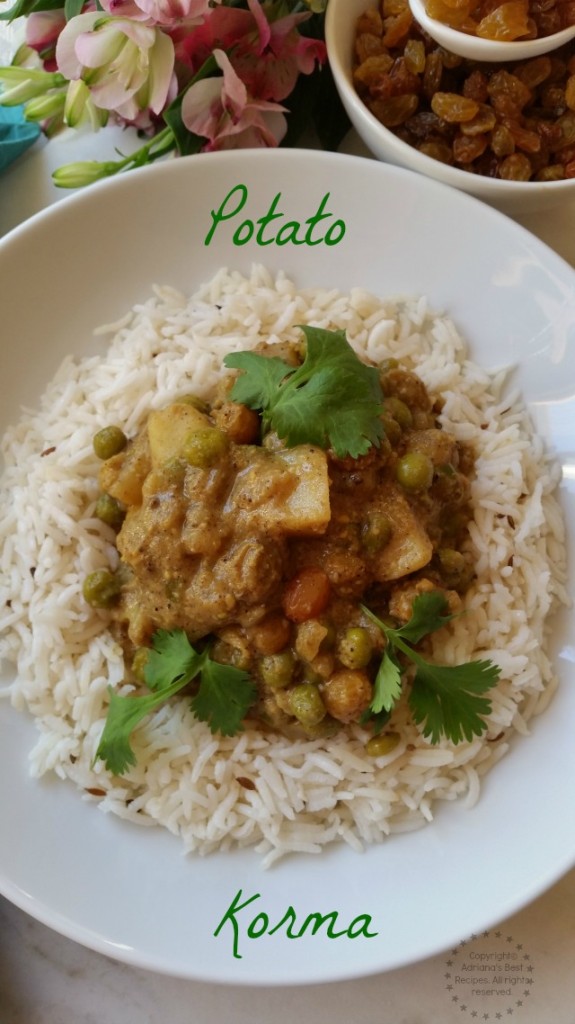 And this Potato Korma recipe with California Raisins is the perfect dish to offer for any special occasion. This recipe would be also a great option for New Year's Eve dinner party. Did you know that California raisins are all-natural, dried-by-the-sun and are a great fruit you can feel good about feeding your family – especially during the holidays. The yellow raisins provide a touch of natural sweetness to this savory Potato Korma recipe that after the first bite you will be falling in love with this Indian favorite.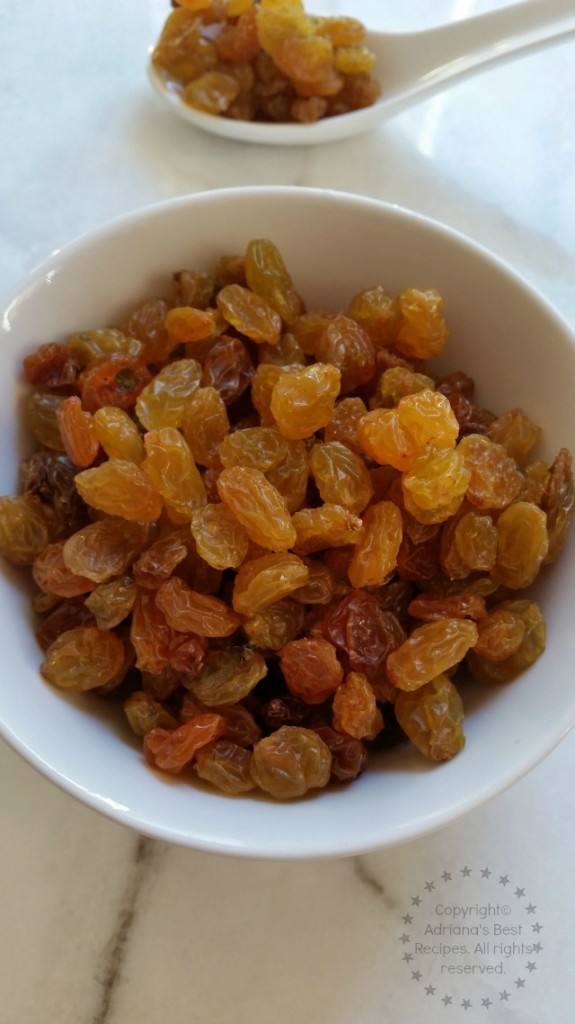 During the holidays and yearlong I recommend to include in your pantry California Raisins because they are a great choice for wholesome, healthy, on-the-go snacking or for adding extra nutrition into your holiday dishes. If looking into savings California raisins are a great value. According to the USDA, raisins are the most economical dried fruit in the marketplace. California Raisins come by their sweetness naturally and the nutrition label tells a great story: Zero fat, no cholesterol and no added sugar. Plus, raisins offer 9% of your daily fiber and potassium, and 6% of your daily iron (per quarter cup serving).
For more information about all-natural, no-sugar added California raisins and for recipe inspiration, please visit www.loveyourraisins.com, or get social at www.facebook.com/californiaraisins.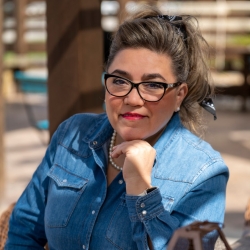 Latest posts by Chef Adriana Martin
(see all)