This post is also available in: Español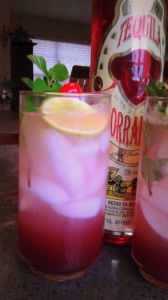 Love using flowers for preparing syrups and hibiscus is one of my favorites and the main ingredient that inspired this drink, let's get this party started!
INGREDIENTS
1 cup of hibiscus syrup
6 limes
Tequila blanco
Mint sprigs, lime rounds and cherries to garnish
Ice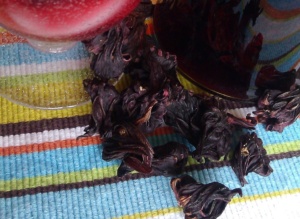 Preparation time: 25 minutes. Serves 4 glasses. Approximate cost per person $3.00 depending ingredients market price. Check for local market availability. You will need a boiling pan, serving cup, and nice tall glasses for serving.
For preparing the hibiscus syrup  you will need 15  hibiscus calyces, 1 ½ cups of boiling water, 1/2 cup of agave nectar, 5 teaspoons of cane sugar on the raw. Combine all and let if simmer for 20 minutes until getting a syrup consistency. The flavor should be concentrated so no worries if it tastes too sweet. Let it cool or place it in the fridge. You can prepare a day in advance this is great idea for entertaining.
Add ice to a tall glass, squeeze the juice of one lime (1 per glass), add a portion of the hibiscus syrup, top with tequila blanco and decorate with mint sprigs, lime rounds and a maraschino cherry.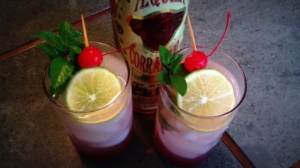 This cocktail is definitely festive, enjoy in a day like today.
Cheers!
Please drink responsibly and do not drink and drive.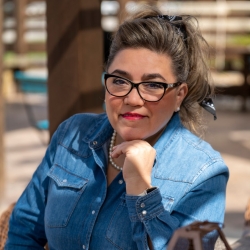 Latest posts by Chef Adriana Martin
(see all)