This post is also available in: Español
This is part of a sponsored campaign with DiMe Media and Dole Packaged Foods. However, all opinions expressed are my own.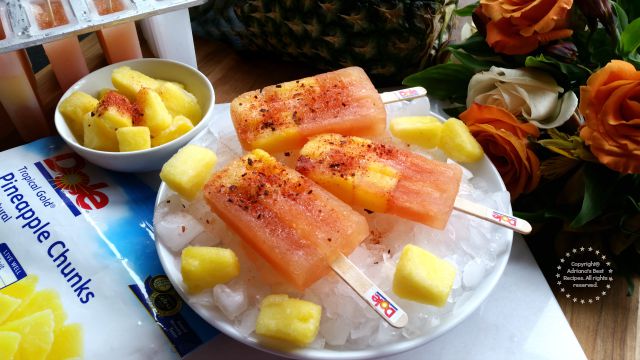 One of my childhood favorite treats are the Pineapple Chamoy Ice Pops or paletas. A typical treat very common in my Mexican culture that is sweet, spicy and sour. Flavors that go perfect for a savory treat paired with DOLE frozen pineapple chunks. Watch the video below to learn how to make these paletas!
In the Mexican cuisine we love to combine spicy and savory to our desserts and since childhood we are used to eat spicy foods and you can find many candies that have chamoy, a condiment made with fruit and chile powder.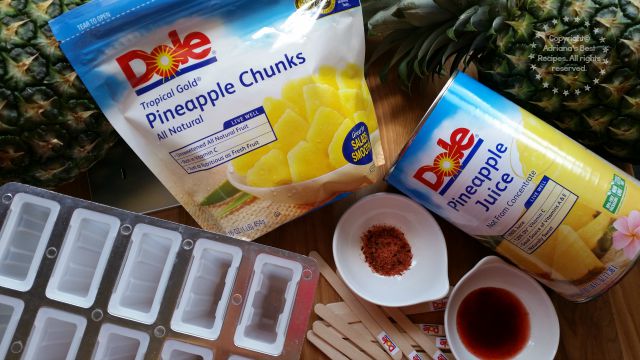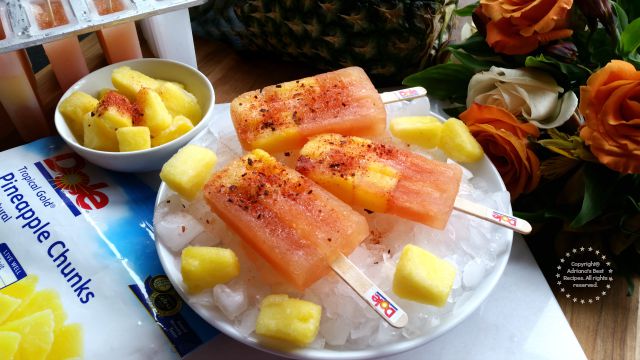 Pineapple Chamoy Ice Pops
This Pineapple Chamoy Ice Pops are a Mexican Treat and a Childhood Favorite!
Ingredients
2

cups

of DOLE pineapple juice

1/2

cup

of DOLE tropical gold frozen pineapple chunks

1/4

cup

of liquid chamoy

1

teaspoon

of chamoy in powder
Instructions
Combine the liquid chamoy with the pineapple juice and stir.

Pour the pineapple juice with chamoy on the ice pop mold.

Add 4 pieces of frozen pineapple chunks to each ice pop and add more juice.

Place the wooden sticks and freeze the ice pops for 3 hours until firm.

Take out of the mold, sprinkle with a dash of chamoy in powder and enjoy.
The origin of the chamoy is unknown but being Mexico home to other ethnic groups and cultures it is said that the chamoy was inspired in the flavors of the Japanese umeboshi, or pickled ume fruit yet using apricots and plums. The chamoy is prepared by packing the fruit in dry salt or on an acidulated vinegar brine and is available in liquid form or in powder.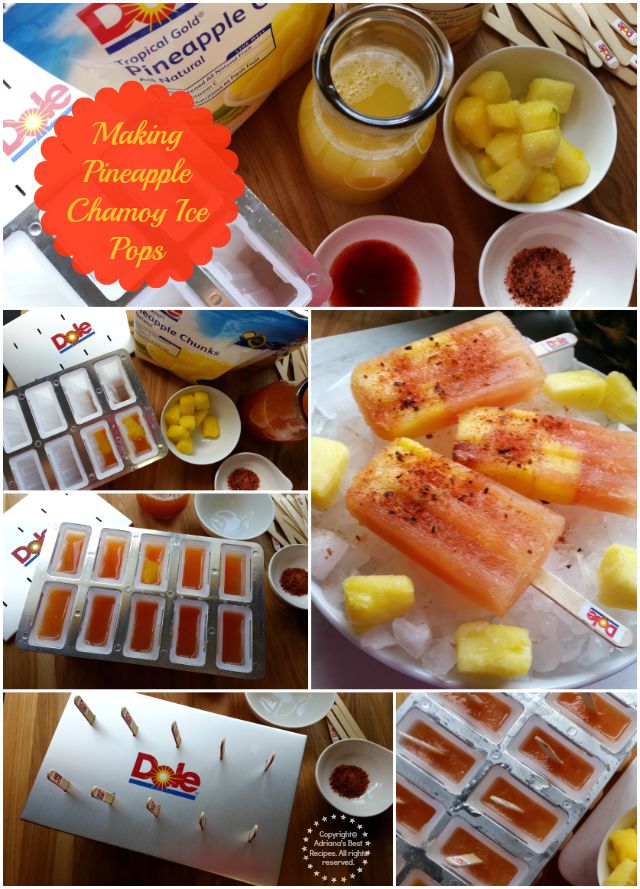 The chamoy I am using for this recipe to prepare Pineapple Chamoy Ice Pops I brought from Mexico yet you can find chamoy in Hispanic specialty stores and in some cases in the hispanic aisle at the local supermarket where you can also find the DOLE Packaged Foods that offer a variety of Frozen Fruit Bags that feature DOLE's delicious all-natural fruit with no sugar added and are perfect for preparing smoothies, salads and treats like these Pineapple Chamoy Ice Pops or paletas.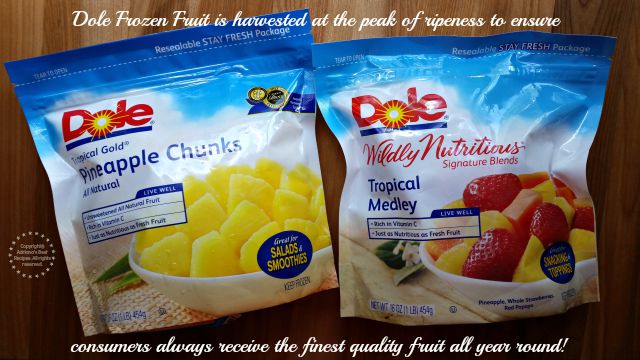 I love Dole Frozen Fruit because it is harvested at the peak of ripeness to ensure us consumers we are always receiving the finest quality fruit all year around. Other thing I learned from DOLE is that to lock in a fresh-taste and retain nutritional value, DOLE Frozen Fruit is washed and frozen no later than the day after it is picked. That is what I called fresh!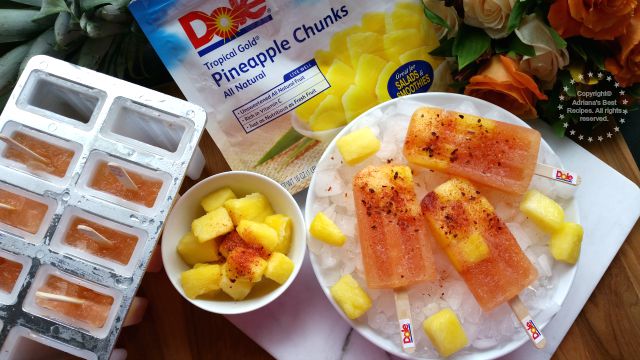 With Dole Frozen Fruit, you don't have to worry about any mess. There's no cutting, washing, or peeling required. The re-sealable stay-fresh pouch allows you to easily store your frozen fruit until you are ready to enjoy or use. The DOLE frozen fruits are ideal to incorporate into a wide variety of recipes, such as paletas and smoothies, on toppings, for baking, on salads, or simply as a healthy snack anytime of the day.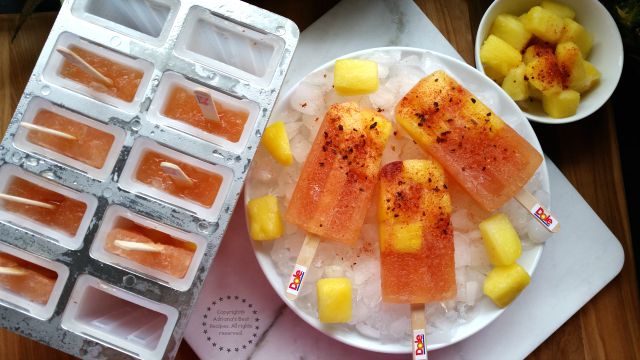 DOLE Frozen Fruit Bags are available in a variety of flavors: Wildly Nutritious Tropical Fruit, Wildly Nutritious Mixed Berries, Wildly Nutritious Mixed Fruit, Whole Strawberries, Wild Blueberries, Sliced Strawberries, Raspberries, Sliced Peaches, Mango, Pineapple Chunks, Dark Sweet Cherries, Blueberries and Blackberries.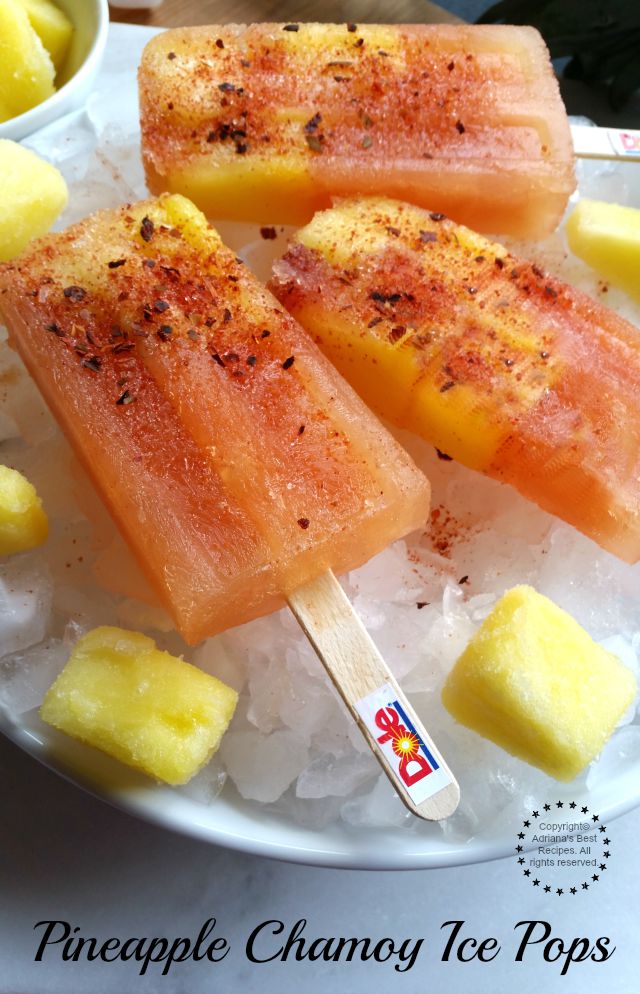 I invite you to visit http://www.dole.com/Products/Frozen-Fruits for more information. I am sure you will love this product and you won't wait long to try my easy Pineapple Chamoy Ice Pops to enjoy with your family.
You can also engage in social media with DOLE on the following channels:

DOLE Facebook: https://www.facebook.com/DolePackaged

DOLE Twitter: https://twitter.com/dolepackaged

DOLE Instagram: https://instagram.com/dolepackaged/

DOLE on Pinterest: https://www.pinterest.com/DolePackaged/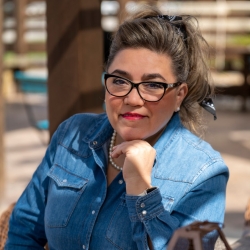 Latest posts by Chef Adriana Martin
(see all)