This post is also available in: Español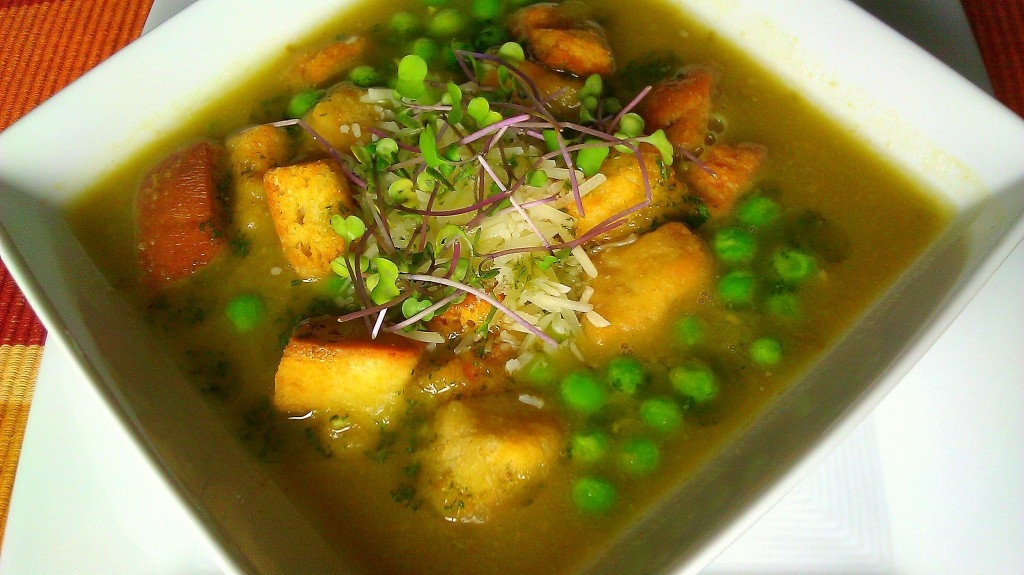 Peas are a very flexible and humble ingredient that can be elevated with simple ingredients and garnishes, this soup is also economical, hearty and luscious, great for any occasion. For preparing this recipe for Pea Soup Two Ways you will need…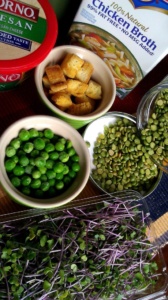 INGREDIENTS
3 cups of dry peas
3 cups of frozen peas
4 cups of chicken broth
4-5 cups of water
1 bunch of fresh cilantro
1 cup of olive oil
Kale organic micro-greens
Shredded Parmesan cheese
Croutons
1 packet of chicken bouillon
Salt & pepper
Preparation time: 30 minutes. Serves 8-10 people. Cost per serving is around $1.50 depending on local ingredients cost. You will need a pressure cooker, blender or food processor, soup pan with a lid, wooden spoon and a ladle.
Cook the dry peas in the pressure cooker using 4-5 cups of water for 15 minutes, if you don't have a pressure cooker you can use a dutch oven or a pot intended for soup. Recommended is to use a pressure cooker for faster preparation but it is up to you, if decided to use a normal pot consider a 1 hour cooking time.
When the dry peas are ready  add the chicken broth and the bouillon, if needed add more water soup should be thick but with runny texture. Let it cook and add the frozen peas, cover and let it simmer for other few minutes. Taste and add salt and pepper.
In the meantime, to prepare the cilantro oil add the cilantro to the food processor along with the olive oil, mix well until getting a green oil sauce, pour in a serving bottle.
When ready to serve the soup use the ladle to pour the soup in a bowl, garnish with  croutons, shredded Parmesan cheese, kale micro-greens and few drops of cilantro oil. Enjoy hot.
This pea soup is a good source of protein and great option for a healthy lunch.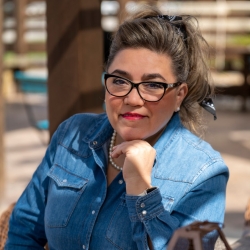 Latest posts by Chef Adriana Martin
(see all)