This post is also available in: Español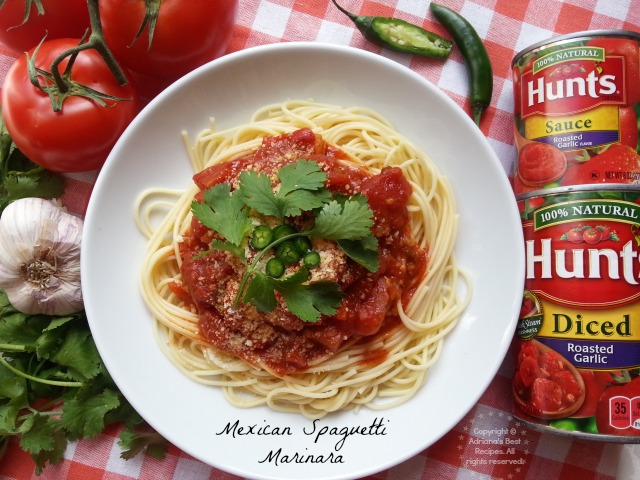 Disclosure: This is a compensated campaign in collaboration with Hunt's Tomato Sauce and Latina Bloggers Connect
At home we are all fans of pasta and Italian dishes, though we also love our Mexican flavors so when I was presented with the challenge to transform the Hunt's Kraft® Spaghetti and Meatballs recipe occurred to me that adding my latino flavors will come out as a fantastic dish. That is why today I am cooking a family favorite, Mexican Spaghetti Marinara with Hunt's Tomatoes. This recipe has been inspired in the Colección de Recetas de Hunt's and Kraft® and I have added my personal Mexican touch to make this dish a little more exciting to the taste buds, and serranos are the perfect touch to bring that spicy kick to a traditional dish like Spaghetti Marinara and Meatballs. Italian food and Mexican flavors have a lot in common, many of our authentic Hispanic dishes like those from the Mexican cuisine call for the use of tomatoes, and we Latinas are known for using fresh and high quality ingredients when we cook for our families. It is simply our way of life  and a tradition passed down from our mothers and grandmothers, and you know that  my abuela Alicia has a lot to do with my recipes and my cooking. That is why I invite you to try this Mexican Spaghetti Marinara, it is a bit spicy but so good!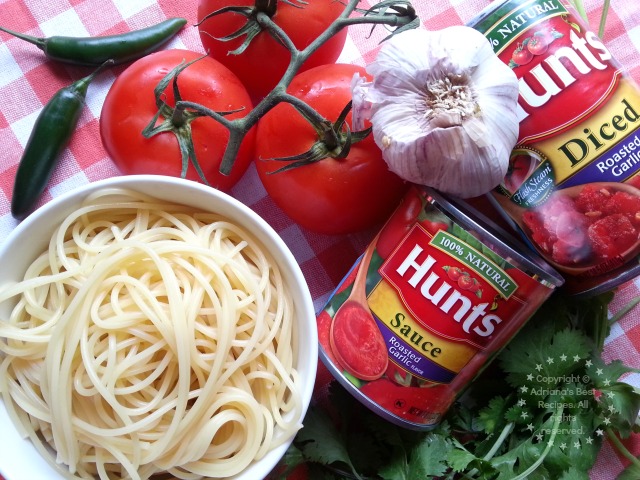 INGREDIENTS
1 tablespoon of olive oil
2 garlic cloves finely chopped
2 serrano peppers chopped
2 fresh tomatoes on the vine cut in cubes
1 can of Hunt's Roasted Garlic Diced Tomatoes
1 can of Hunt's Roasted Garlic Tomato Sauce
1 teaspoon of salt and pepper to taste
1 package of thin spaghetti pasta
6 cups of boiling water
1 teaspoon of salt
1 cup of Kraft Grated Parmesan Cheese
1 cup of cilantro to garnish
1 serrano pepper cut in rounds to use as garnish
Preparation time: 30 minutes. Serves 4 portions. Cost per portion less than $5.00 dollars. You will need a sauteing pan and a pan for cooking pasta.
To start the process of preparing the Mexican Spaghetti Marinara place the sauteing pan on the stove, add the olive oil, the garlic and the shopped serranos and saute for few minutes on medium heat. Then add the chopped fresh tomatoes and combine well. Following add the full can of Hunt's Roasted Garlic Diced Tomatoes and end adding the Hunt's Roasted Garlic Tomato Sauce. Flavor with salt and pepper and let sauce simmer for few minutes. Place the pasta pot on the stove add the water and the salt, and let it get to a boil. Then add the pasta and cook it for 10 minutes until al dente.
To serve place the cooked pasta on a bowl and add the tomato Mexican marinara sauce. Sprinkle parmesan cheese and garnish with cilantro leaves and fresh serrano pepper slices.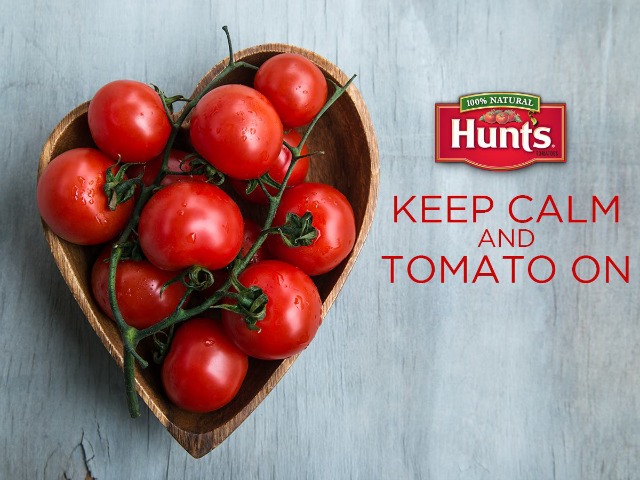 Since October is National Tomato month, now is the perfect time to try out any of Hunt's® Signature Recipes. And now that Hunt's® has teamed up with Kraft® for a second year to create 12 new signature recipes featuring Hunt's® canned tomatoes and Kraft® Parmesan Cheese is the perfect time to cook at home tasty recipes like the Hunt's Kraft® Spaghetti and Meatballs, perfect recipe for any night, any age and any palate. You can use my idea of the Mexican Marinara sauce and just add meatballs if you prefer a meal that has beef or chicken. Did you know all Hunt's® tomatoes are grown in sunny California and canned within hours of being picked. This is great because this assures fresh and high quality product to bring to our table.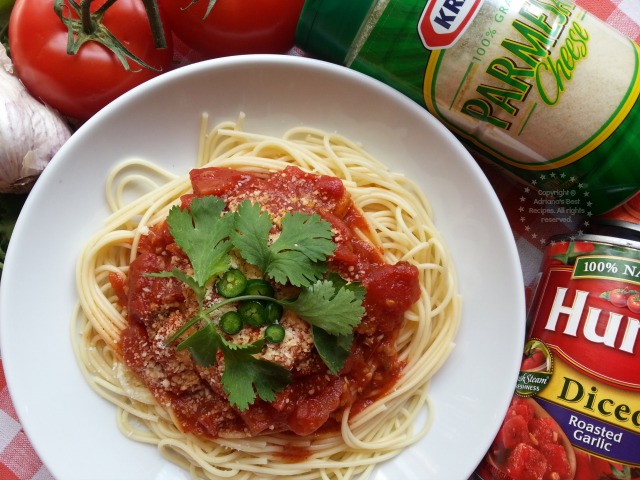 Kraft® Parm is 100% grated parmesan cheese with no fillers. Together, Kraft® Grated Parm and Hunt's® Tomatoes make family-favorite easy, for everyday dishes.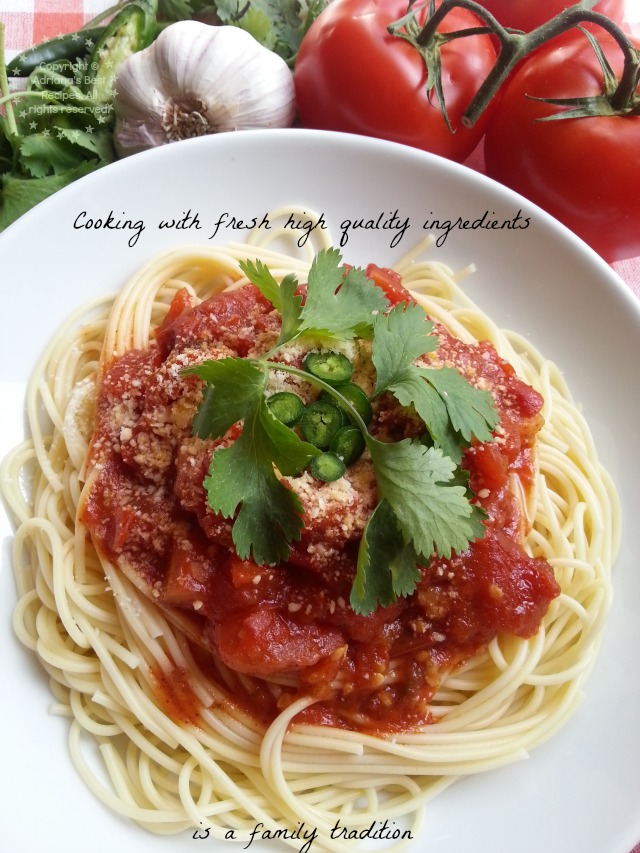 Siempre lo mejor para tu familia, we are always looking for quality ingredients and Hunt's® Tomato Sauce and their variety of canned tomato products, have no preservatives and are 100% natural. Any of their products is a great addition to our Latino meals.
Learn more about Hunt's and the delicious repertoire of recipes by joining the conversation on Facebook or Pinterest.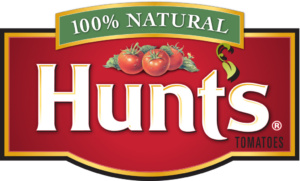 Happy National Tomato Month!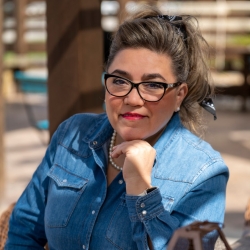 Latest posts by Chef Adriana Martin
(see all)