This post is also available in: Español
Tame your hunger with this homemade Instant Pot Salsa Verde Pork Stew!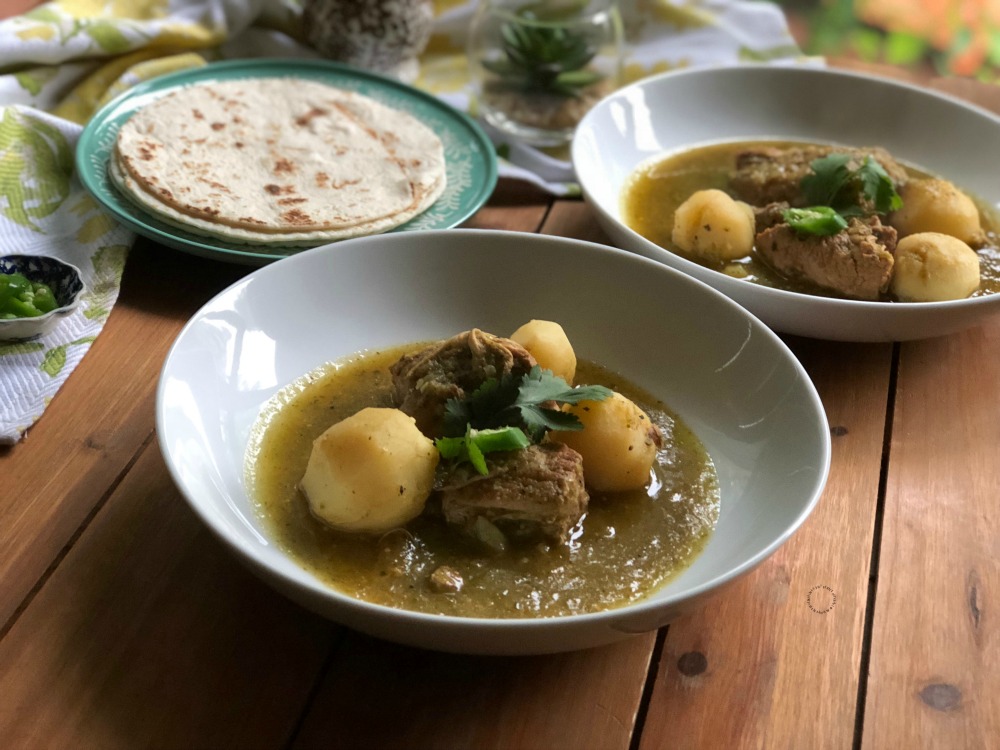 The Instant Pot Salsa Verde Pork Stew is a comforting dish brought to you thanks to the National Pork Board's @PorkEsSabor with whom I teamed up with to create delicious and nutritional pork recipes going through Hispanic Heritage Month. This Instant Pot Salsa Verde Pork Stew is a homey dish full of flavor, because who doesn't like juicy pork loin cooked in a roasted hatch green chile tomatillo sauce and served with potatoes? Every bite of this pork stew brings me so many memories of my younger days. The flavors hug your senses with yummy notes of mild spice and the comforting feeling of a home cooked meal.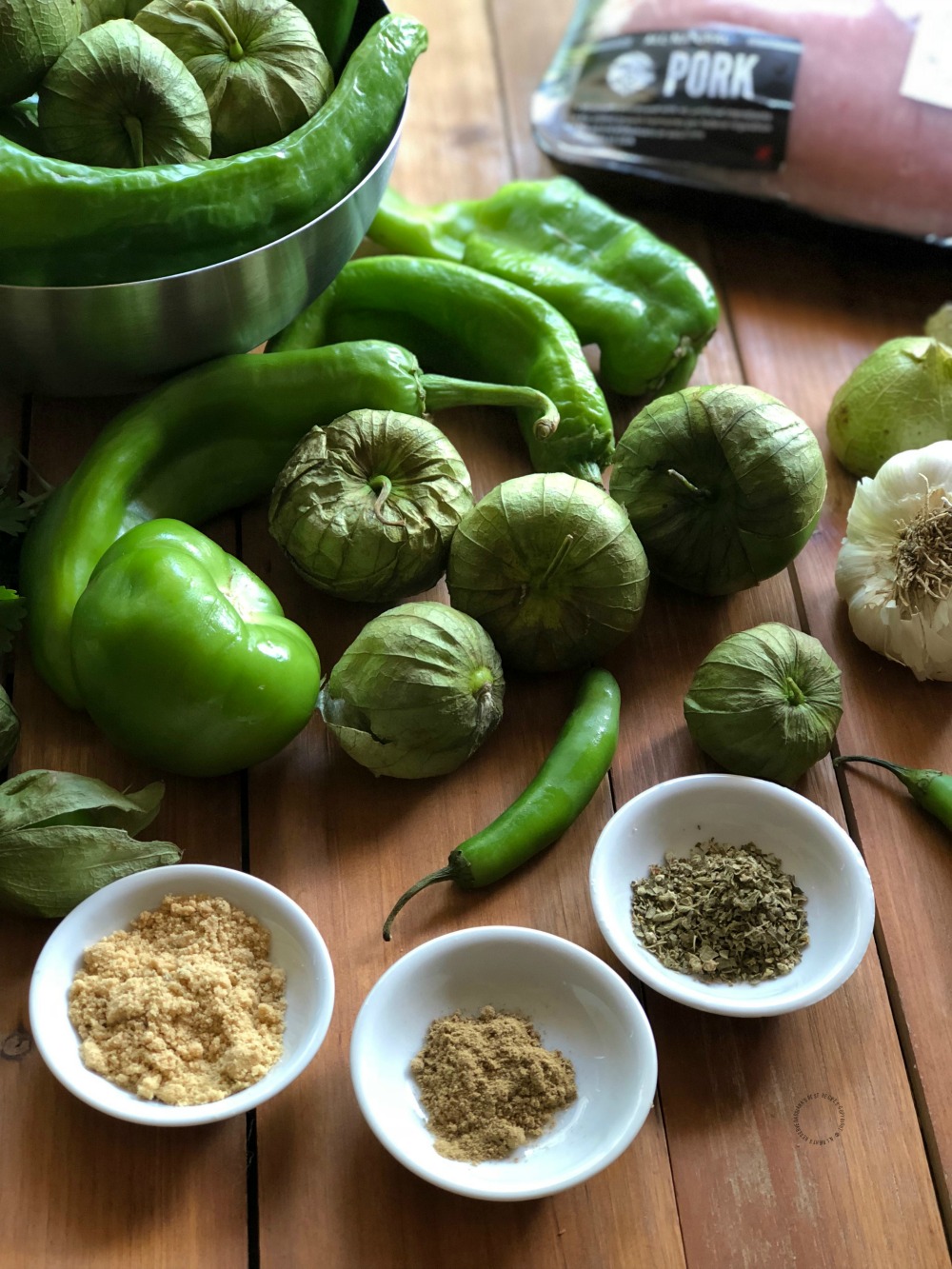 In Mexico, my great grandmother was used to cook for us pork in salsa verde with purslane and potatoes for us. The purslane is an edible seasonal succulent plant considered by many as an herb, but in Mexico, it is an ingredient used commonly in the fall or during the colder weather months. We often use it raw in salads and cooked in pork stews. It is tasty and goes perfectly with the green sauce since it has sour, salty notes.
This Instant Pot Salsa Verde Pork Stew recipe inspired by my great grandmother's classic dish was cooked without the purslane, as this is not an ingredient readily available in my market. In case you want to add greens replace purslane with spinach or tender baby kale leaves; both go well with this recipe too.
Why Cooking Pork Loin with an Instant Pot?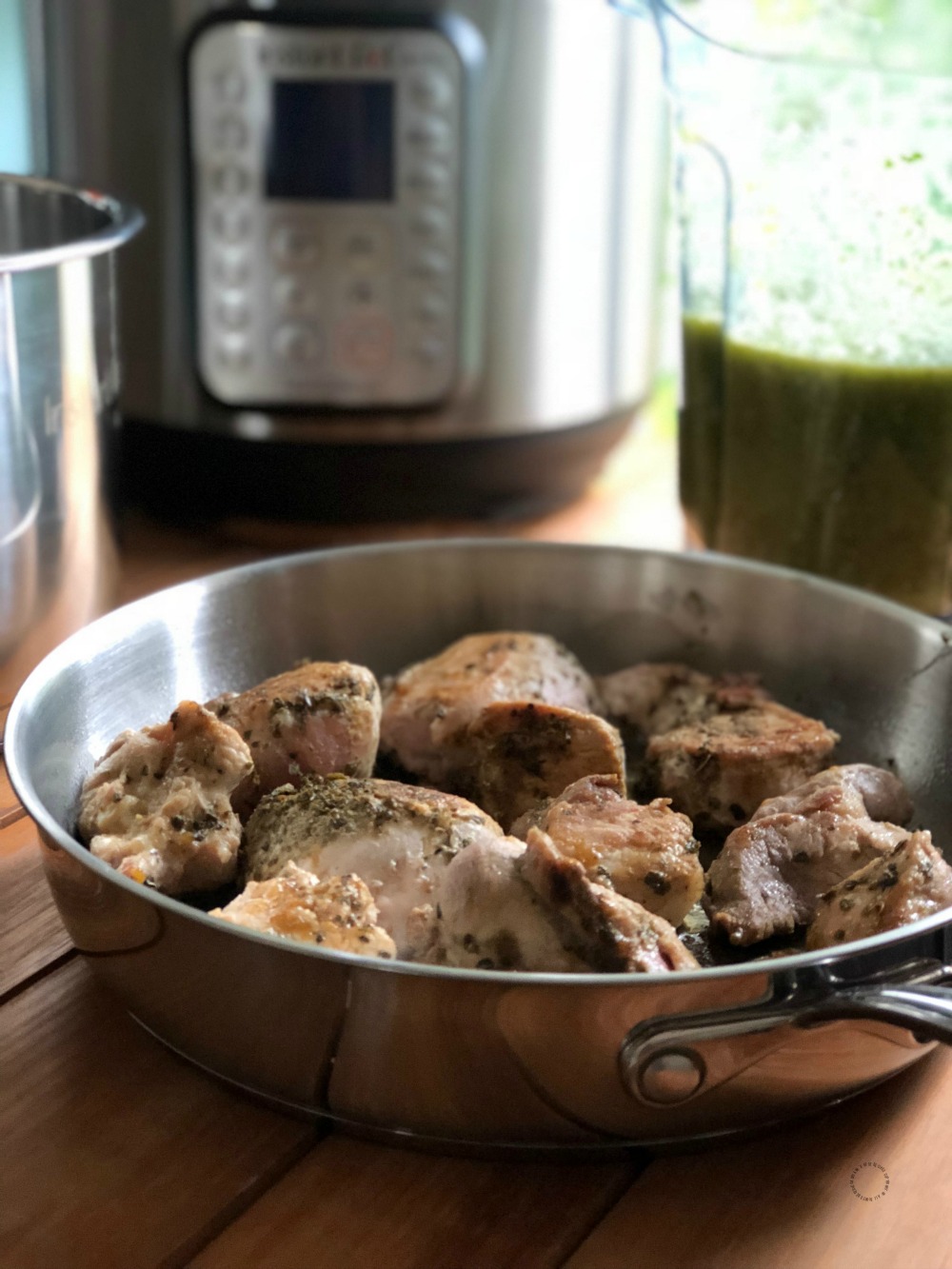 Pork is a delicious, high-quality protein that allows using many different cooking techniques including pressure cooking. When using an instant pressure cooker, the meat will tenderize and melt in your mouth. Besides, a new National Pork Board study revealed that sales and consumption of pork would continue to increase. It also indicated that pork loin is one of the preferred pork cuts in Hispanic and African American households. We can understand this because pork is tasty, and an excellent option to serve as part of our weekly menu and when entertaining at home. Not to mention a favorite ingredient for creating Mexican classics like this Instant Pot Salsa Verde Pork Stew
Make this recipe and celebrate with us Hispanic Heritage Month!
September is when Hispanic Heritage celebrations start and if you are still thinking of your menu consider my family's recipe for Instant Pot Salsa Verde Pork Stew. If you do not own an Instant Pot, do not fret you can use a classic stovetop pressure cooker or a Dutch oven too. Watch the video for the step by step recipe tutorial. You can also try other easy recipes with pork, such as our Grilled Adobo Pork Chops and the festive Tequila Lemon Roasted Pork Loin. Both excellent choices for celebrating Latino culture and Mexican heritage.
And remember, there are many ways you can enjoy pork's delicious flavor and its nutritional benefits. Pork is easy to prepare, convenient to cook, grill, oven roast, slow and pressure cook without adding extra calories. For recipe ideas and more information, please visit PorkEsSabor.com and follow along on social media at @PorkEsSabor on Facebook, Twitter, and Instagram. Join the conversation using #PorkEsSabor.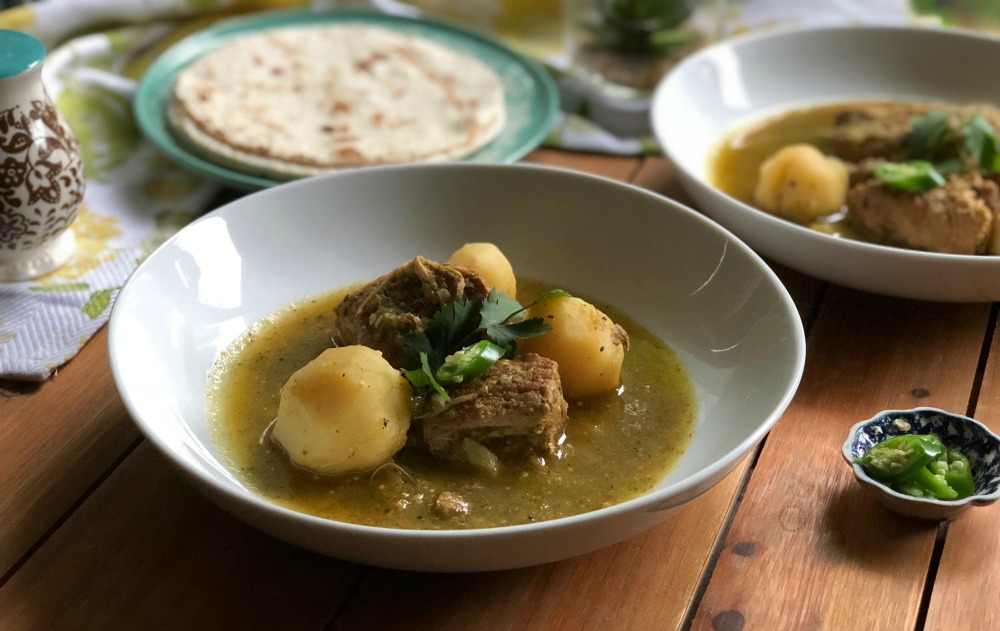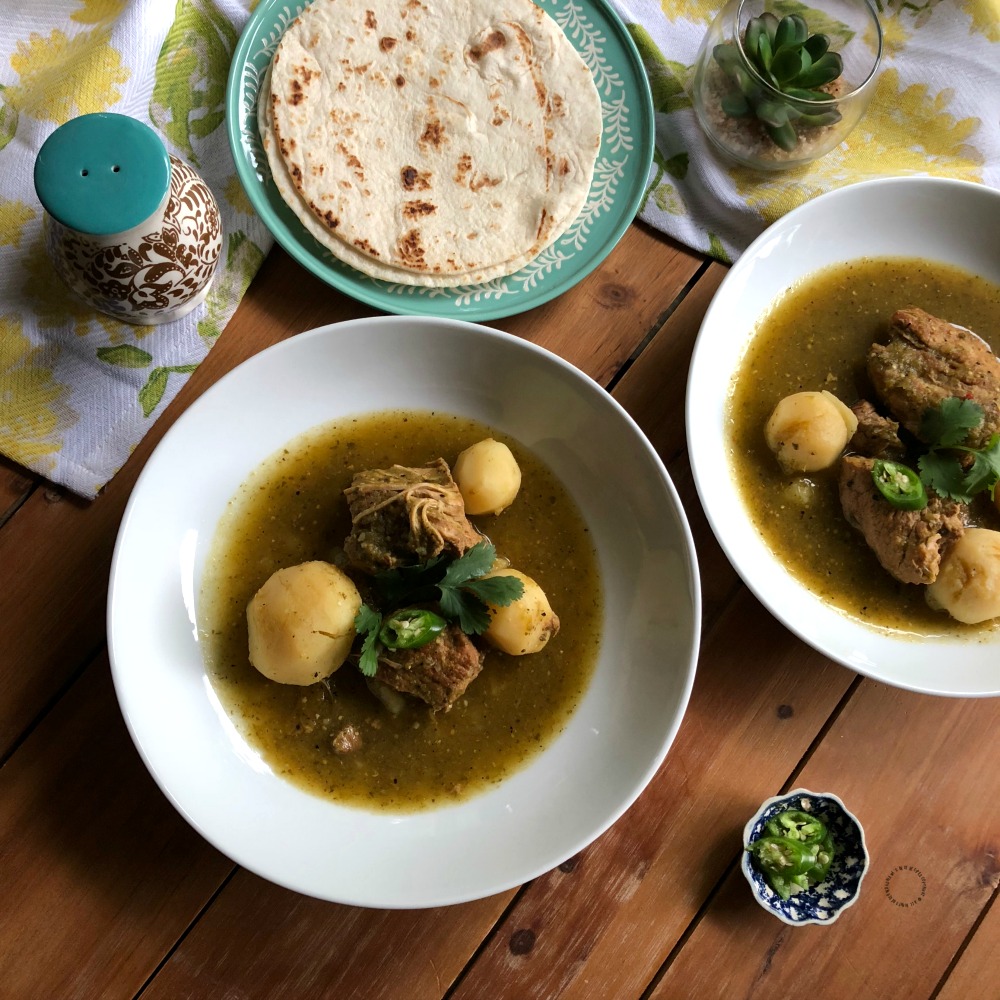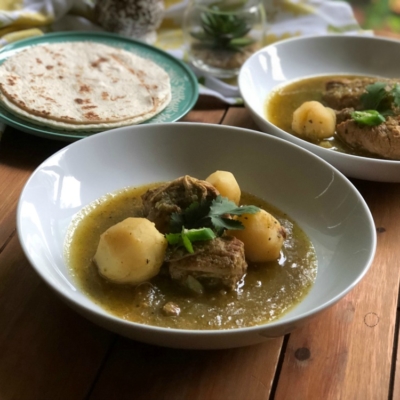 Instant Pot Salsa Verde Pork Stew
This Salsa Verde Pork Stew stew is a homey dish full of flavor cooked in a roasted hatch chile tomatillo sauce and finished potatoes. A classic Mexican recipe from my great grandmother's recipe box.
Ingredients
1

pork loin

2 pounds cut into chunks

1

tablespoon

of chicken bouillon

1

tablespoon

of Mexican oregano

1

teaspoon

of cumin

1

teaspoon

of corn oil

4

cups

of roasted hatch chile salsa verde

1

cup

of water or chicken stock

10

boiled mini potatoes
Instructions
Cut the pork loin and season it with chicken bouillon, Mexican oregano, and cumin.

In a skillet add some corn oil and sear the seasoned pork loin chunks until golden brown. This searing process allows for a better presentation and more flavor.

Add the seared pork loin chunks to the Instant Pot and pour four cups of roasted hatch chile salsa verde and one cup of water or chicken stock.

Close the Instant Pot making sure the valve is positioned correctly and choose the "Meat/Stew" cooking mode. It takes 35 minutes for the pork stew to be ready.

Meanwhile, peel and cook the potatoes on a separate pot with water. Add the boiled potatoes to the pork stew when ready.
Video
Notes
Cut the pork loin into big chunks as it tends the shrink while cooking on the pressure cooker.
Searing the pork loin on a separate skillet adds flavor and allows for an even sauté. Searing can be done using the "Sauté" Instant Pot function if desired. 
This recipe is excellent for Instant Pot, but a classic stovetop pressure cooker is allowed.
Avoid cooking the mini potatoes with the pork inside the Instant Pot as those need to be kept whole.
If using a traditional pressure cooker cooking time will need to be adjusted to 50 - 60 minutes instead of 35 minutes in the Instant Pot. 
Nutrition
Serving:
0
g
Carbohydrates:
0
g
Protein:
0
g
Fat:
0
g
Saturated Fat:
0
g
Polyunsaturated Fat:
0
g
Monounsaturated Fat:
0
g
Trans Fat:
0
g
Cholesterol:
0
mg
Sodium:
0
mg
Potassium:
0
mg
Fiber:
0
g
Sugar:
0
g
Vitamin A:
0
IU
Vitamin C:
0
mg
Calcium:
0
mg
Iron:
0
mg
Products from Amazon.com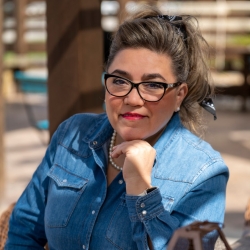 Latest posts by Chef Adriana Martin
(see all)