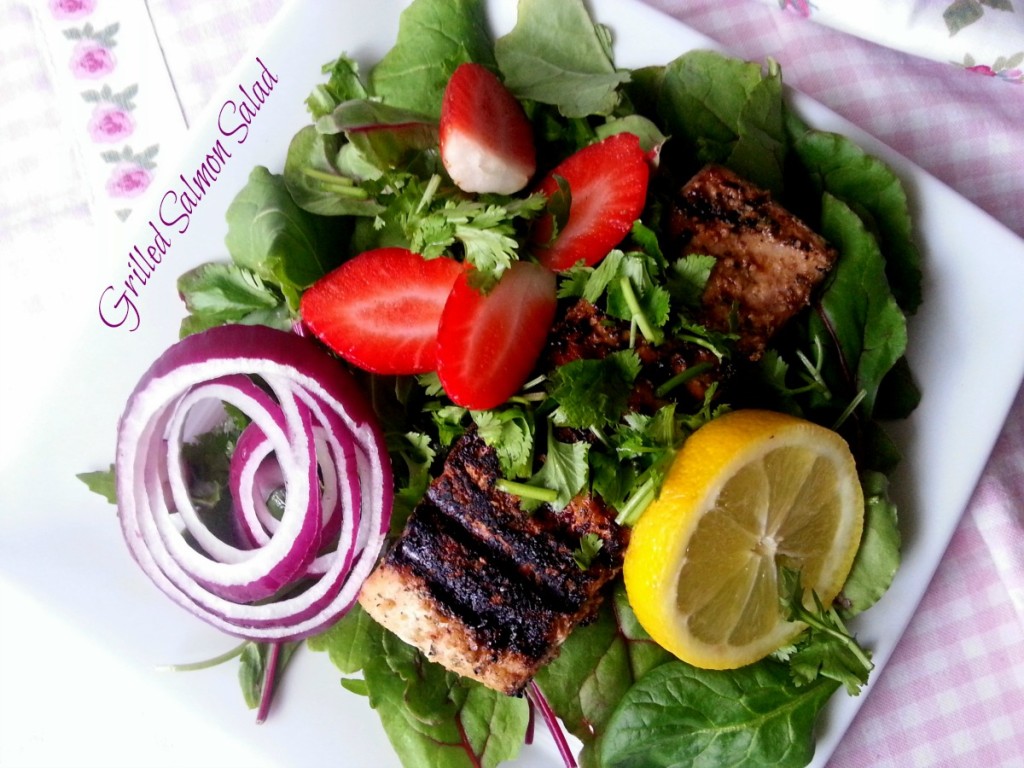 The new year calls for resolutions and healthy choices and me being such a grilling fanatic decided to create this taste salad using fresh wild caught Alaska salmon paired with baby kale greens, baby spinach, red onion rounds and fresh strawberries. Grilling for me is a year round thing either grilling inside or outdoors depending on the weather. Salmon is a fish that is rich in vitamin D and Omega-3 fatty acids , considered a very healthy option and a good source of protein. Salmon is firm and buttery and is it great for grilling, so let's cook some grilled salmon salad!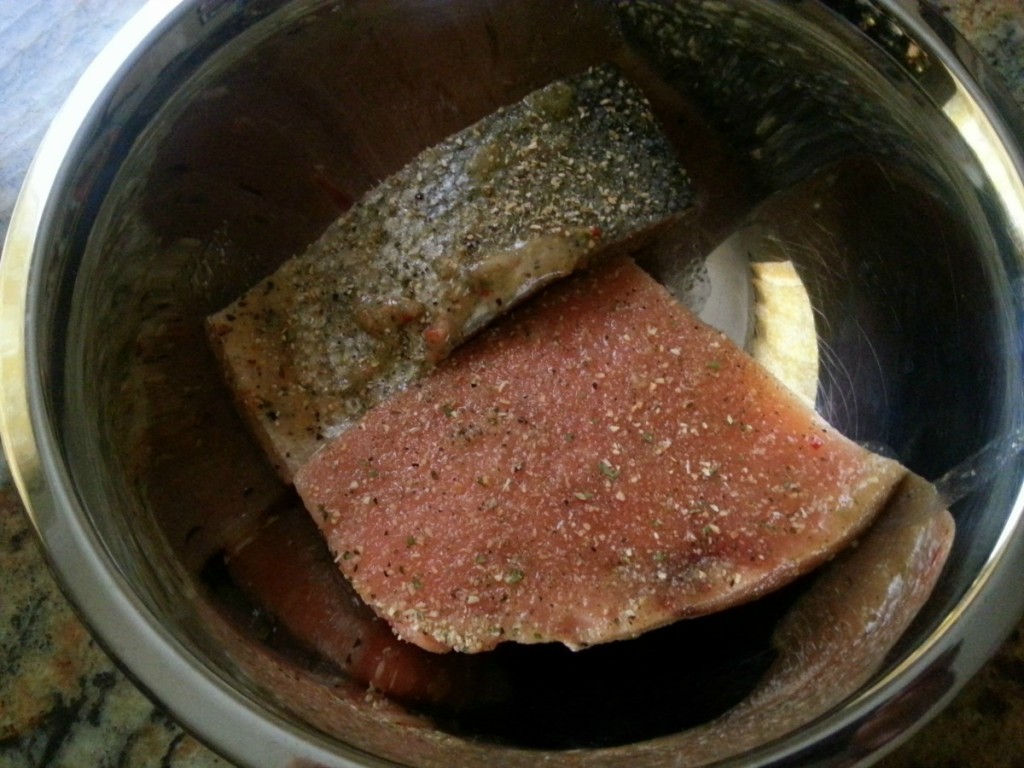 INGREDIENTS
4 salmon fillets
2 teaspoons of olive oil
1 teaspoon of ground black pepper
1 teaspoon of dried ground garlic
1 teaspoon of sea salt
1 teaspoon of ground dill
4 cups of baby kale and spinach mix
1/2 red onion cut in rounds
2 yellow lemons cut in rounds
8 fresh strawberries cut in halves
1 cup of fresh chopped cilantro
For the dressing:
1/2 cup of fresh squeezed lemon juice
1 teaspoon of sea salt
1 teaspoon of ground pepper
Preparation Time: 30 minutes. Serves 4 guests. Cost per person $4.00 dollars depending on the price of the ingredients at your local supermarket. You will need a grilling pan, a mixing bowl, cutting board, knife, spoons and four salad plates.
Place the salmon fillets in a bowl and add the olive oil, cover well, then add the condiments this is the ground garlic, the pepper and the salt. Season on both sides. Place your grilling skillet on the stove and let get hot. Place the salmon fillets facing down, this is grill first the side that has the skin. This will allow for proper cooking and to avoid the salmon get dry. When the skin get the grilling marks turn the fillet and grill the other side for 3-4 minutes maximum. A good salmon is the one that is flaky so try not to over cook. When the salmon fillets are ready placed them in a serving plate. preferably you will be serving those warm.
Then prepare the dressing using a clean bowl or a salad dressing bottle  combining all ingredients and stirring or shaking until getting an emulsion. The emulsion is when the olive oil and the lemon juice marry together. This dressing is very simple and will have enough acidity to go perfect with the fresh greens and the grilled salmon.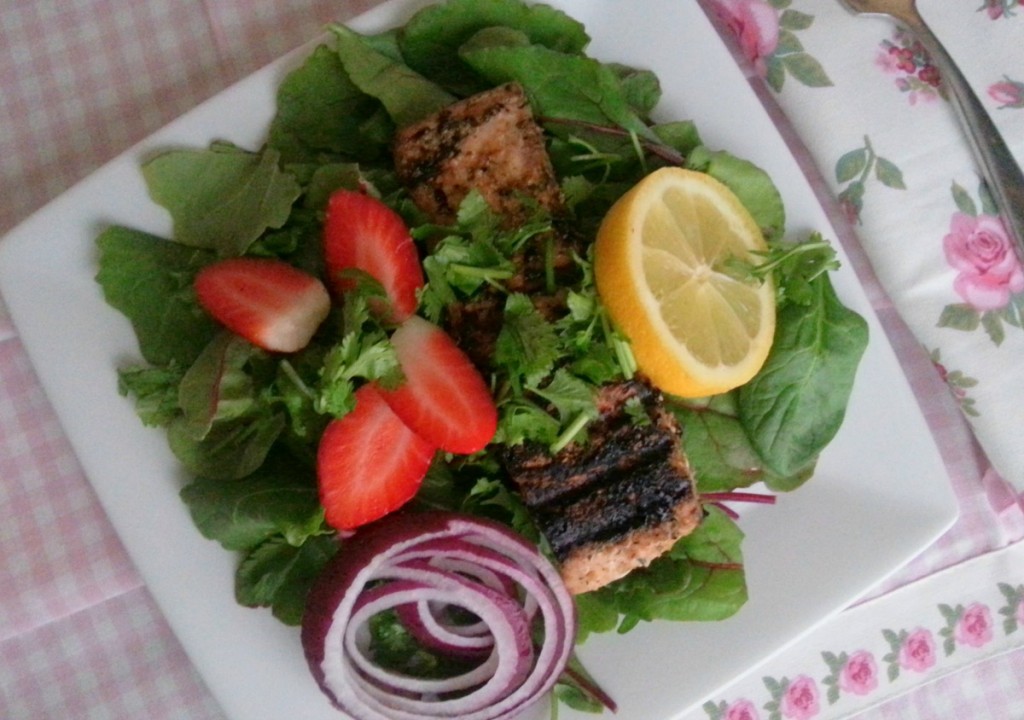 For plating the grilled salmon salad place a bed of baby kale and spinach greens in a plate, remove the skin of the salmon with a fork and add the grilled salmon on top of the greens. Garnish the salad with chopped cilantro, strawberries, onion and lemon rounds. Drizzle with the dressing and enjoy with an iced tea or a glass of chilled white wine. This Grilled Salmon salad is very tasty and could be served in a special occasion or just for the pleasure of eating a great meal.
Bon Appétit!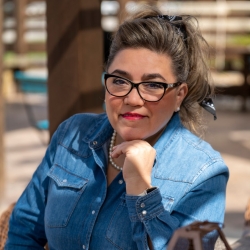 Latest posts by Chef Adriana Martin
(see all)