This post is also available in: Español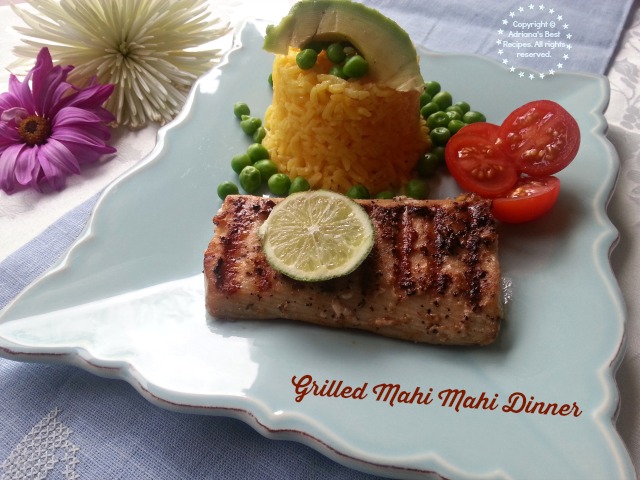 ElementAssociates has compensated me for this article, but all opinions are my own.
One of my favorite fish is Mahi Mahi also known as dorado or lampuka. This fish is white, great for grilling and flaky. Those picky eaters that do not like fish will love this grilled Mahi Mahi dinner, because the flavor is mild and combines perfect with most any condiment including sweet and savory options and of course my latino flavors. Today I am sharing with you my grilled Mahi Mahi dinner recipe with yellow rice that is a perfect dish for sharing with friends and family during the big soccer games. Let's cook!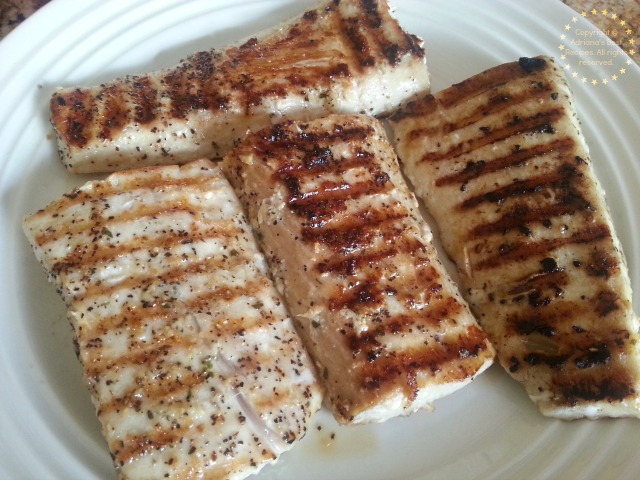 INGREDIENTS
For the fish:
4 fillets of frozen Mahi Mahi
1 tablespoon of olive oil
1 tablespoon of sazón latino condiment with cumin, garlic and oregano
1 lemon cut in rounds
8 cherry tomatoes
4 slices of Hass avocado
For the rice:
1 cup of long grain rice
1 tablespoon of olive
2 cups of chicken stock or water
1 pinch of saffron
2 garlic cloves
1 chicken buillon cube or one teaspoon of chicken base
1 package of frozen petite peas or 2 cups
Salt and pepper to taste
Preparatiopn time: 30 minutes for preparing the meal, 12  hours  for thawing frozen fish inside the fridge, which is the safest way to defrost a fish and keep it at proper temperature to avoid bacteria generation. Other option is to thaw fish under cold water. For this Grilled Mahi Mahi dinner recipe you will need a grilling skillet, a mixing bowl, a small soup pot and a rice pot. This recipe serves 4 guests and the approximate cost per person is $7.00 dollars depending on the ingredients cost at your local supermarket. The night before you plan to cook this recipe thaw the Mahi Mahi frozen fillets inside the fridge following the instructions on the package. When buying frozen seafood or fish the FDA recommends to avoid buying packages that have been opened or crushed, those above the frost line, and verify signs of frost or ice crystals that may have formed since this indicates package is old  or has been thawed and refrozen.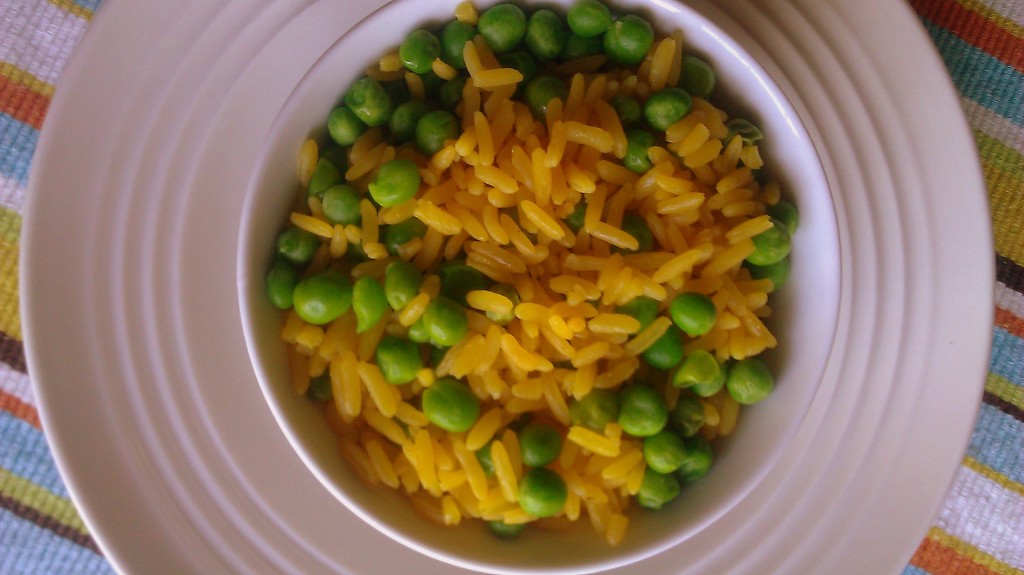 Start cooking dinner by washing your hands first. Then cook the rice since fish grills very fast. Heat the water or chicken broth on a soup pot, while this comes to a boil cut garlic in slices and sauté with olive oil. Add the rice and then the salt and the saffron. Add 1 ½ cups of hot water or broth, lower the flame and cover. Leave rice alone do not stir wait and check liquid abortion if needs more use the half cup of hot water or broth and cover the pan again, do not stir. Add the frozen peas at the end and leave pan covered while you prepare rest of your meal. Take the Mahi Mahi fillets out of the fridge and remove the wrapping. With running  water rinse the fish and using paper towels remove the excess water. Place the fish fillets in a bowl and season with olive oil and sazón condiment. Place the grilling skillet in the stove and grill the fillets until those acquire a internal temperature of 145 centigrades Fahrenheit. remove and place on a plate. Avoid overcooking when fish is flaky most likely is already cooked.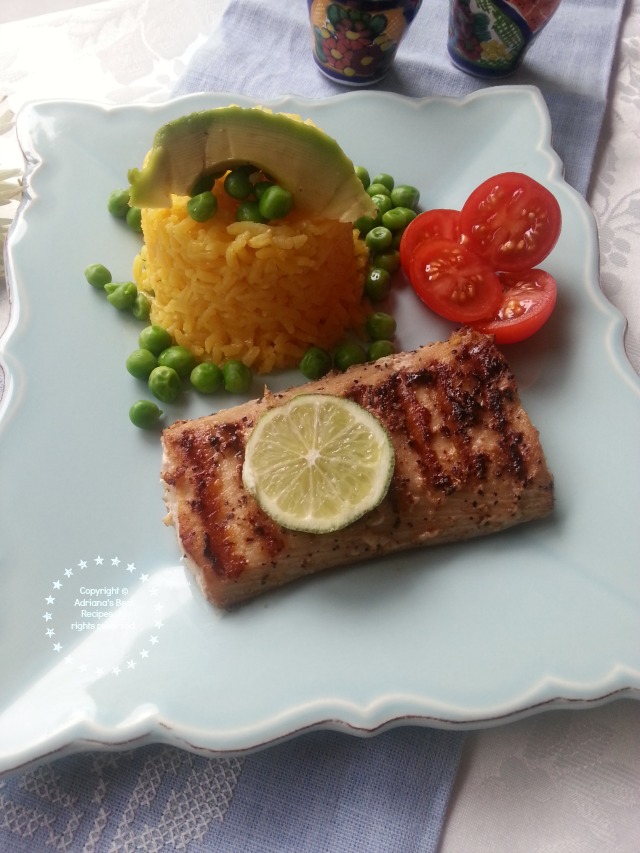 The serving suggestion is to pair this delicious grilled Mahi Mahi with yellow rice and fresh cherry tomatoes and a slice of avocado. Add lemon slices for additional zing. Don't forget to follow food safety guidelines it is easy and very important to keep our family from food-borne illnesses.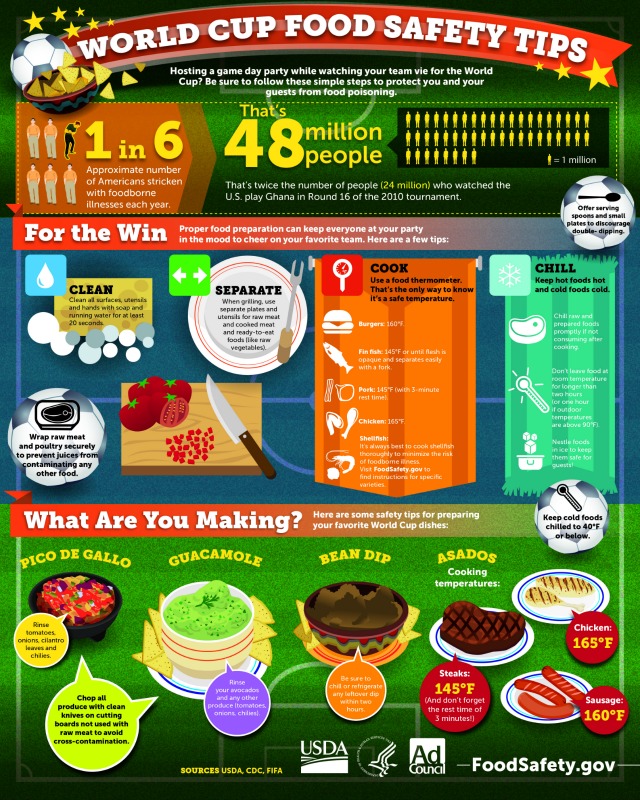 Now that we are celebrating the World Cup and organizing parties at home it is important to also keep in mind food safety and this infographic courtesy of the Food Safety Administration explains very well how to keep our family safe while entertaining and cooking at home. ¡Buen provecho!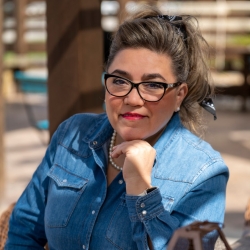 Latest posts by Chef Adriana Martin
(see all)