This post is also available in: Español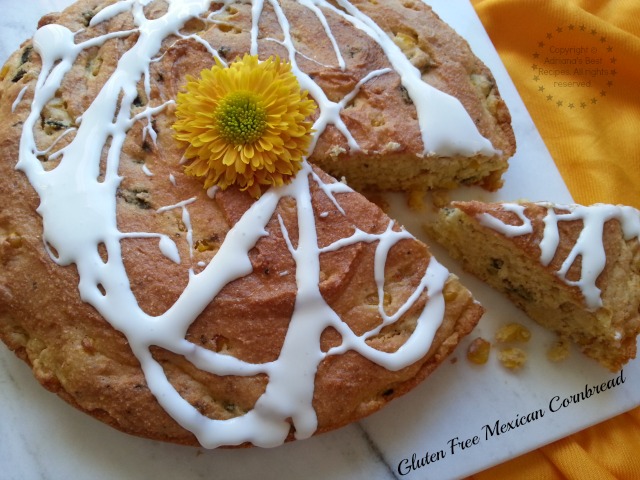 "Disclosure: The information and prize pack have been provided by Krusteaz®. This recipe submission is part of the Krusteaz Blogger Bake-Off program and it is being submitted as part of a contest sponsored by Krusteaz for a chance to win prizes". 
Holidays call for cornbread and many delicious dishes like turkey and cranberry sauce, but while introducing these dishes to my family I also like to incorporate my latino flavors so that I can offer something new but using the same flavor profile their palate is familiar with and my Gluten Free Mexican Cornbread recipe is the perfect combination of sweet and savory and a great recipe idea for your upcoming Thanksgiving or Christmas dinners.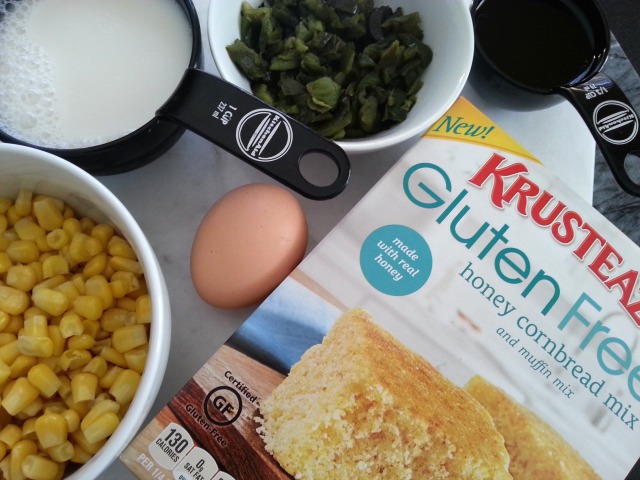 INGREDIENTS
1 cup of milk (can use soy, almond, coconut if desired)
1/3 of vegetable oil
1 egg
1/2 cup of chopped roasted poblanos (3 whole poblanos approximately)
1 cup of corn kernels (frozen or canned)
1/2 cup of crema mexicana or liquid crème fraîche for serving
Preparation time: 45 minutes. Serves 8-10 portions. You will need a mixer, a round baking pan, measuring cups and a spatula. This recipe is very easy to make.
Follow the instructions on the box and when  the cornbread mix is ready add the chopped poblanos, stir with a spatula and then the corn kernels. Also incorporate this last ingredient with the spatula. Then grease the round baking pan and pour the mix into the pan. Bake the Gluten Free Mexican Cornbread at 375 grades Fahrenheit for 30 minutes. Take the bread out of the oven and when cold serve on a plate and drizzle with crema mexicana or liquid crème fraîche.
This Gluten Free Mexican Cornbread goes great with chicken, turkey and a good hot cup of chili. If you like to eat alone as dessert you can enjoy too with a cup of coffee. You can also use as a base for your homemade cornbread stuffing.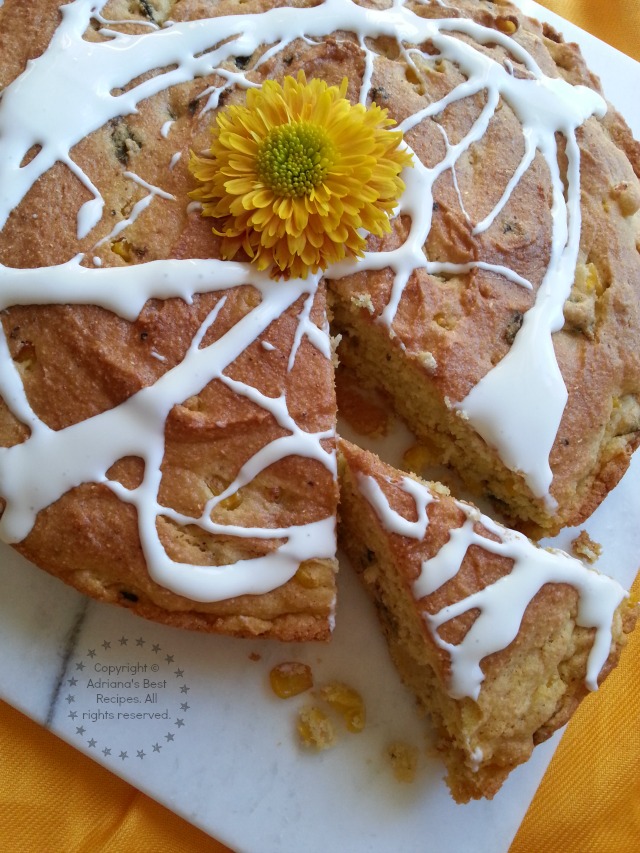 My recipe for Gluten Free Mexican Cornbread with the rustic flavor of the roasted poblano peppers and the sweetness of the corn and the natural honey that the new Gluten Free Honey Cornbread and Muffin Mix has as one of the main ingredients is the perfect combination.
The Krusteaz Gluten Free products are most definitely delicious and provide great results so now you, your family and guests that have opted for a gluten free diet can enjoy a slice of this sweet cornbread for Thanksgiving and any time of the year. Also you can feel confident that by using America's favorite Krusteaz products you will be able to prepare wonderful baked good without compromising taste.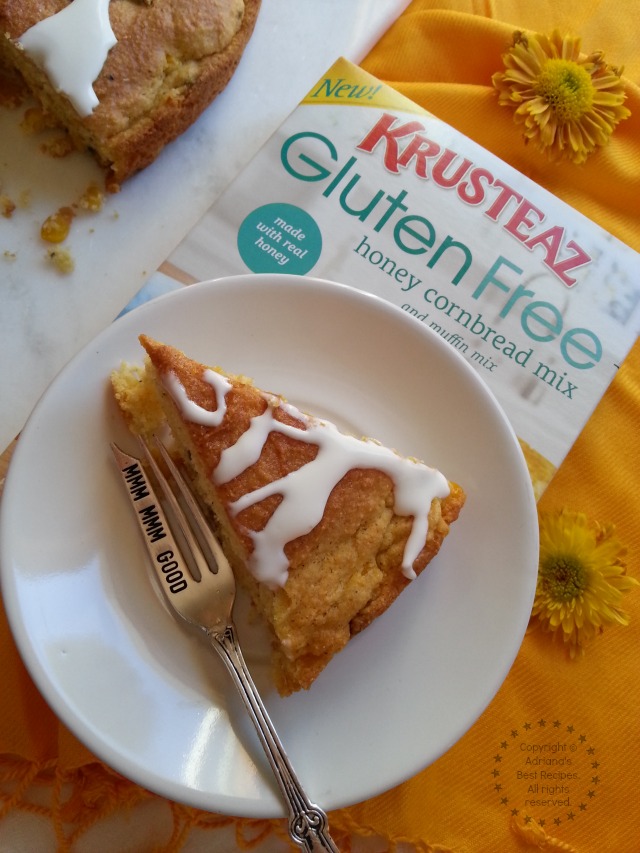 Krusteaz in their effort of offering diverse products that fit the lifestyle of the consumers has developed a totally new line of gluten free baking mixes that were launched last September and go from pancake to blueberry, cornbread and chocolate brownie mix. I have tried them all and have nothing to say but that all provide great results and are mouthwatering.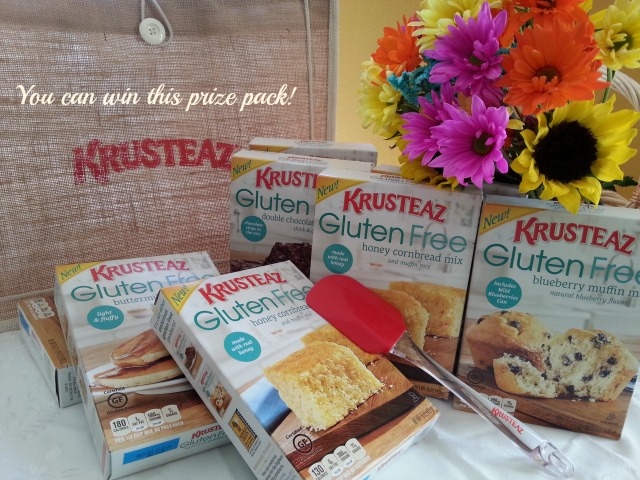 And since Krusteaz wants everyone to enjoy this new gluten free line of products has given us a promotional package to giveaway to one of our lucky  readers. The giveaway includes a tote, a cool Krusteaz spatula, two packages of each of the gluten free products including the Gluten Free Honey Cornbread and Muffin Mix so that you can try my Gluten Free Mexican Cornbread recipe.
Don't miss the chance to try at home the Krusteaz gluten free line. This is an easy entry, and a yummy giveaway!
Giveaway Rules and Regulations
In order to qualify for the giveaway  you need to visit www.krusteaz.com/gluten-free read about their gluten free products and leave a comment about a favorite recipe you found on their site on this post.
Entries/Comments that do not follow the submission guidelines will be automatically deleted and invalid.
Winner will be chosen by tallying up all the entries and then using Rafflecopter to generate a random number.
You may only enter once per entry method.
Participants to the giveaway must leave a valid email address on their entry.
Winner will be notified via email and have 72 hours to respond with a valid mailing address and contact info.
If there is no response winner will be disqualified and another winner will be chosen at random.
Open to United States ONLY. Winner must have a valid US address and be 18 years or older.
Void where prohibited. No purchase necessary.
Prize will be shipped by product representative. We are not responsible for any delays in delivery or lost items.
Giveaway will close on Wednesday, November 26, 2014 at 12:00 noon EST.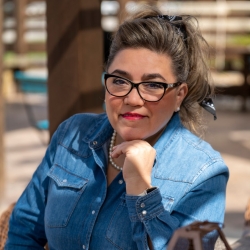 Latest posts by Chef Adriana Martin
(see all)