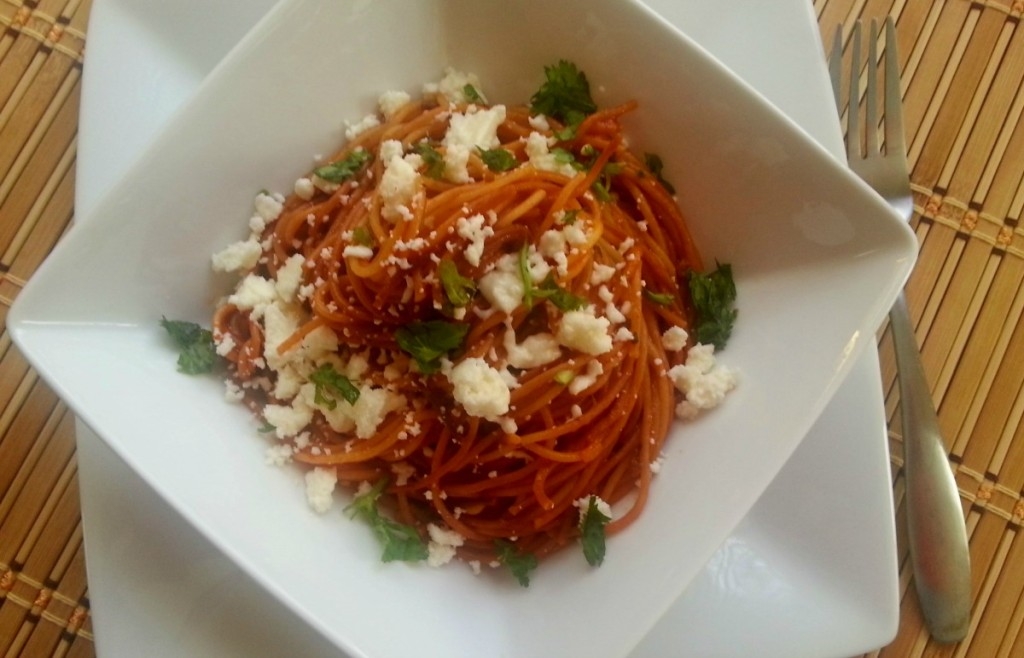 Fideo is the name that in Mexican cuisine is given to vermicelli or angel hair pasta. This dish is typically consumed at lunch time, has a spicy kick of jalapeno combined with a garlic tomato sauce and enjoyed with crumbled queso fresco and fresh chopped cilantro. Here you have the ingredients for preparing Fideo Mexican style and serve it as a main dish for dinner.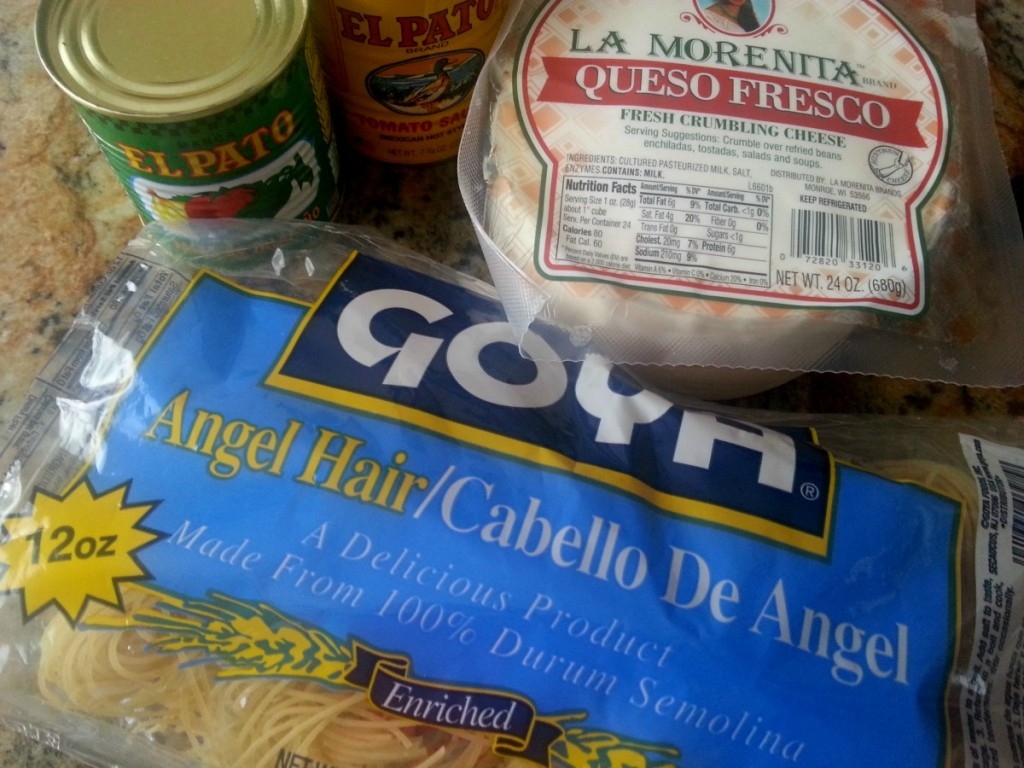 INGREDIENTS
1 package of fideo (12 ounces)
1/4 cup of canola oil
2 cans (7 ounces each) of Mexican style tomato sauce with jalapeno
1 chicken bouillon cube
1 garlic cube
1 cup of water
Salt and pepper
1 cup of chopped cilantro
1 cup of crumbled queso fresco
Preparation time: 30 minutes. You will need a sauteing pan with a lid and a plate. This recipe serves 4-6 guests. Cost per person less than $1.00 depending on ingredients cost at your local supermarket.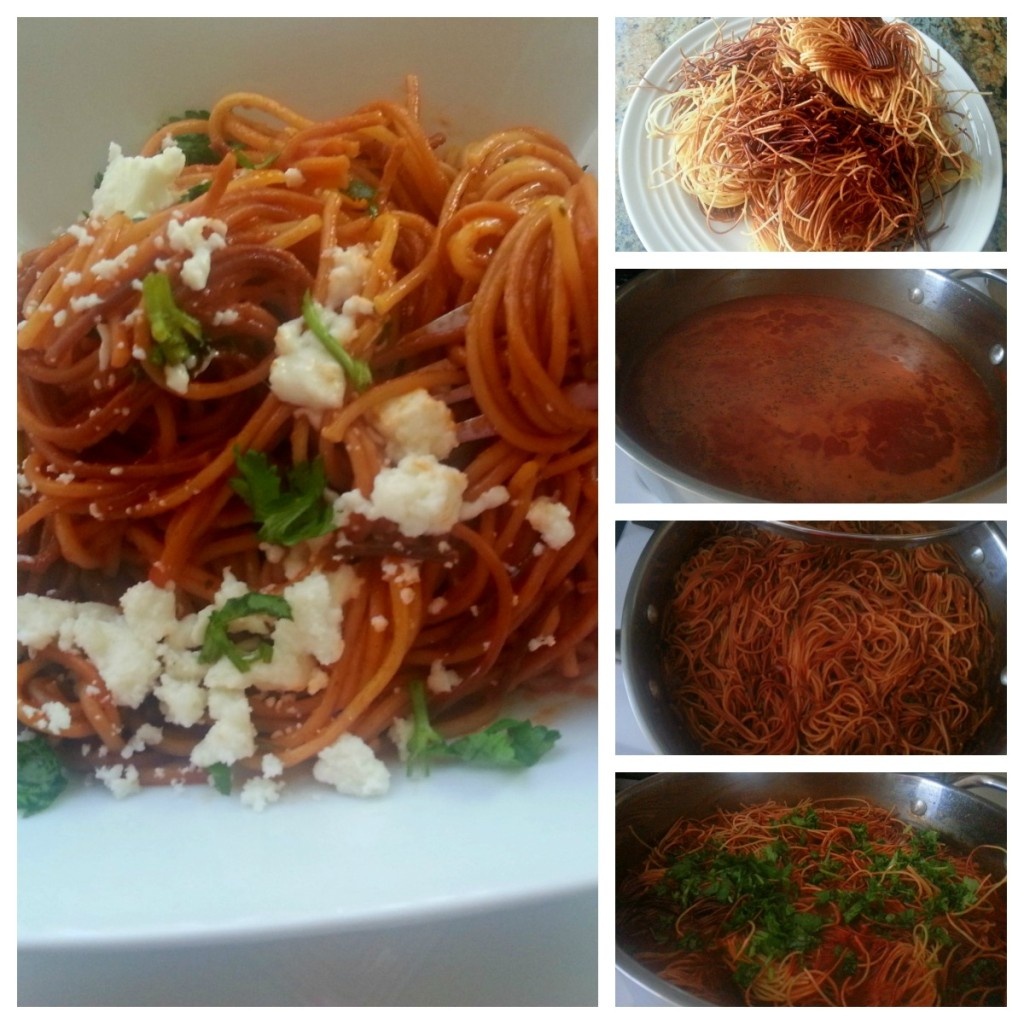 Start by frying the fideo pasta in the canola oil until golden brown when ready set aside in a plate, then remove excess oil from the pan and cook the tomato sauce on the same pan you fried the pasta; add the condiments, salt, pepper and a cup of water, let it simmer and then add the fried fideos. Cover the pan with the lid, lower the flame and let the fideo cook for few minutes until pasta becomes al dente. Add the chopped cilantro, serve in a bowl and sprinkle with crumbled queso fresco. Fideo is a comfort food of my childhood most definitely a guilty pleasure that brings me so many wonderful memories growing up when we were used to enjoy this dish as a family. Now that I have a family of my own here in Florida I prepare this dish for them and my Cuban family really likes it. I am sure that after learning how to prepare this Fideo Mexican Style you will agree that is a different way of preparing pasta though very easy and tasty. I am sure that if you prepare this dish to your family quickly it will become a  weekday supper favorite.
If you enjoyed this recipe here is  what you have to look forward to this weekday supper series, all easy ideas to inspire you too cook at home:
10/28/13 – Monday – Supper For A Steal – Spinach and Mushroom White Pizza
10/29/13 – Tuesday – Cindy's Recipes and Writings – Shrimp and Crab Cakes
10/30/13 – Wednesday –  Basic N Delicious – Chickpeas and Chicken Stew
10/31/13 – Thursday – Adriana's Best Recipes – Fideo Mexican Style
11/01/13 – Friday – Hip Foodie Mom – Asian Pulled Pork Brown Rice Bowl