This post is also available in: Español
This shop has been compensated by Collective Bias, Inc. and Quaker®. All opinions are mine alone.
#CollectiveBias #LoveMyCereal #QuakerUp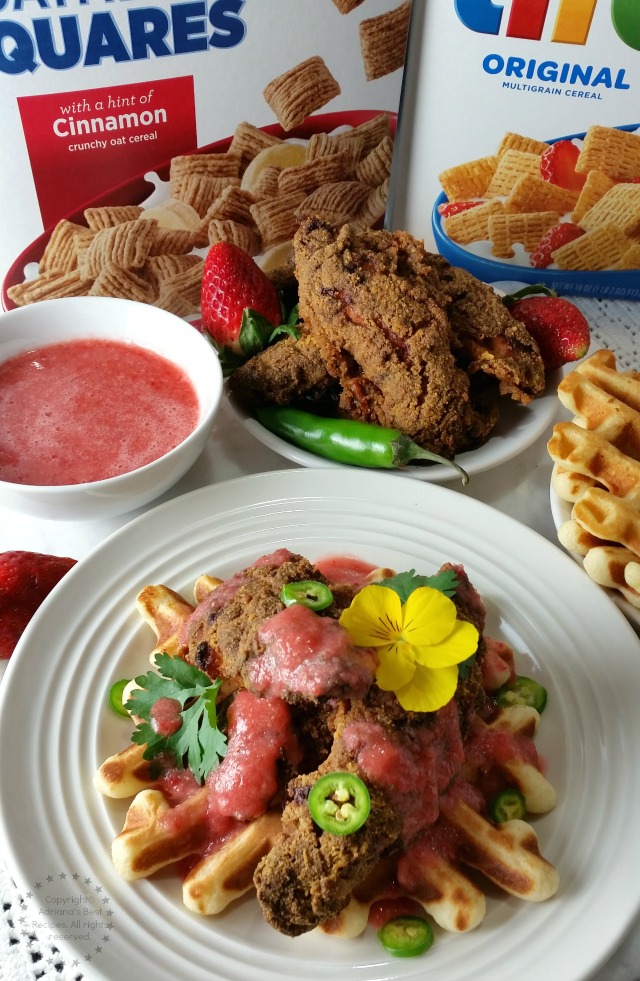 Who doesn't love breakfast for dinner so when I was presented with the challenge to develop a recipe for Quaker® #LoveMyCereal #QuakerUp campaign with #CollectiveBias this easy Chicken and Waffles dish with spicy strawberry glaze was a must do, so let's cook!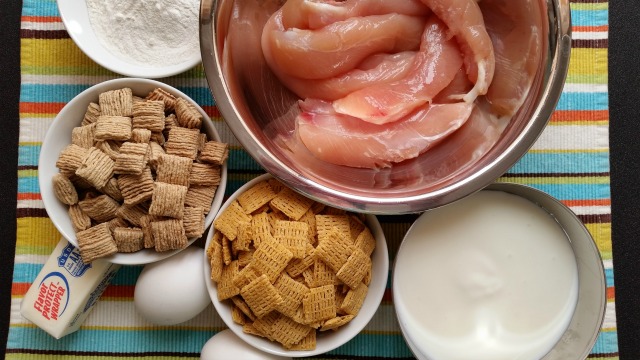 INGREDIENTS
For the fried chicken:
1 pound of chicken
2 cups of plain Kefir
1 cup of  Quaker® Oatmeal Squares
1 cup of Quaker® Life Original
2 teaspoons of ground cumin
1 teaspoon of paprika
1 teaspoon of black pepper
1 teaspoon of garlic salt
2 teaspoons of unsalted butter
4 edible flowers
For the waffles:
2 cups of pancake mix of your choice
1 egg
1 cup of milk
1 teaspoon of vanilla extract
For the strawberry glaze:
1 cup of fresh strawberries
2 tablespoon of confectionary sugar
1 lemon juiced
1 serrano pepper cut in rounds
1/2 cup of cilantro leaves
Preparation time: 1 hour. Makes 4 servings. Cost per serving less than $5.00 dollars depending on the cost of the ingredients at your local supermarket.
See the video tutorial to learn how to make the easy chicken and waffles recipe step by step and follow this instructions:
1.- Start by grinding the cereals using a blender or a food processor. Pour the ground cereal on a dish and combine with the spices.
2.- Place the chicken tenders in a bowl and add the Kefir. Let them soak for few minutes. Grease a baking pan with butter.Dust the tenderloins one by one on the breading and place on the baking pan. Top with small pieces of butter and bake for 30 minutes in the oven at a 400 degrees Farenheit until golden brown.
3.- Prepare the pancake mix combining the flour with the egg and the milk and whisk. Turn on your waffle machine and cook four waffles.
4.-To make the strawberry glaze place the strawberries, the confectioners sugar and the lemon juice in the blender. Mix well. Add the serrano rounds and set aside.
5.- Plate the chicken and waffles and drizzle with the strawberry glaze. Add few cilantro leaves and top with an edible flower.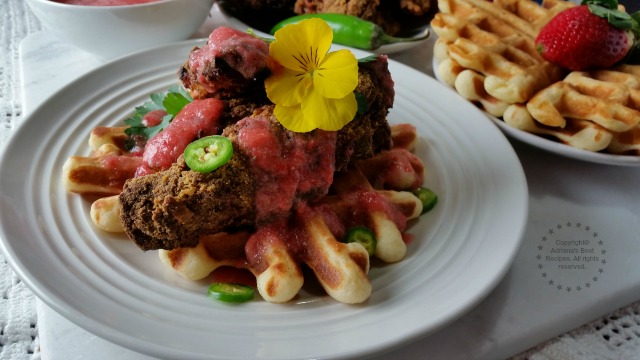 Cereals are a great option for cooking fried or oven baked chicken and Quaker® cereals make a nice savory crust while incorporating whole grains and oatmeal. Lately in many cooking TV shows and local restaurants I have seen the chicken and waffles dish as a trend and me being a foodie had to test the recipe to be able to offer this trendy dish to my family but with my own flavors.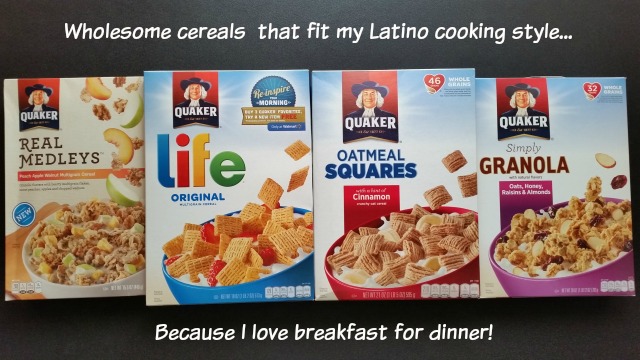 For this chicken and waffles recipe I decided to use Quaker® Oatmeal Squares and Quaker® Life Original that I found at my local Walmart store. Both cereals have a little bit of sweetness and the cinnamon notes go very well with the Mexican cumin. When making fried chicken the breading is very important, has to be crunchy and well seasoned to make the perfect fried chicken bite.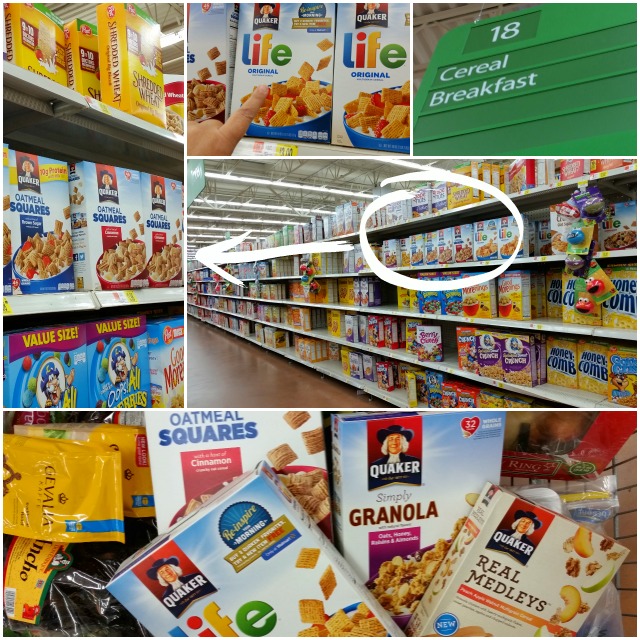 On my visit to Walmart I also found the cereals Quaker® Real Medleys® and Quaker® Simply Granola which look delicious and very soon I will be serving them to my family to begin the day with a delicious and healthy breakfast.
Having easy recipes to please the palate of my family is important for me yet I always like to add my latino flavors like the spiciness of the serrano peppers combined with a fresh seasonal ingredients like the strawberries as well as adding my favorite Mexican cumin condiment to provide smoky flavor to the dish.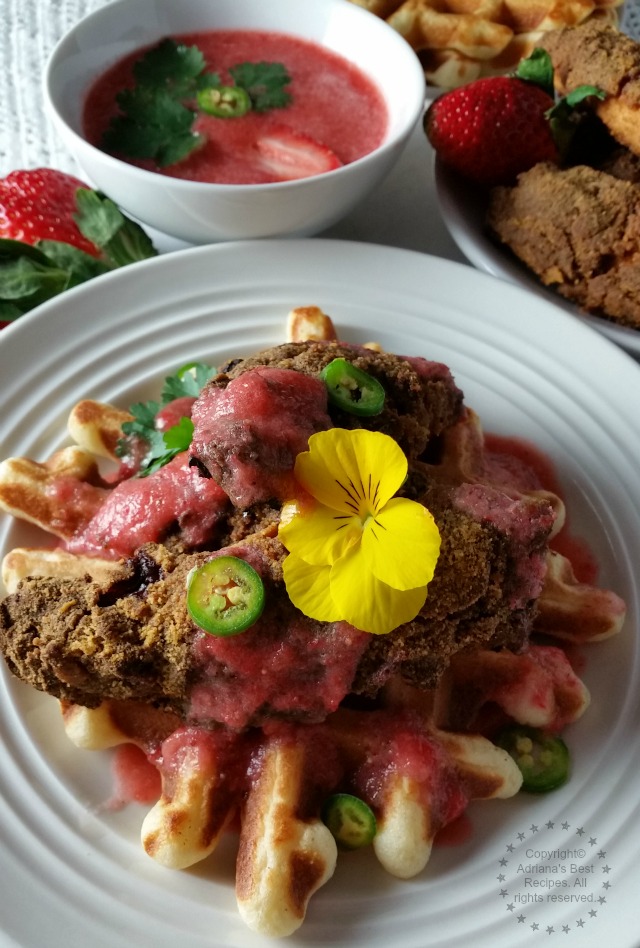 This chicken and waffles recipe is freezer friendly, you can prepare the chicken tenderloins and the waffles ahead of time, freeze and bake for any occasion or for a quick dinner. These chicken and waffles are the perfect bite for parties, to serve as finger foods and also as a savory snack.
I invite you to enjoy breakfast for dinner by trying at home this easy Chicken and Waffles recipe with Spicy Strawberry Glaze.
And if you love cereal connect with Quaker®  on Facebook and Pinterest to get recipe ideas and latest news!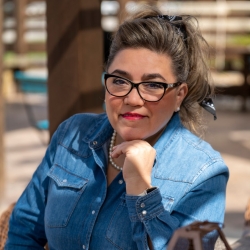 Latest posts by Chef Adriana Martin
(see all)