This post is also available in: Español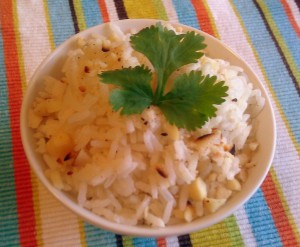 Last time I was in Costa Rica we were served Macadamia Nut rice at a magical place named Hacienda Tayutic, here my interpretation of such a delicate side dish.
INGREDIENTS
2 cups of long grain rice
1 can of unsweetened coconut milk (low fat version could be used for this recipe)
2 cups of boiling water
3 garlic cloves
½ cup of chopped roasted macadamia nuts
Olive oil (prefer to use extra virgin olive oil yellow Italian though you can use corn, sunflower, soy, or any cooking oil of your choice)
Chopped cilantro for serving
Salt
Preparation time: 15 minutes. Serves 4-6 people. Approximate cost per person $1.70. You will need a pan intended to cook rice and a sautéing pan.
Turn on your stove and heat the water, while you wait prepare the garlic but cutting in slices that you can remove later. Place the pan on the stove, put some oil and sauté the garlic, add the salt, and the rice mix well. Pour the coconut milk, 1 ½ cups of water, lower the flame and cover. Leave rice alone do not stir wait and check moisture if needs more water use the half cup you saved and cover the pan, do not stir.
The secret to perfect rice is to use boiling water and add for one cup of rice 2 cups of water or a little less depending on your taste and not stirring.
Roast the macadamia nuts in a sautéing pan and chop. When ready to serve add the chopped macadamia nuts and sprinkle some cilantro which makes a good addition to this dish. This rice can be served with chicken, meat, pork or fish.
Enjoy!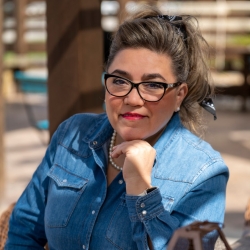 Latest posts by Chef Adriana Martin
(see all)