This post is also available in: Español
This is a sponsored collaboration on behalf of United Soybean Board #SoyParaSoy and Latina Bloggers Connect. However, all opinions expressed are my own.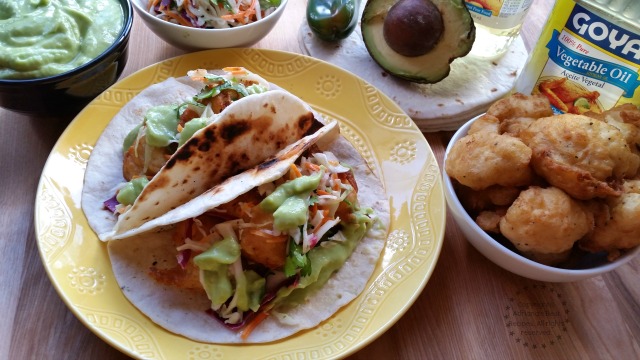 Cauliflower is one of those ingredients that if you season well can be great options for replacing meat, that is why I figured out to prepare a family home favorite Beer Battered Cauliflower Tacos inspired in the original "coliflor rebozada" or egg battered cauliflower prepared by my mom during lent season and using soybean oil for frying.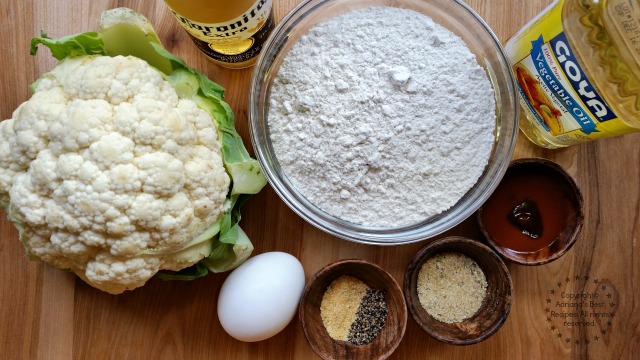 INGREDIENTS
For the beer battered cauliflower tacos:
1 small cauliflower head clean and divided in florets

1 1/2 cups of all purpose flour

1 tablespoon of latino seasoning (cumin, oregano, salt)

1 teaspoon of garlic powder
1 Mexican beer "Coronita" (7 ounces)
1 tablespoon of chipotle liquid sauce

1 teaspoon of BBQ sauce

1 egg

2 cups of soybean oil
8 flour tortillas
For the citrus coleslaw:
2 cups of ready to use coleslaw
1 tablespoon of chopped cilantro
1 teaspoon of soybean oil
1 lime juiced
Salt and pepper to taste
For the spicy avocado sauce:
2 avocados
3 fresh jalapeños
2 garlic cloves
2 limes juiced
1 or 2 tablespoons of water to mix
Salt to taste
Preparation time: 30 minutes. This recipe for Beer Battered Cauliflower Tacos serves 8 tacos, and serving suggestion is  two tacos per guest. You will need tongs and a deep fryer or a soup pan that can be used as a deep fryer. You will also need a whisk, a blender and mixing bowls.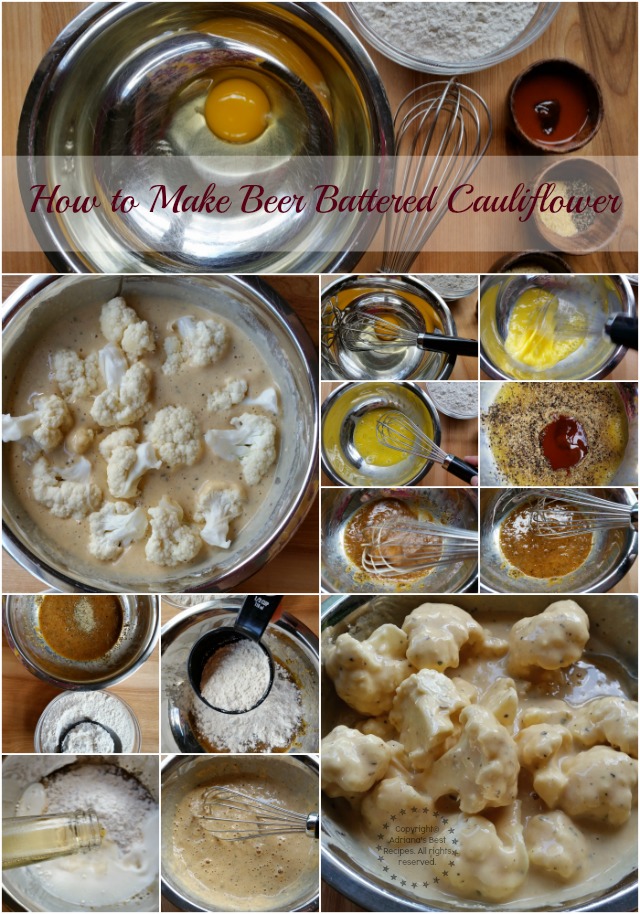 Follow these step by step instructions or watch the video to prepare the Beer Battered Cauliflower Tacos:
For making the batter crack the egg and pour on a mixing bowl, whisk until yolk and the egg whites combine. Then add the spices, the chipotle and BBQ sauce and whisk again.
Pour the flour and add the cold beer. Beer has to be cold for better results. Use your whisk and combine until getting a pancake batter consistency.Add the cauliflower florets into the batter and coat well.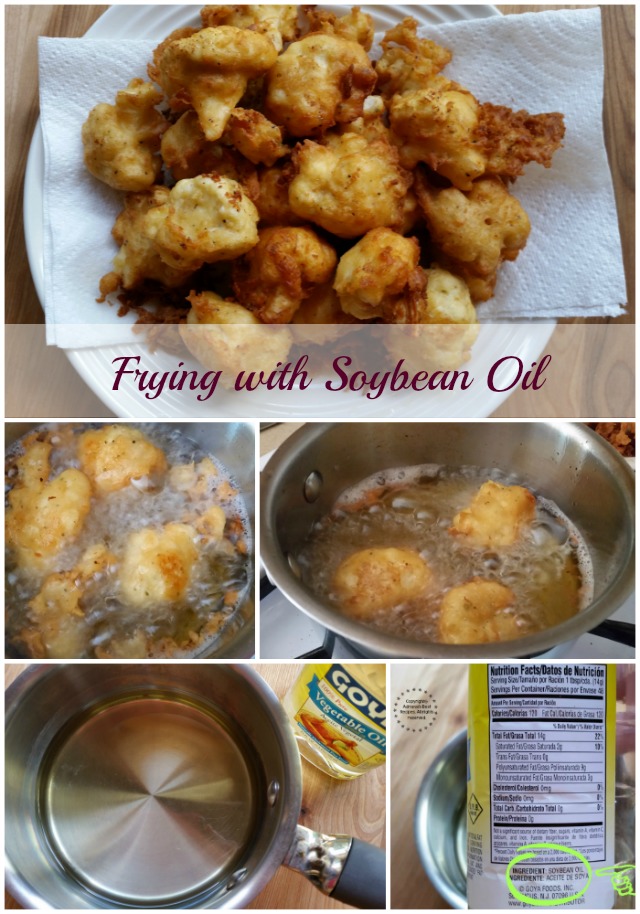 Pour the soybean oil in a frying pan or a soup pot, place in the stove and let the oil get hot. Drop few drops of the batter into the oil to check oil has the right temperature.
Fry the coated cauliflower florets one by one or up to three pieces at a time to get a golden well fried cauliflower bite. Place the fried florets in a plate covered with a paper napkin to absorb the excess oil.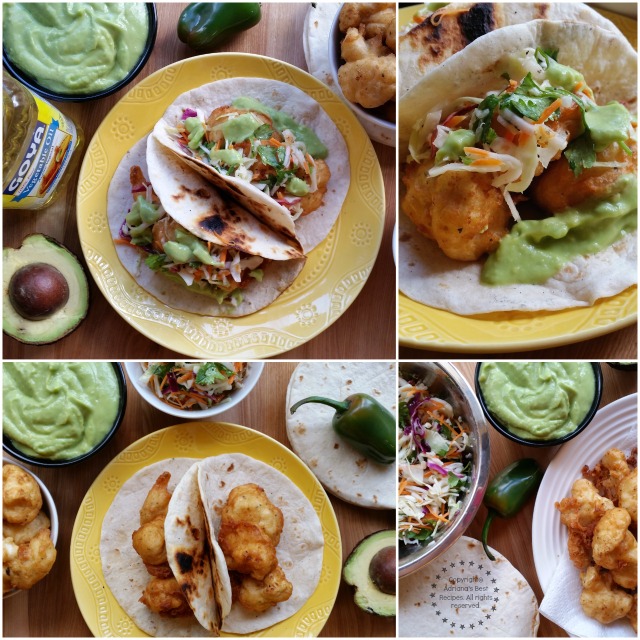 Build the tacos by warming the flour tortillas first, then add up to three fried pieces of cauliflower, garnish with the coleslaw and finish with the avocado spicy sauce.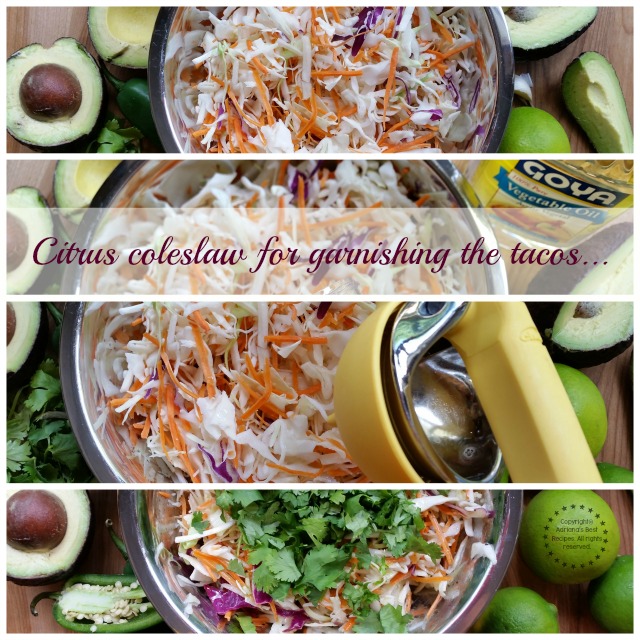 For making the coleslaw is very simple, just combine all ingredients in a mixing bowl and refrigerate until ready to use.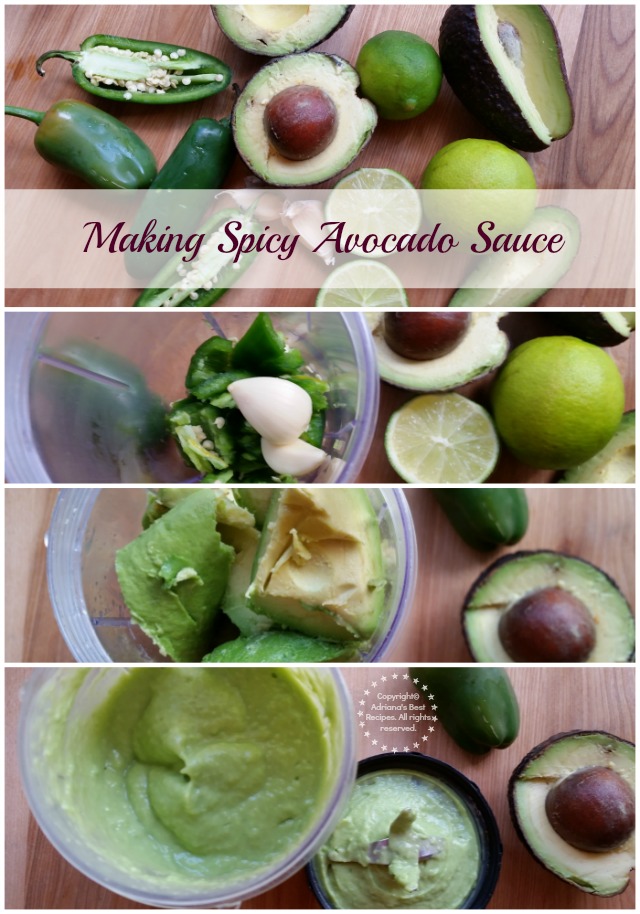 Same for the avocado sauce, place all the ingredients in the blender and mix until getting a velvety consistency. You can add water if needed. Pour the sauce on a resealable container and refrigerate until ready to use. This sauce can last in the fridge for about a week.
Using soybean oil for cooking has its benefits, contains 0g trans fats per serving, serves as a principal source of omega‐3s which can help reduce blood pressure and prevent heart disease. It is a great source of vitamin E which prevents cell damage that may lead to diseases such as cancer and heart disease. And contains unsaturated fats and when it replaces saturated fats, it may lower cholesterol levels.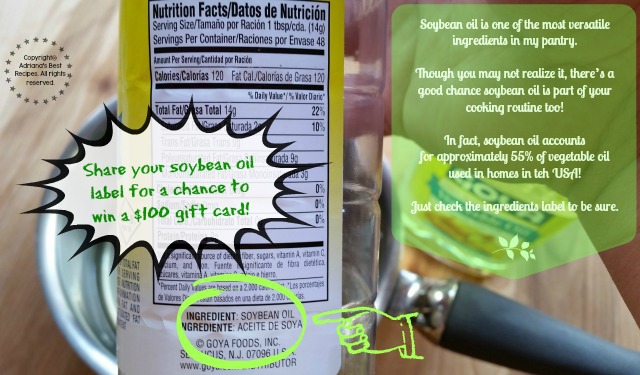 The United Soybean Board invites you to check your labels and upload a photo of your oil ingredients label highlighting its soybean oil content for a chance to win $100 gift cards. To enter, visit http://bit.ly/ShareYourLabel. The contest is now open and will run for the next 6 weeks until July 16th!

You can also visit http://bit.ly/SoyHealthyBenefits for more soybean oil information.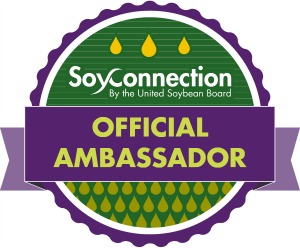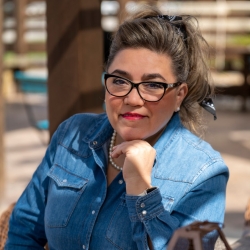 Latest posts by Chef Adriana Martin
(see all)