This post is also available in: Español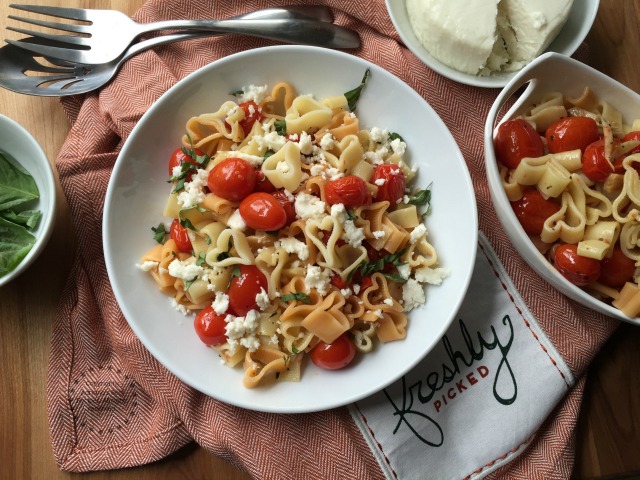 This recipe for Tomato Love Pasta is a sponsored collaboration thanks to Outrageously Fresh brand, pioneers in Fair Trade Certified produce.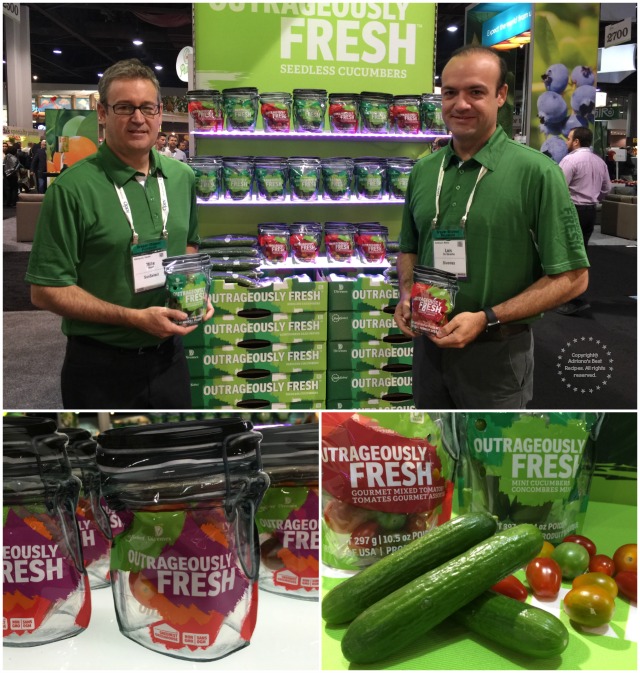 This brand was created by two growers: SunSelect from Canada and Divemex, a Mexican company based in Sinaloa and Jalisco locations where they have the best greenhouse operation in Mexico.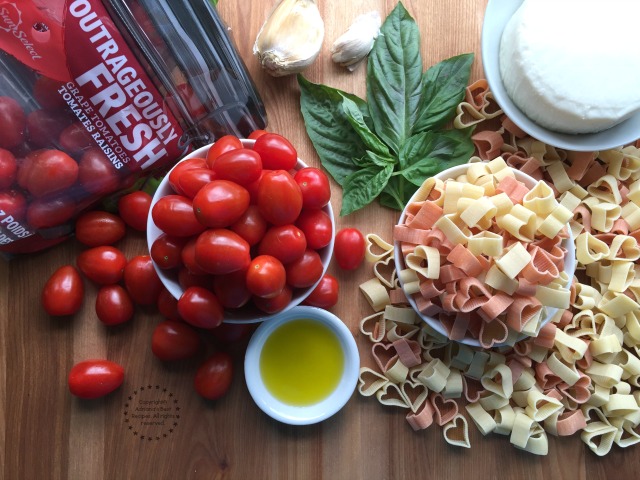 I met the executives of both companies during the PMA Fresh Summit in Atlanta last year and we decided to partner so that I could introduce you to their high quality produce and giving you easy recipe ideas like this Tomato Love Pasta using one of my favorites: the Outrageously Fresh grape tomatoes.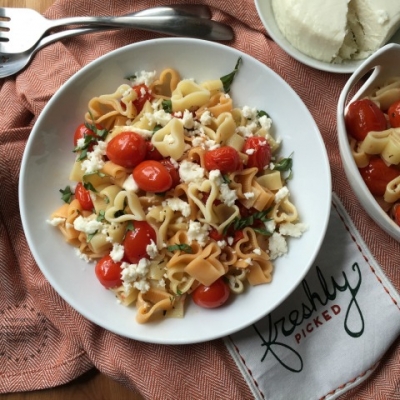 Tomato Love Pasta
Tomato Love Pasta, a recipe that will conquer your taste buds with the delicious flavor of fresh tomatoes!
Ingredients
4

cups

of heart shaped pasta

4

cups

of hot water

1

tablespoon

of salt

297

g

of Outrageously Fresh grape tomatoes

one bag

2

cloves

garlicjulienned

1

tablespoon

of olive oil

1

teaspoon

of dried basil

1

teaspoon

of salt

1/2

teaspoon

of ground black pepper

1

cup

of crumbled queso fresco

5

large basil leaves
Instructions
Clean the grape tomatoes with running water and place in a baking pan. Add the julienned garlic and the olive oil.

Season the tomatoes with the condiments on the list and roast in the oven for 10 minutes

Bring the water to a boil, add the salt and pour the heart shaped pasta. Cook the pasta for 5-7 minutes, until al dente. When done strain the pasta and temper with cold water.

Add the roasted tomatoes with garlic and combine with the pasta.

Serve the pasta and garnish with crumbled queso fresco and fresh basil.
These grape tomatoes are small in size but big in flavor. You just have to pop one of these grape tomatoes in your mouth to enjoy a sweet and bursting flavor of a naturally fresh tomato.
The Outrageously Fresh tomatoes you can eat as a snack or on the go since come packaged in a convenient stand-up zip-lock mason jar bag. But you can also add these tomatoes to your recipes. And since February is the month for love nothing better than to celebrate with a simple dish that does an homage to grape tomatoes: The Tomato Love Pasta recipe!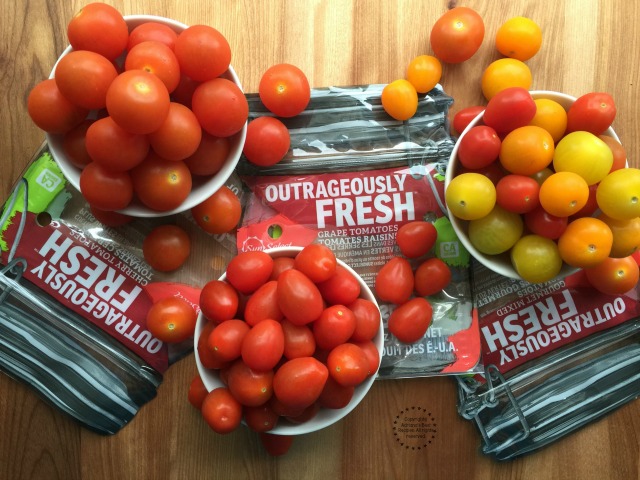 Tomatoes are such a versatile ingredient, you can eat them raw, roast them or add to sauces, soups and salads. Using fresh produce is also very important in my cooking. It is what makes a recipe stand out and be alive. Eating with the colors of nature it is also good for us, and with the Outrageously Fresh produce this is easy to achieve. You can snack on mini cucumbers and mini peppers as well as the flavorful cherry and gourmet mixed tomatoes all packaged in the exclusive stand-up zip-lock mason jar bags. Plus this line also includes traditional greenhouse items such as long English cucumbers, sweet bell peppers and tomatoes-on-the-vine.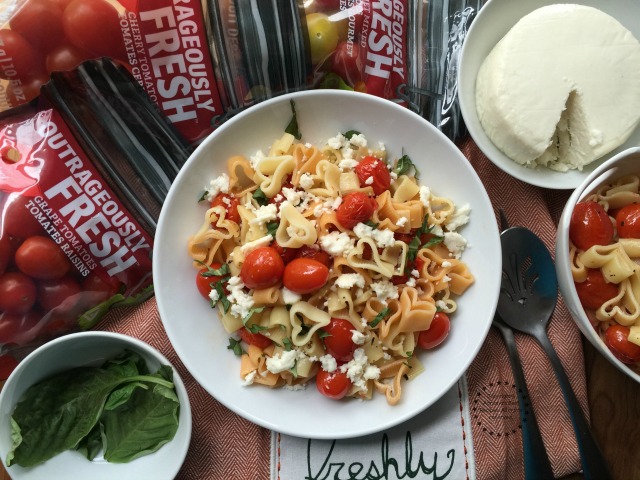 The Outrageously Fresh produce is grown in the most ethical and sustainable way possible. They grow their produce in greenhouses, reducing space and waste while conserving resources, and recycling water. They control pests naturally for delivering wholesome products with minimal impact.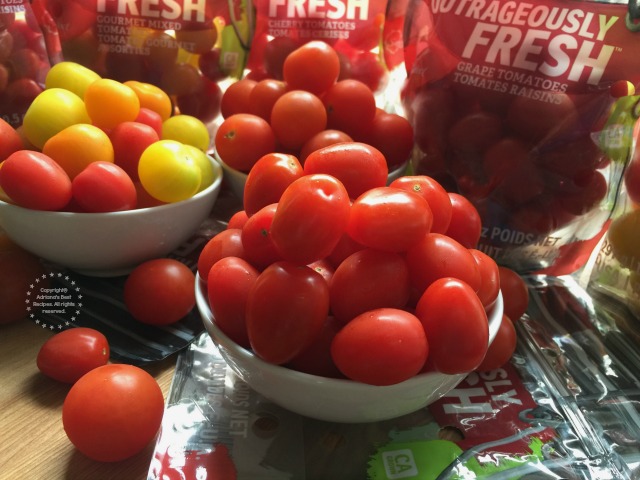 But what does Fair Trade Certified means. Outrageously Fresh has a commitment to worker welfare, education and safety, and they are pioneers in Fair Trade Certified produce. Divemex became North America's first Fair Trade Certified pepper producer in 2011, and SunSelect Canada's first a few years later. With every pepper sold, temporary and full-time greenhouse workers earn funds they can designate towards social, economic and other pressing needs in their home communities.
This is very important for me, as many of my fellow Mexican farm workers have the noble cause of bringing fresh produce to our tables, nothing better for them than to work with a company that gives back and helps them with programs for education and better quality of life.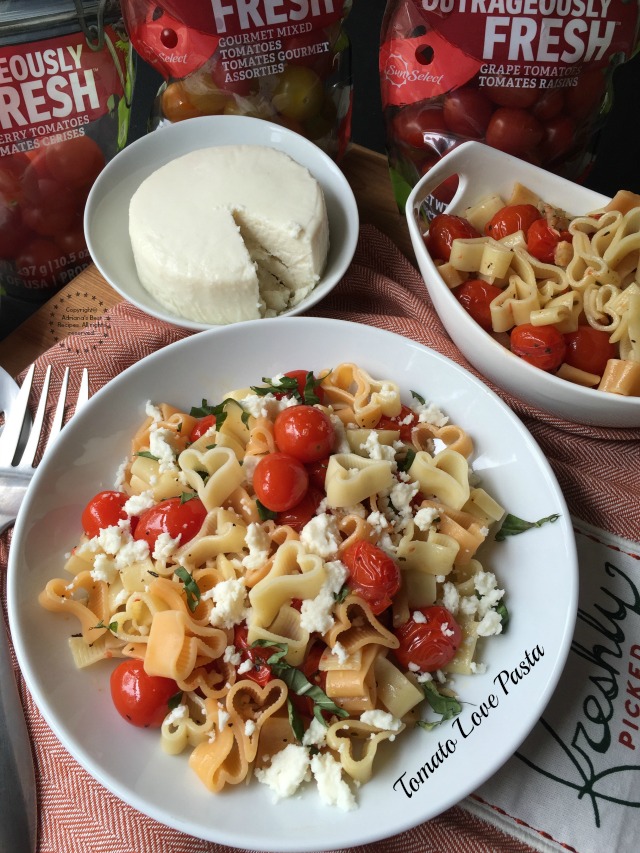 Now that you have learned a bit more about Outrageously Fresh, Divemex and SunSelect I invite you to try their produce and prepare this outrageously delicious Tomato Love Pasta. A recipe that will conquer your taste buds with the delicious flavor of fresh tomatoes!
Find your Outrageously Fresh produce at select Costco locations in the United States and Western Canada.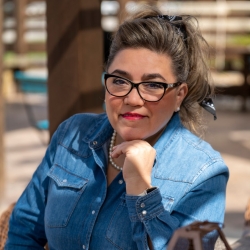 Latest posts by Chef Adriana Martin
(see all)