This post is also available in: Español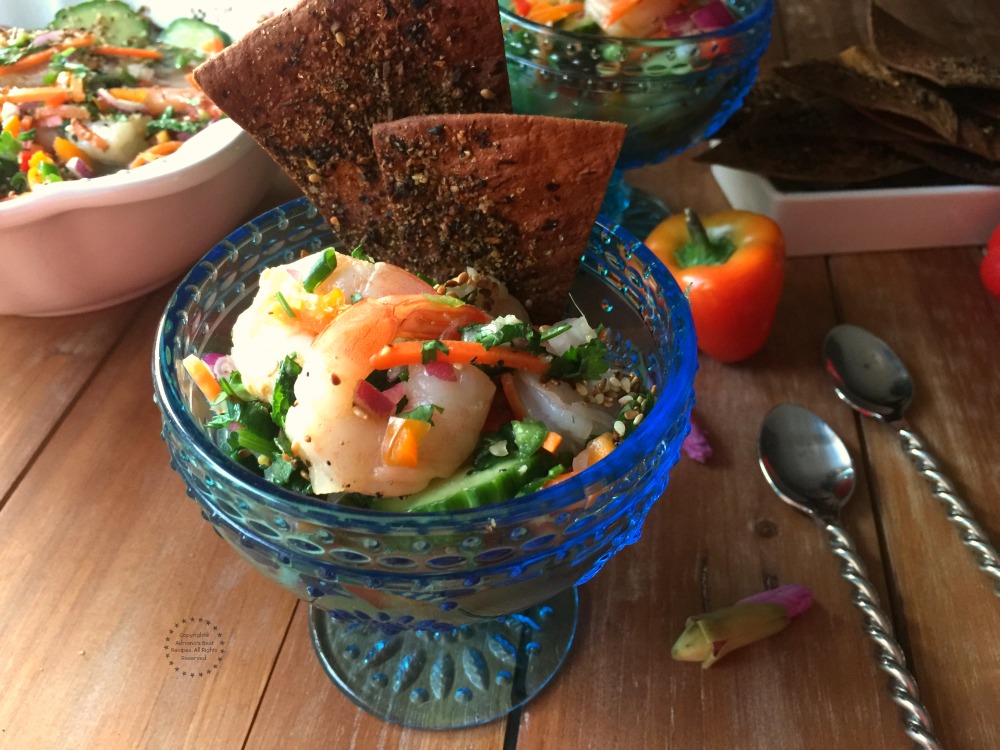 A yummy Thai Shrimp Ceviche for enjoying with friends this football season. It is a very simple appetizer to make and only requires fresh ingredients and Asian seasonings. I am pairing this ceviche with tasty flat bread crisps made with Flatout Bread.
I enjoy Thai cuisine because of its flavors and freshness. The use of ginger, lime juice, hot peppers and herbs like cilantro and mint make this Thai Shrimp Ceviche a delightful appetizer. Offering something different than traditional spicy treats for a football party is a nice change.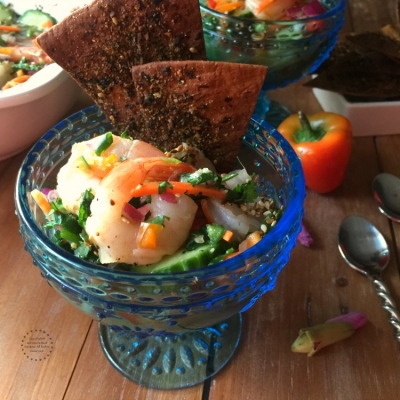 Thai Shrimp Ceviche
A yummy Thai Shrimp Ceviche for enjoying with friends this football season. It is a simple appetizer to make, with fresh ingredients and ready in few minutes.
Ingredients
1

package

of Flatout Bread

cut in triangules

1/3

cup

of Asian seasoning

with black sesame seeds, dried ginger, black pepper, cayenne pepper

6

dried salted shrimps

1/2

cup

of Meyer Lemon juice

1/3

cup

of orange juice

1/3

cup

of low sodium soy sauce

1

teaspoon

of fresh ginger paste

1

teaspoon

of fresh garlic paste

1

cup

of purple onion

chopped

2

cups

of shredded carrots

2

cups

of English cucumbers

cut in thin rounds

2

red sweet peppers

chopped

1

yellow sweet pepper

chopped

1/2

cup

of green onions

chopped

2

serrano peppers

chopped

5

mint leaves

chopped

1/2

cup

of cilantro leaves

chopped

1

tablespoon

of toasted sesame seeds

1

pound

of frozen precooked shrimps

medium size
Instructions
First cut the Flatout Bred in triangles using a pizza cutter. Place the pieces in a baking sheet and spray with oil. Sprinkle the flat bread pieces with the Asian seasonings and bake until golden brown.

Add the citrus juice to a bowl and combine with the dried shrimps, the ginger paste, the soy sauce and the garlic paste. Whisk until all ingredients come together.

Then add one by one the rest of the ingredients leaving the shrimps as the last step. Then combine well and cover with plastic wrap.

Refrigerate for 15 minutes before serving. Serve in individual cups and garnish with toasted sesame seeds.

Pair the Thai ceviche with the flat bread crisps and enjoy.
This dish also allows for individual servings, which is great when setting up a party buffet. Having easy to eat food it is also key when watching the game. Your guests need to have the ability of being mobile and eating the food without the need to sit.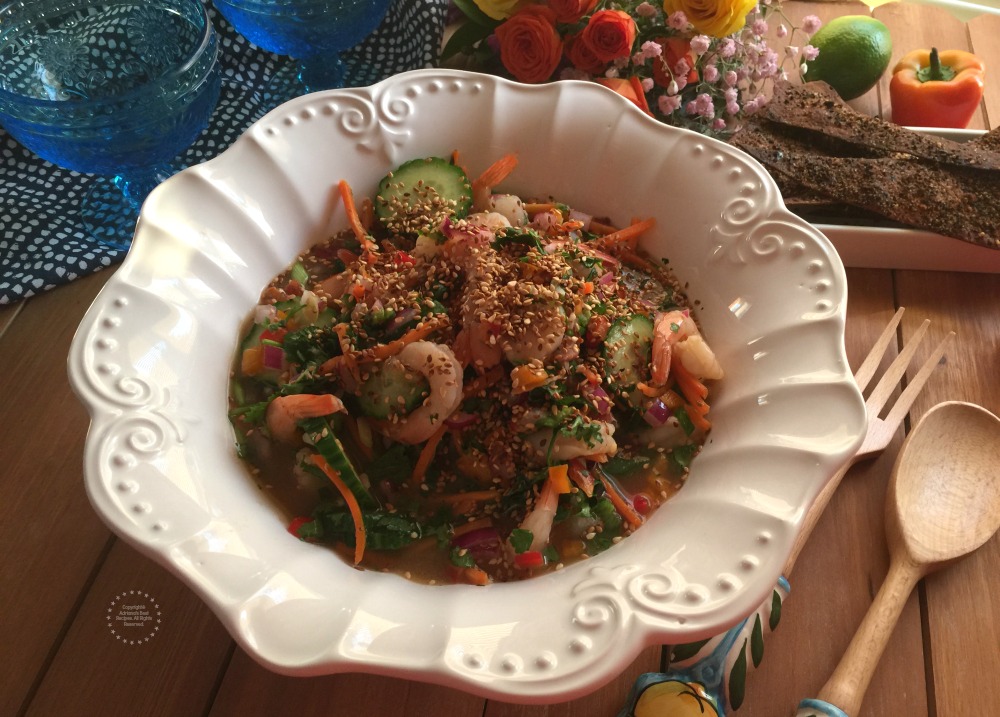 Hosting football parties at involves having many guests and setting up a table to sit down and have a formal dining experience is not appropriate. Setting up a buffet is the best way to go as well as offering small bites and drinks.
The Thai shrimp ceviche is a very nice option that pairs nicely with white wine and a light beer. For making the flat bread crisps Flatout Bread is ideal. Because it is low in calories and high in protein and you can find it easily at the supermarket at the deli area. This flat bread is also great to make pinwheels and quesadillas to complement the football party menu.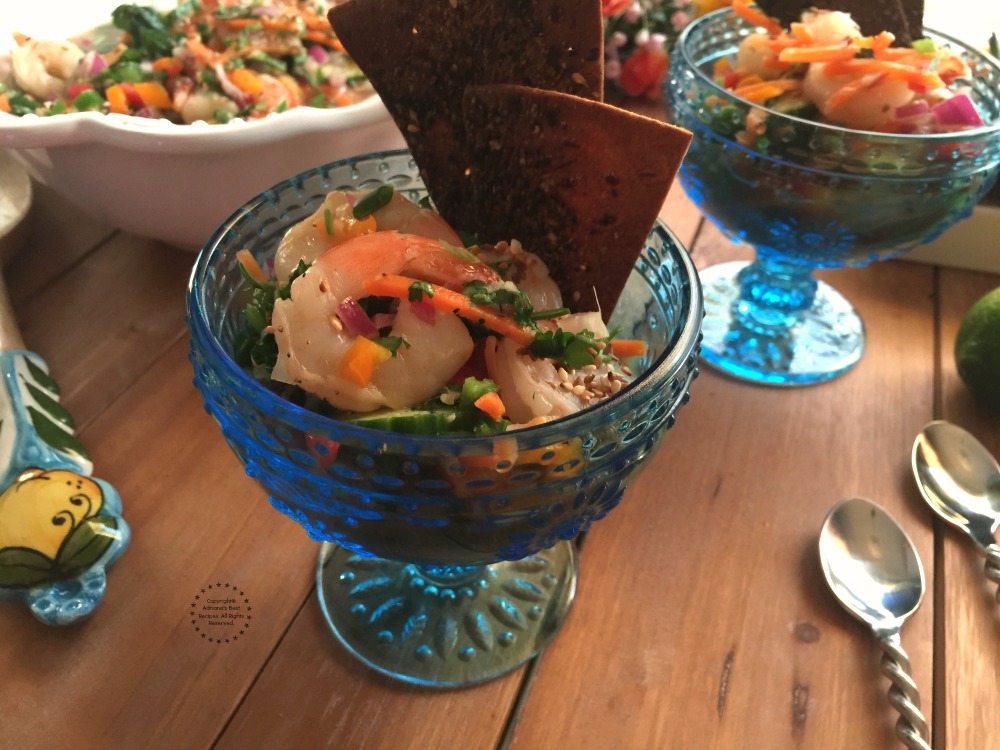 For this Thai shrimp ceviche you need frozen and precooked medium size shrimps. You can buy the shrimps fresh and cook them. But I like to use precooked to save time. Just have to be careful in following the instructions for thawing to avoid bacteria.
Shrimps are a delicate ingredient and must be treated correctly, as well as kept at right temperature. When setting up the buffet the ceviche bowl needs to be placed on top of an ice box to keep it cool. This will help tp keep the Thai shrimp ceviche fresh.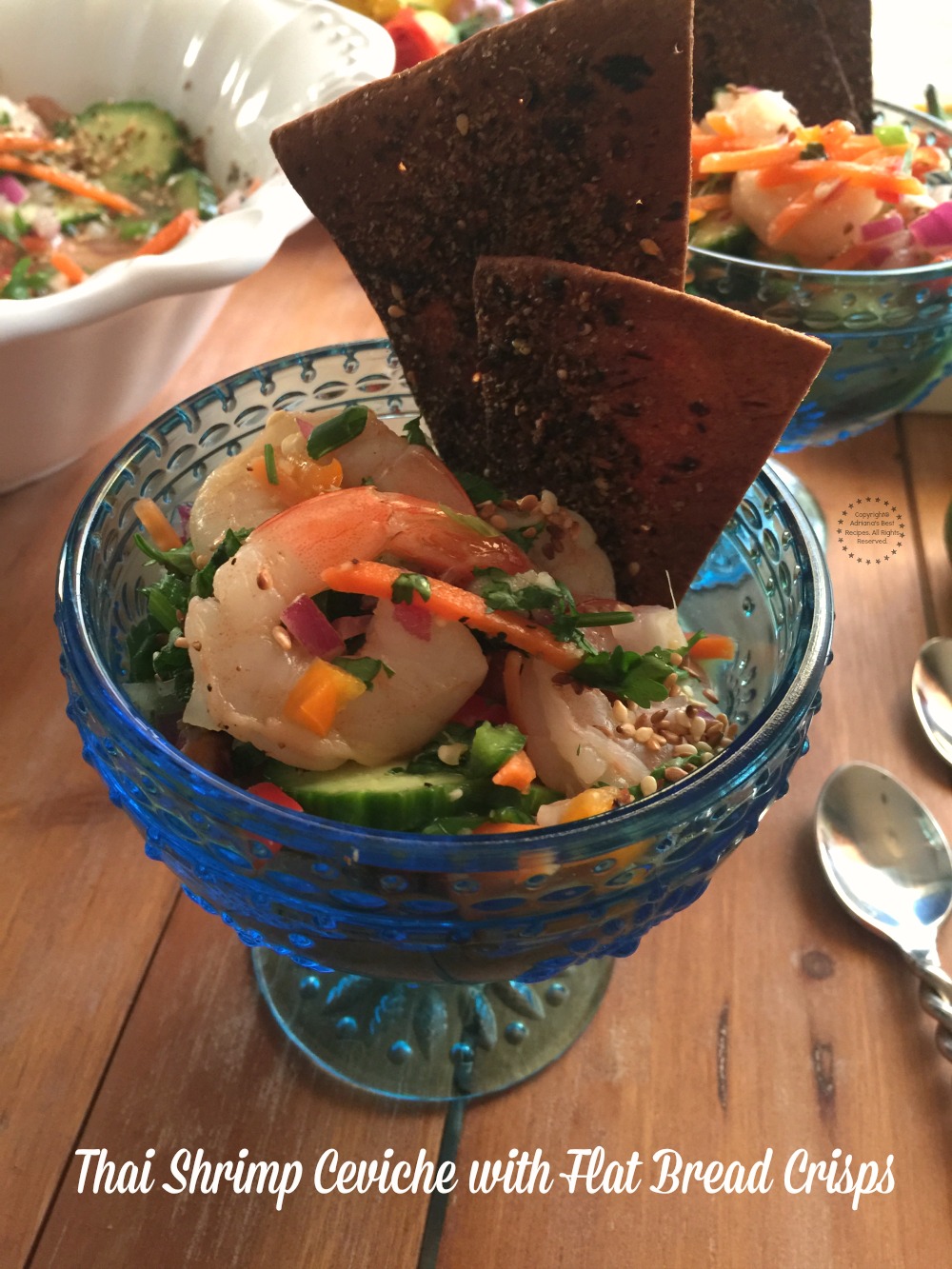 Let the best team win!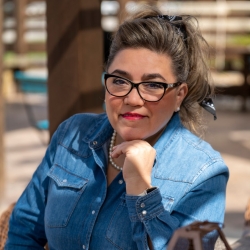 Latest posts by Chef Adriana Martin
(see all)