This post is also available in: Español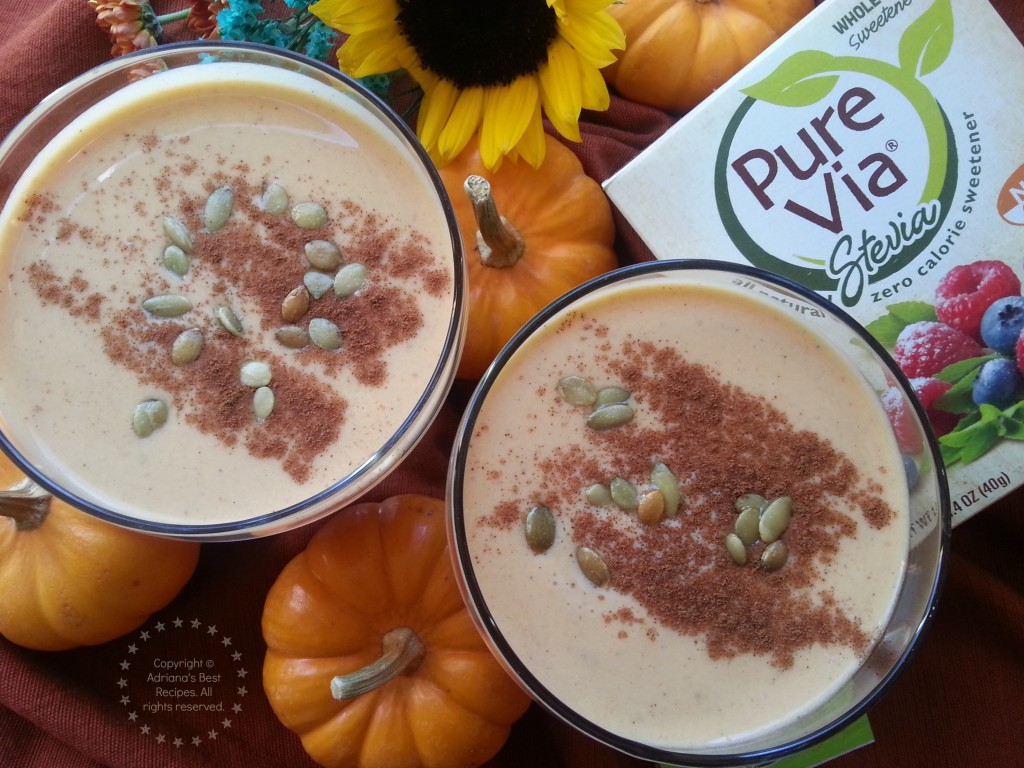 "This shop is part of a social shopper marketing insight campaign with Pollinate Media Group® and Pure Via®, but all my opinions are my own. #pmedia #PureViaSweet http://my-disclosur.es/OBsstV"
On my daily life I look for sensible options to start my day. I look for ingredients that are natural and embrace my lifestyle and cooking point of view so creating a sugar free pumpkin smoothie with Stevia Pure Via was an easy task. The fall offers a bounty of pumpkins, you can find them everywhere and have nutritional properties that are good for my family's daily routine. This smoothie is very easy to make here you have the ingredients you need…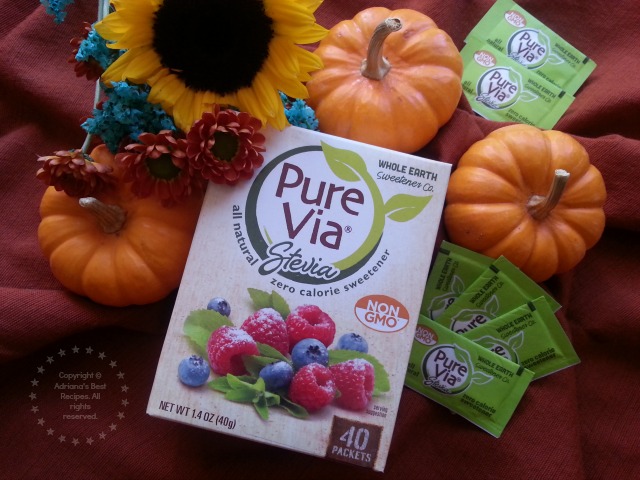 INGREDIENTS
1 cup of natural pumpkin puree
1 cup of natural yogurt
1 cup of water
6 ice cubes
2 packets of Stevia Pure Via®
1 teaspoon of cinnamon or pumpkin spice
1 teaspoon of roasted pepitas
Preparation time: 10 minutes. Makes two 16 ounce glasses or four cups 8 ounces each. Cost per serving less than $2.00 dollars. You will need a blender and measuring cups.
To prepare the sugar free pumpkin smoothie place the pumpkin puree, the natural yogurt, the water, the ice cubes and the Stevia Pure Via in the blender. Blend well until getting a smoothie consistency, serve the sugar free pumpkin smoothie in tall glasses and finish with cinnamon or pumpkin spice and roasted pepitas.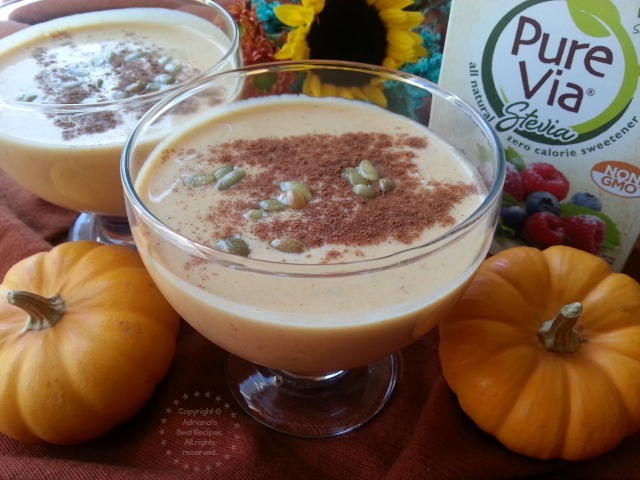 My husband likes to start his morning with a smoothie, he normally has a banana or strawberry shake but a change in taste is always good to do specially if using seasonal ingredients that are fresh and carefully cooked to perfection to make a wonderful beverage with pumpkins I just roasted for using in other applications like soups, chili and calabaza en tacha a traditional Mexican treat we eat during this time of the year. For this sugar free pumpkin smoothie recipe you can also use canned pumpkin if desired.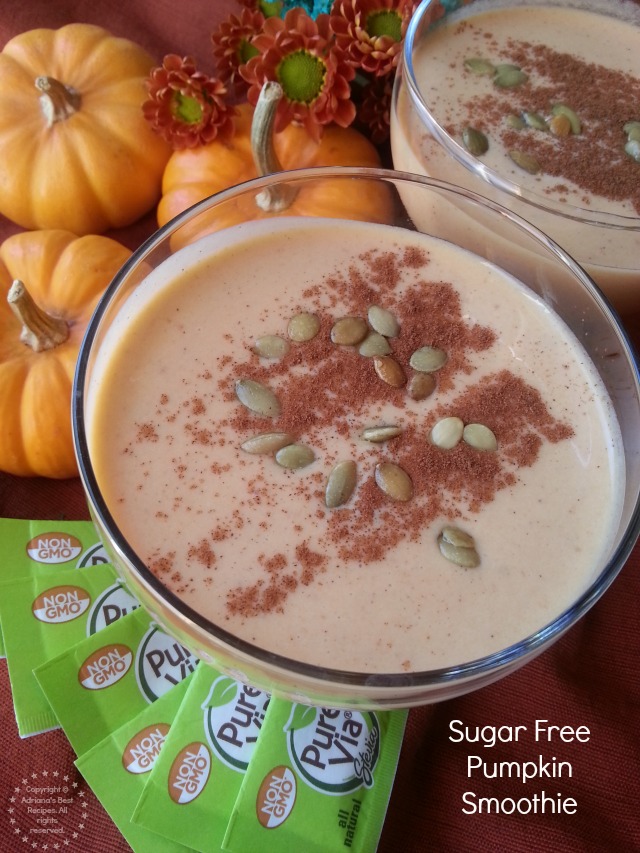 This sugar free pumpkin smoothie is like a slice of pumpkin pie without the hefty calories. It is a perfect way to indulge and feel good about it because Pure Via tastes great, it is a natural alternative to sugar and artificial sweetener and a great choice for people trying to live a healthy lifestyle. In addition Pure Via is all natural, Non-GMO, made from the stevia plant providing sweetness to your foods and beverages with ZERO calories. I love the convenient Pure Via on the go packets so that I can take them everywhere I go. I invite you to try Pure Via , you can find it at your neighborhood's Walmart where I found mine and take advantage of the nice savings coupon HERE while supplies last.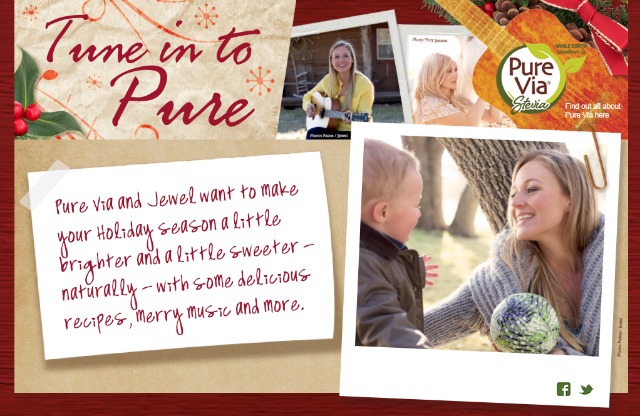 PureVia and Jewel want to make your holiday season a little bit sweeter by downloading for free a song and a cookbook to put you in the holiday spirit, so go ahead and click on the image above to learn more. You can also follow Pure Via on Facebook and Pinterest.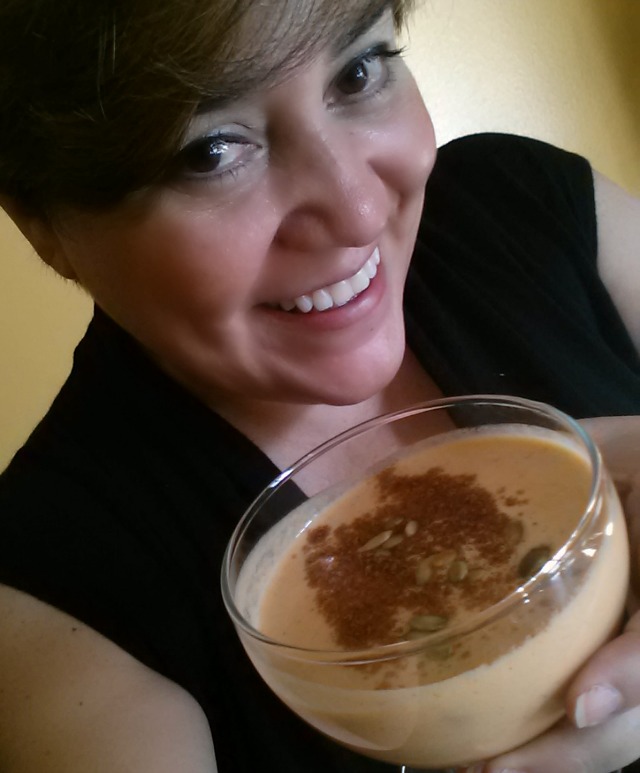 Cheers!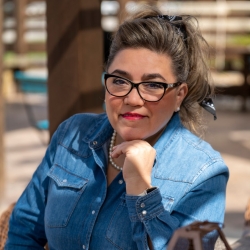 Latest posts by Chef Adriana Martin
(see all)