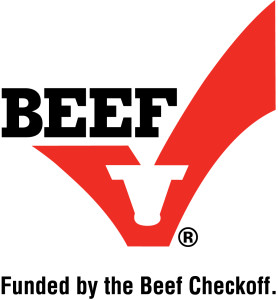 This post was sponsored by The Beef Checkoff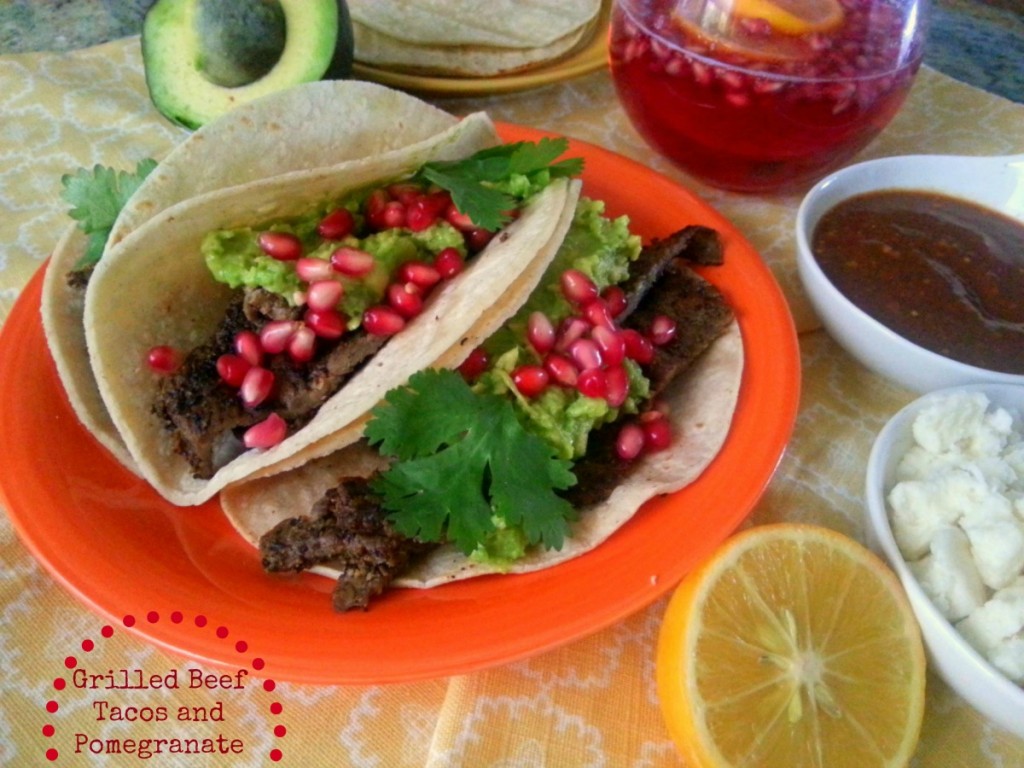 Carne asada or grilled beef is one of my family's favorite dishes at home and when grilled beef is served in a taco with guacamole becomes an even better meal at least for our taste. As you know I am a big grilling fan and I grill most of the year. Last year we even celebrated Christmas eating Mexican dishes all coming from the grill incorporating seasonal ingredients and the festive flavors of the holiday season. This year we are going to have many get-togethers prior Christmas and looking for inspiration I found a recipe from the 2013 National Beef Cook-Off: "Beef Tacos with Pomegranate Guacamole" that goes perfect with what I am planning for the first party prior the big family day on December 25th. This recipe that I am going to share with you is based on the original but adding few twists of my own. We cooks love to integrate our own signature on what we cook so I hope you like my version for Grilled Beef Tacos with Pomegranate Guacamole, so let's cook!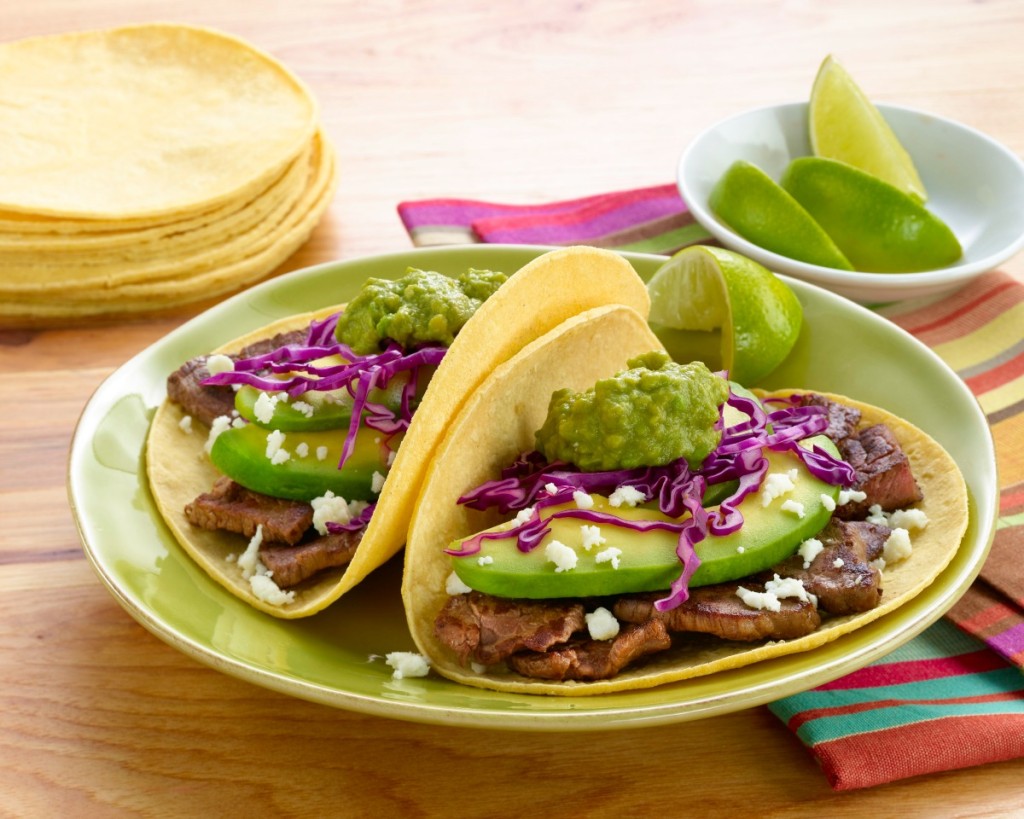 INGREDIENTS
1 pound of thin steak seasoned with salt and pepper (preferably top sirloin just cut thin, about 4-5 steaks)
8 corn tortillas warmed
3 Meyer lemons
2 Hass avocados from California mashed and pitted
½ cup of pomegranate seeds
½ cup of cilantro leaves
1 cup of crumbled queso fresco
1 cup of hot taco salsa (prepared with 4 chiles de arbol, 8 tomatillos and 2 garlic cloves. Place all ingredients in the blender and add salt, combine well)
Sea salt
Preparation Time: 30 minutes, serves 8 guests. Approximate cost per guest is around $4.00 dollars depending on ingredients cost at your local supermarket. You will need a grill or a skillet.
Place the thin steaks on the hot grill or skillet and cook until getting the nice grilling marks. These steaks cook fast so take them out of the grill as soon as those are fully cooked and set them apart until ready to serve. To prepare the guacamole cut the California avocados lengthwise and take the pit out, scoop the avocado flesh using a spoon and place it in a bowl. Do this process with the two avocados. Then with a fork mash the avocados until getting a smooth creamy consistency; juice one Meyer lemon and add the lemon juice to the guacamole and season with sea salt. Peel the pomegranates and place the small pomegranate jewels in a bowl. I called the seeds "jewels" because they look like rubies, so pretty and bright red. Crumble the queso fresco and place it is a serving bowl; cut the cilantro leaves for later use. Serve the hot chile de arbol salsa on a bowl and place it in your table along with the queso fresco to allow your guests to dress the tacos as they wish. To serve the tacos cut the think steaks in strips and place few of the strips on a warm corn tortilla, then top with guacamole, sprinkle with pomegranate seeds and decorate with cilantro leaves.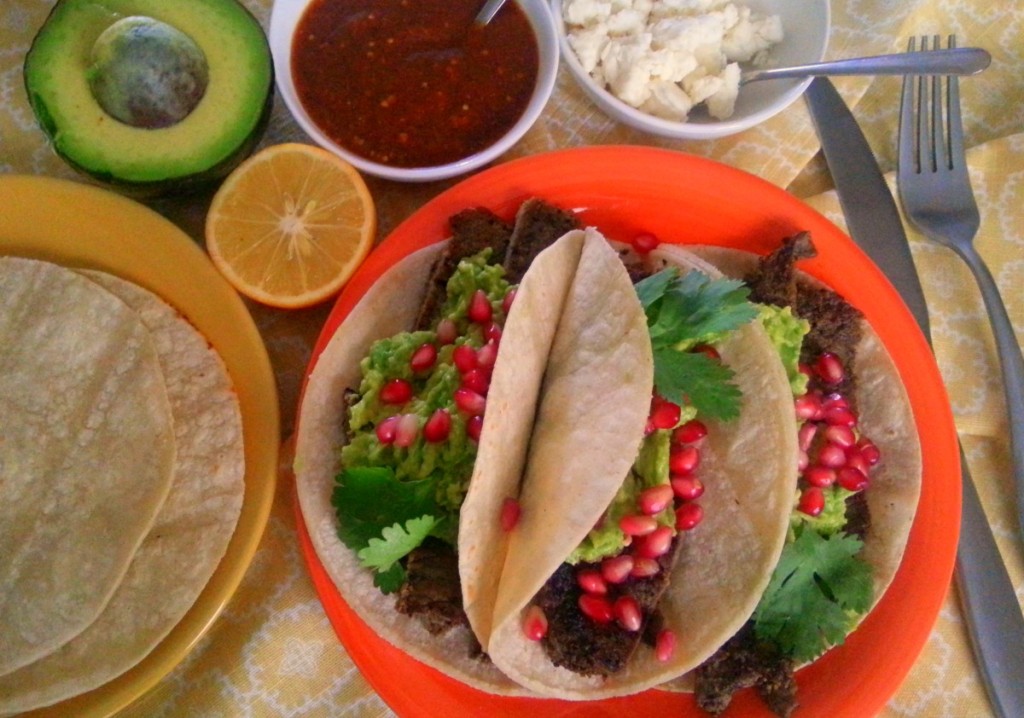 This recipe for me is a winner, it is healthy and very tasty I am sure my family and guests will enjoy these upcoming parties very much celebrating with this Grilled Beef Tacos with Pomegranate Guacamole inspired on the 2013 National Beef Cook-Off!
This year's contest theme was "Making the Most of MyPlate," which encouraged delicious, healthy recipes from a variety of food groups. Entrants were asked to develop original and tasty beef-focused recipes that include broadly appealing ingredients from the fruit and vegetable, grain products and dairy products groups. The National Beef Cook-Off is one of the top three recipe and cooking contests in the country, providing an opportunity to share recipes and win up to $25,000. The Cook-Off is designed to meet the tastes and techniques of the everyday home cook while demonstrating the benefits and versatility of cooking with beef. And this 2013 National Beef Cook-Off winner was Abbie Argersinger, from Austin, Texas with her recipe Cali-Avocado Steak Salad. 
I hope to participate next year maybe I can be a winner like Abbie!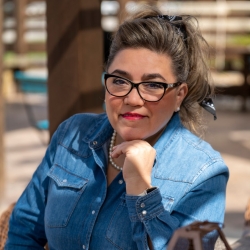 Latest posts by Chef Adriana Martin
(see all)