This post is also available in: Español
This recipe for the Chipotle Chocolate Churros is part of a sponsored campaign with TABASCO®. However, all opinions expressed are my own.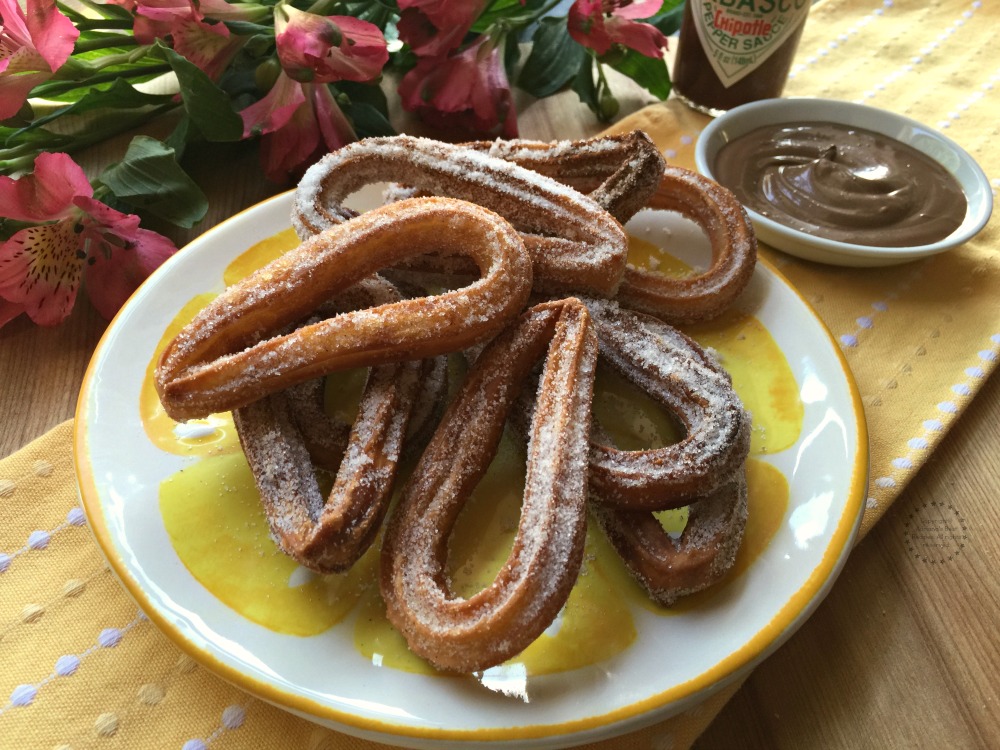 Churros are a longstanding tradition of the Spanish cuisine and a treat that everyone enjoys. That is why I am suggesting a tasty batch of Chipotle Chocolate Churros for the upcoming summer taquiza I am planning. These churros are freshly made and paired with a velvety chocolate sauce spiced with chipotle pepper for a surprising taste.
I am a lover of spicy sauces, and one of my favorites is TABASCO® chipotle sauce. It is smoky, with hints of the chipotle peppers and spices. TABASCO® is great to use not only as a condiment but as an ingredient to many recipes. Such as marinades, sauces, stews, soups, tacos, pasta and even for baking.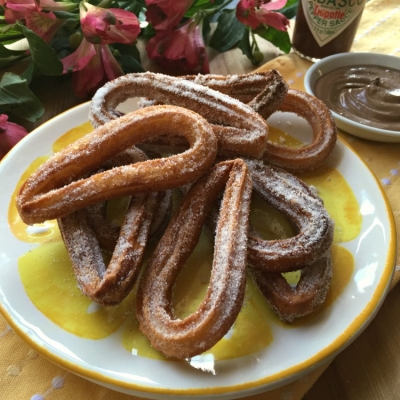 Chipotle Chocolate Churros
Inspired in the flavor profile of the TABASCO® chipotle sauce I have created a chocolate sauce using powdered chipotle peppers. This sauce is the perfect pairing for freshly made churros.
Ingredients
1

bag of frozen churros

2

cups

of peanut oil

1

cup

of refined sugar

1

tablespoon

of ground cinnamon

1

semisweet chocolate bar

1

teaspoon

of chipotle powder
Instructions
On a frying pan pour the peanut oil and let it get hot. The peanut oil must reach 375 degrees Fahrenheit to fry the pre-made churros properly.

Fry the churros two at a time until golden brown and let them drain on a plate with paper towels.

Dust the churros on sugar and cinnamon previously mixed and serve.

Melt the chocolate on a double boiler or the microwave for few minutes until melted. Add the chipotle powder and combine with a whisk.

Serve the chocolate sauce on a dipping sauce plate and enjoy the sauce with the churros.
Notes
Make sure to use chipotle powder mix only instead of chipotle sauce with a vinegar base. Vinegar cuts the fat and changes the structure of the chocolate.  
Nutrition
Serving:
0
g
Carbohydrates:
0
g
Protein:
0
g
Fat:
0
g
Saturated Fat:
0
g
Polyunsaturated Fat:
0
g
Monounsaturated Fat:
0
g
Trans Fat:
0
g
Cholesterol:
0
mg
Sodium:
0
mg
Potassium:
0
mg
Fiber:
0
g
Sugar:
0
g
Vitamin A:
0
IU
Vitamin C:
0
mg
Calcium:
0
mg
Iron:
0
mg
Inspired in the flavor profile of the TABASCO® chipotle sauce and the spicy chocolate brownies I have created a chocolate sauce using powdered chipotle, peppers.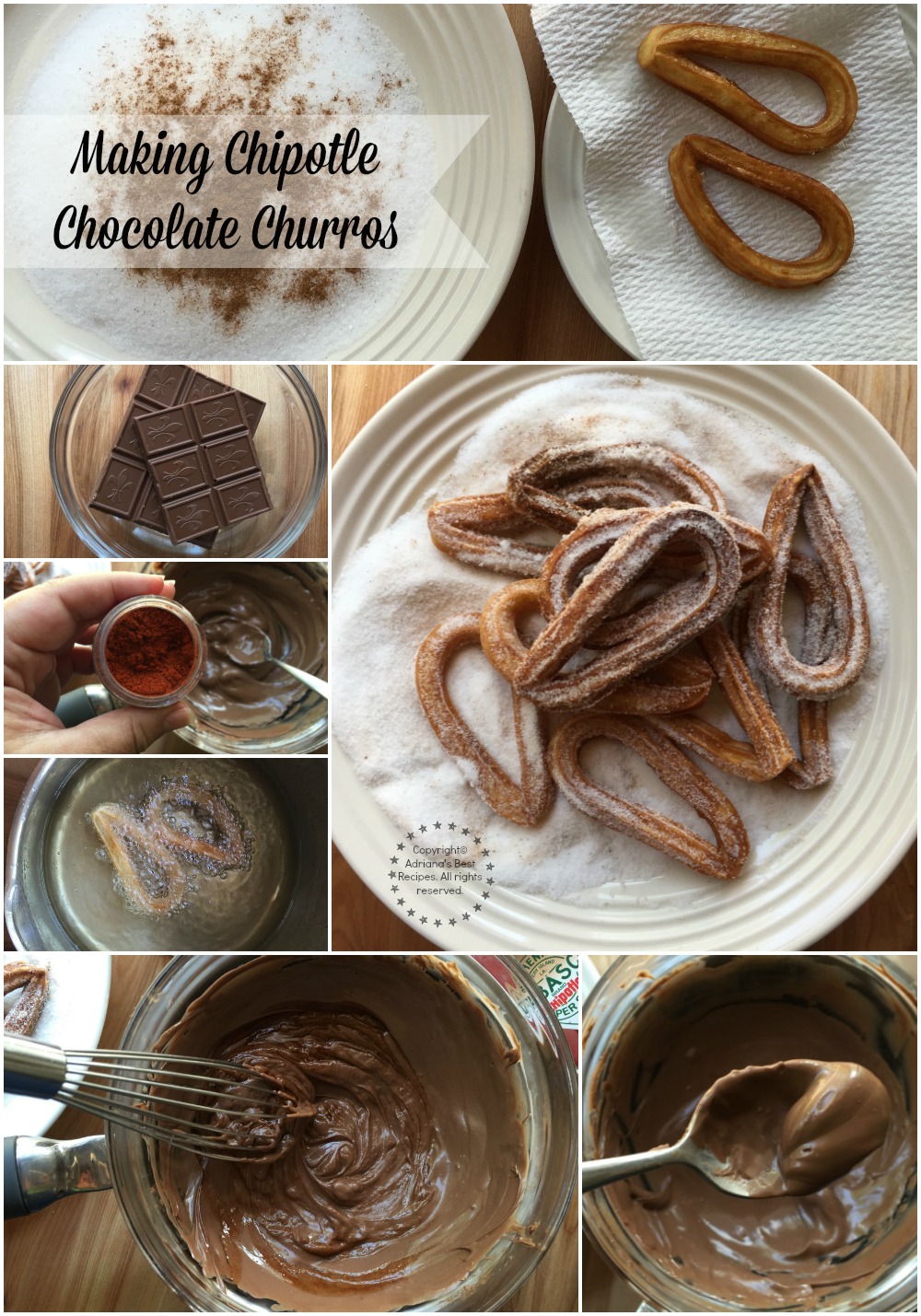 Chocolate can be a tricky ingredient when used tempered. When, adding other ingredients to the melted chocolate those have to be applied dried or in powder form to preserve the chocolate chemical structure. Otherwise the sauce becomes a fudge and what we want is a velvety dipping sauce for the churros.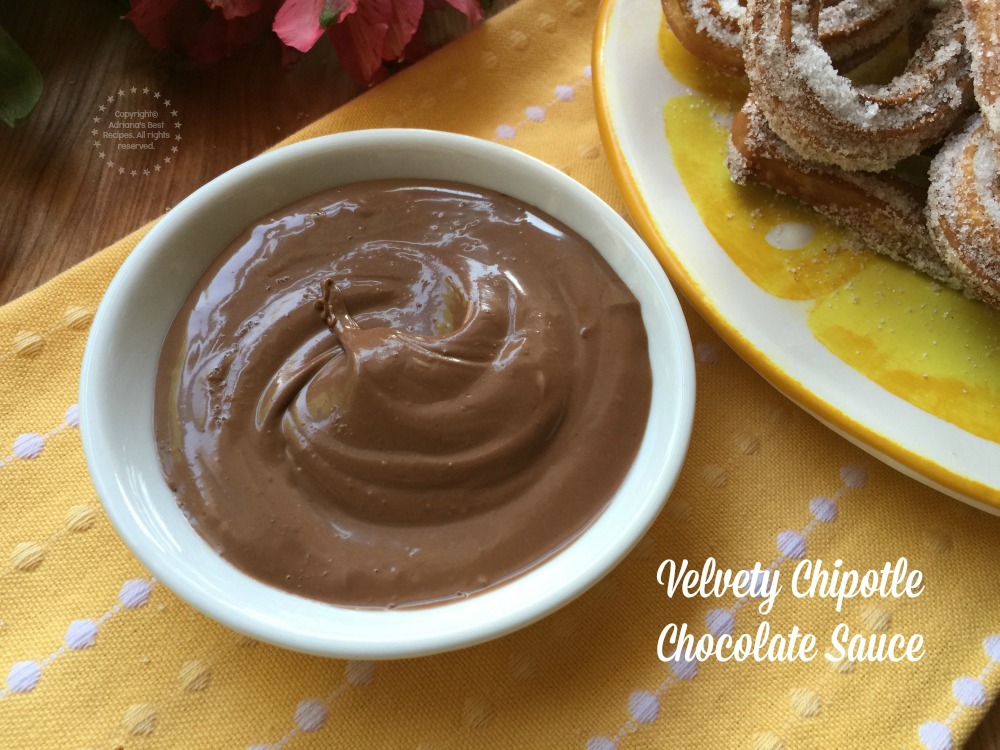 At home, we love this treat after a nice dinner, for a special dessert or to eat as a snack for la merienda. The Chipotle Chocolate Churros are also a welcomed dessert in parties and taquizas.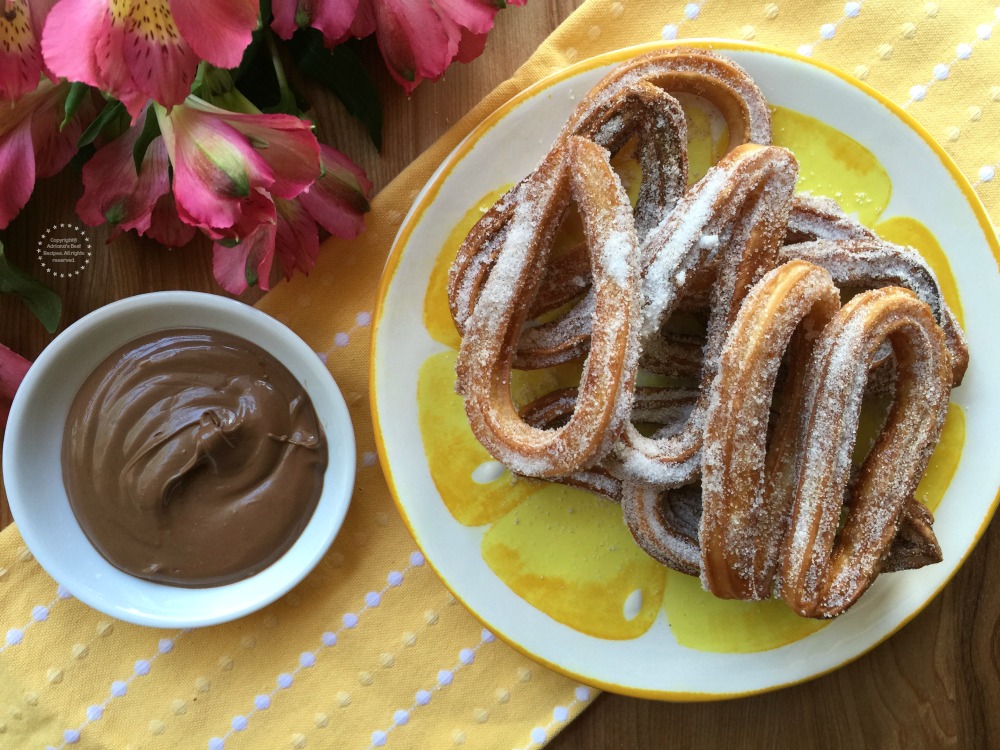 We all have a sweet tooth so serving something special with an element of surprise it is a must do to end a memorable reunion with family and friends.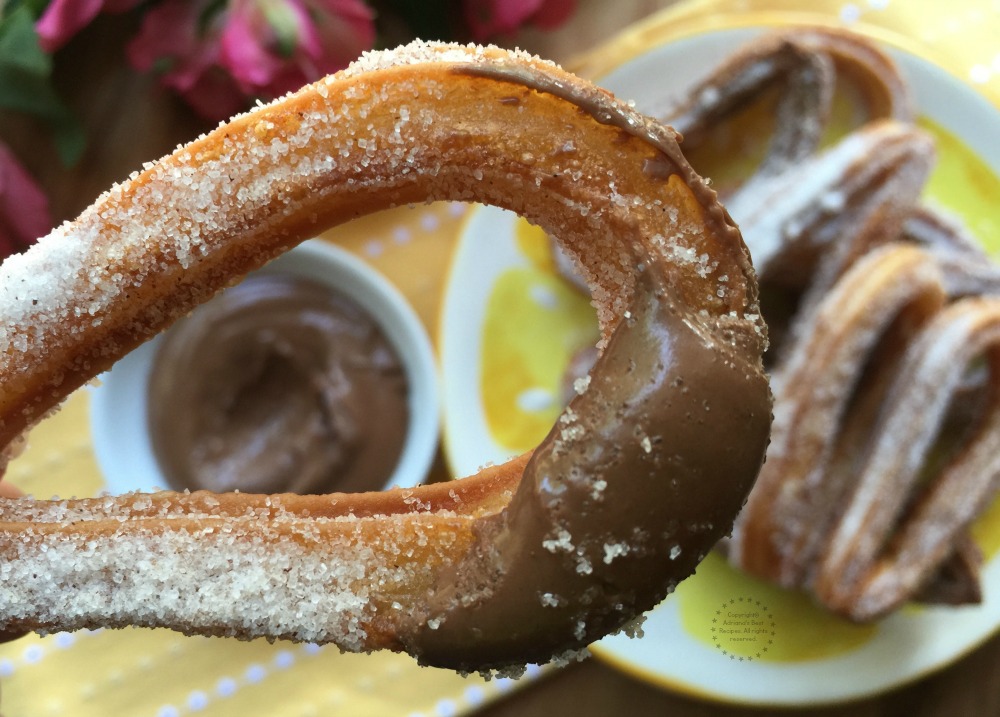 Me, being Mexican I always like to incorporate a spicy kick to all the foods I prepare. Because who can live without spice. TABASCO® is an iconic American brand that's family owned and has been around for more than 145 years. It is an ingredient that I always have in my pantry.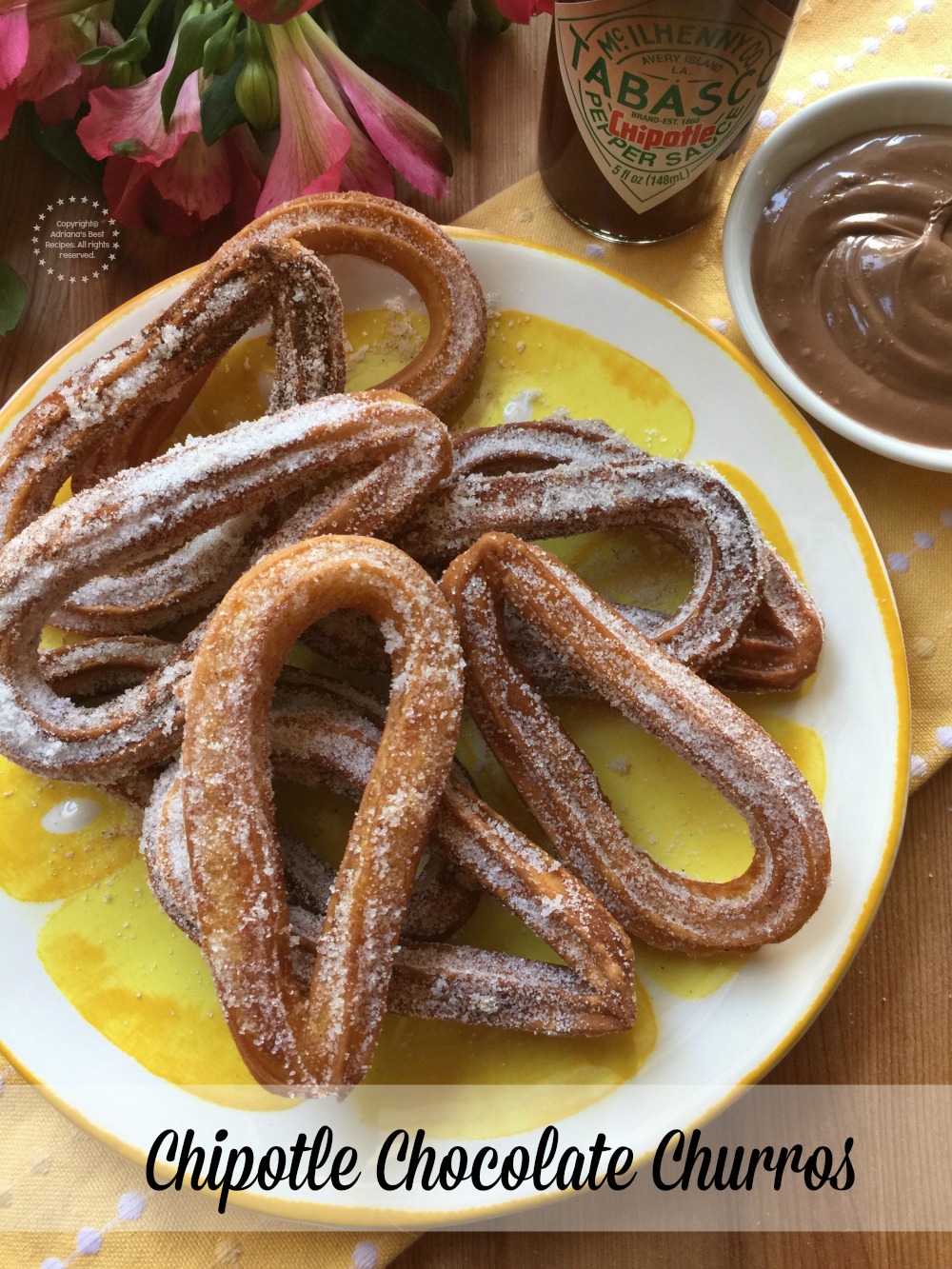 I invite you to try the Chipotle Chocolate Churros in your next gathering!
Products from Amazon.com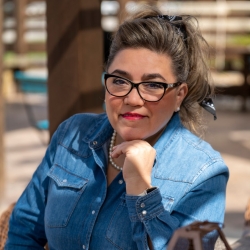 Latest posts by Chef Adriana Martin
(see all)