This post is also available in: Español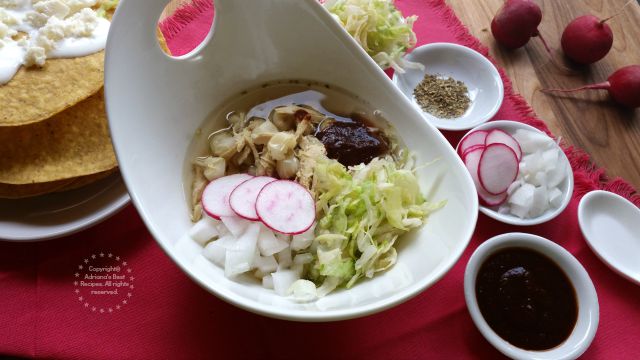 One of my favorite Mexican dishes is pozole or pozolli as my Aztec ancestors would call it. Pozole is made typically with pork meat  and hominy yet in some kitchens it is also prepared with chicken and I decided to share with you my recipe for Chicken Pozole. Very easy to make and inspired by a recent trip I made to Arkansas where I learned about poultry and the chicken industry.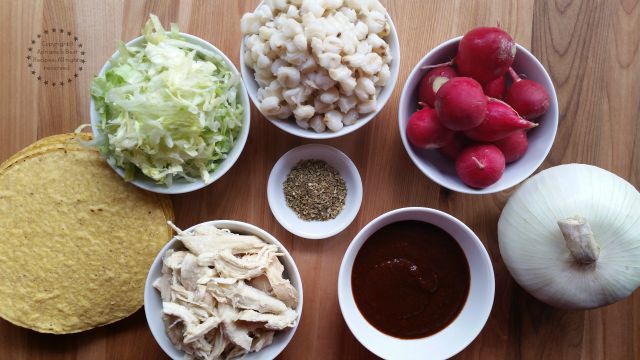 Pozole is a celebratory meal, served in special occasions like birthday parties, weddings and as an ailment after hangovers or parties that end in breakfast. Yes, in my Mexican culture when we have weddings we have to offer breakfast next day as the party will go on all night until early hours next day. Having a comforting soup like chicken pozole is perfect to recover the lost energy and recharge.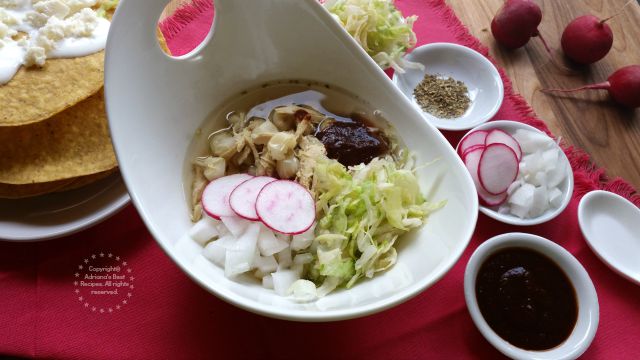 Chicken Pozole Recipe
This chicken pozole is great recipe for the fall, which I am awaiting anxiously. Nothing like 70 degrees temperature for al fresco dining enjoying a traditional Mexican dish like this flavorful chicken pozole.
Ingredients
1

in

small fresh chicken cutpieces

1

white onion

1

bunch of cilantro

2

carrots

2

chicken bouillon cubes

1

teaspoon

of Mexican oregano

6

cups

of filtered water

3

cups

of shredded cooked chicken

4

cups

of hominy or cacahuazintle maize ready to use

1

cup

of guajillo sauce

1/2

cup

of chopped white onion

1/2

cup

of sliced radishes

1

cup

of shredded iceberg lettuce

1

teaspoon

of Mexican oregano

2

in

limes cuthalves

8

corn tostadas

8

teaspoons

of Mexican crema

1/2

cup

of crumbled ranchero queso fresco
Instructions
Start by making the chicken broth and cooking the chicken. For that clean the chicken following safety standards to avoid bacteria.

In a big soup pan add the chicken cut in pieces, the onion, the cilantro, the carrots, the chicken bouillon, the oregano and the water. Cook on a low flame for 2 hours until chicken is tender and meat is easy to take off the bone. The secret for a clear broth is to cook the chicken on low flame and do not let it boil.

When broth is ready, take out the chicken and place in a dish for easy removing of the skin and shred the chicken.

Strain the broth and add the shredded chicken and the hominy and combine. Season with salt and let it simmer for few minutes on low flame.

For serving the chicken pozole use nice soup bowls, serve one or two ladles of the chicken pozole and garnish with guajillo sauce, chopped white onion, radishes and lettuce. Drizzle few drops of lime juice. You can serve the chicken pozole with cream and cheese tostadas. But this is optional.
Ancient aztecs were used to prepare pozole for special occasions too and being corn the most important ingredient on their diet having cacahuazintle maize added to this soup was a must along with other garnishes like hot sauce, lettuce and radishes.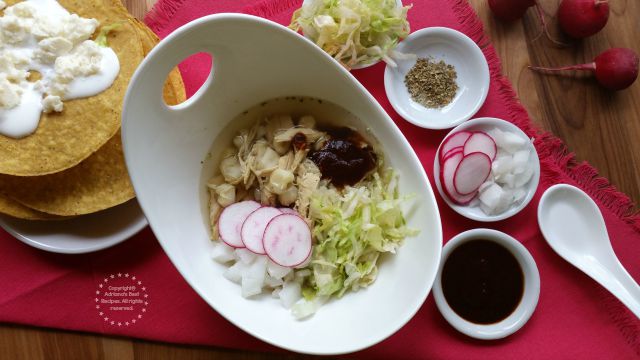 Nowadays several regional cuisines from Mexico have a pozole dish as a staple and each region uses ingredients prevalent on their area, so you can find green, red, and white pozole. With meat variants going from beef, pork, chicken and even seafood. True Mexican food is all about locally sourced and fresh ingredients.
My family being from the north we were used to have a dish called Pozole Sonorense, a special chunky soup my great grandmother was used to make with beans, pearl wheat, smoky green peppers and pork meat. Every time she would prepare this dish was a feast for the senses and for the tastebuds. And of course being this pozole a soothing option, a bowl of this pozole sonorense was a welcoming experience during the winter.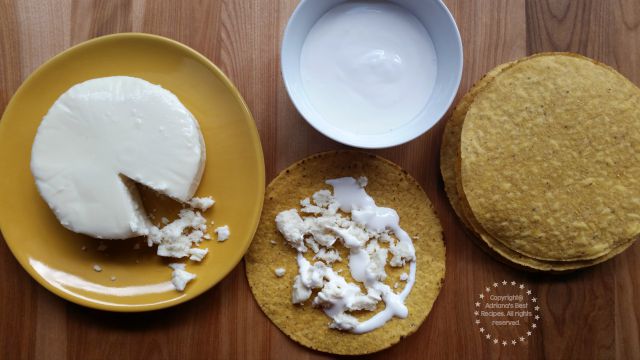 I do enjoy introducing my Cuban family to my Mexican flavors and they do enjoy a good Chicken Pozole, which we also call our Mexican Pho. Was conceived as the same idea of pho having a clear broth as a base and served with shredded chicken and garnished with lettuce, chopped white onions, fresh radishes, guajillo sauce and dried Mexican oregano.
This chicken pozole is flavorful and easy to make, the trick to a great broth is to use fresh ingredients and preferably a young tender chicken that hasn't been frozen for better taste. When buying fresh chicken there's always questions regarding what is better, farm raised, organic, hormone free as well as food safety.
And I am glad I have Best Food Facts as an unbiased resource for information since they connect me directly with the scientific community that has answers for all these burning questions. I invite you to check out details on food safety guidelines when cooking chicken HERE as well as information about antibiotics in chickens and what is best free range chickens or conventional.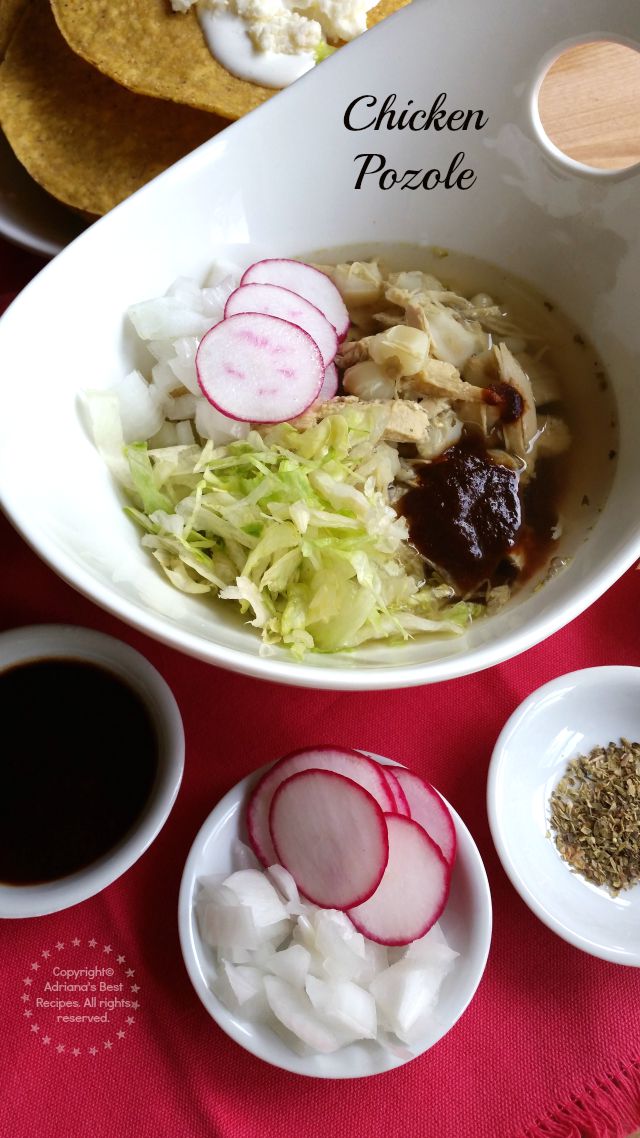 This chicken pozole is great recipe for the fall, which I am awaiting anxiously. Nothing like 70 degrees temperature for an al fresco dinner while enjoying a soothing dish.