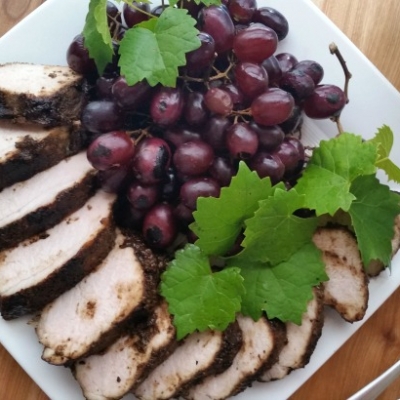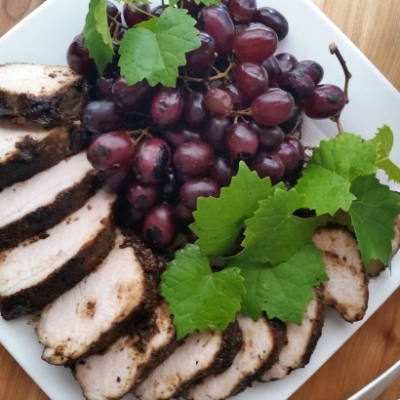 Grilled Pork Loin with Grapes
This recipe for grilled pork loin with grapes is a flavorful alternative for the holidays. It is easy to make and you can grill inside the oven. Grapes are also a good addition since add sweetness and are a good paring with the bitterness of the coffee.
1

pork loin

2 pounds

2

tablespoons

of olive oil

2

tablespoons

of instant coffee

1

tablespoon

of chicken bouillon

1

teaspoon

of ground black pepper

1

teaspoon

of garlic powder

1

teaspoon

of Mexican oregano

1

full vine of red grapes
Place the pork loin on a pan and cover well with the olive oil. This will allow the rub to stick to the meat.

For the rub combine all the ingredients of the list on a bowl t and mix well using a whisk.

Season the pork loin on both sides with this rub and sear on the grill until getting the grilling marks on both sides.

Finish cooking the pork loin inside the oven for 20 minutes at 400 degrees Fahrenheit until getting an internal temperature of 150 degrees Fahrenheit. Let the cooked pork loin rest before cutting.

Place the grapes on a roasting pan and drizzle with olive oil, turn on the broiler and grill for 2 minutes until blistering.