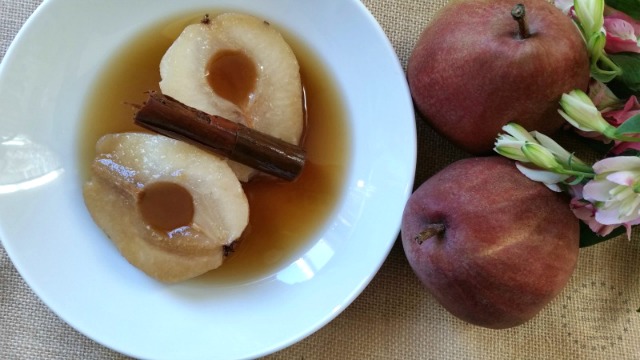 Poached Red Anjou Pears in Cinnamon Syrup
Inspired on a family recipe for poached apples I decided to make Poached Red Anjou Pears in Cinnamon Syrup, simple and humble yet cozy dessert for the fall and winter seasons
Start by peeling the pears and cutting in halves. Using a melon baller remove the core where the seeds and with your hands remove the stem or leave if desired.

In a medium size pan add the sugar, the cinnamon stick and the water.

Then add the pears and cook at medium heat covered for 15 minutes.

When ready serve on a nice plate and enjoy at room temperature.

If desired you can serve with vanilla ice-cream or fresh whipped cream.