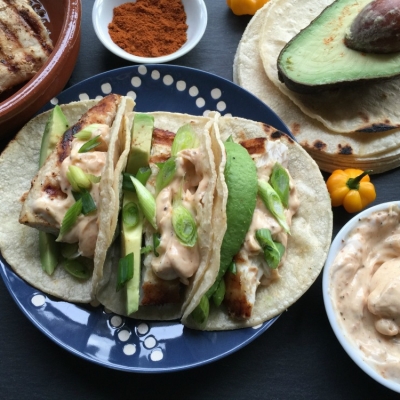 Spicy Mayo Fish Tacos Recipe
The McCormick® Spicy Mayo Fish Tacos are a yummy idea not only for Taco Tuesday but for a family gathering or to repurpose leftover grilled fish for a weekly meal. These tacos have with grilled mahi-mahi fish fillets and spicy mayo sauce.
2

Mahi Mahi fish fillets

1/2

of a lime

1/2

teaspoon

of McCormick ground cumin

1/2

teaspoon

of McCormick® smoked paprika

1

pinch

of McCormick® coarse ground pepper

1

cup

of McCormick® Mayonesa con Jugo de Limón

1

teaspoon

of McCormick ground cumin

1

teaspoon

of McCormick® Hot Shot with ground red and black pepper

1

yellow habanero chopped

6

warm corn tortillas

6

slices of avocado

1/2

cup

of chopped green onions
Start seasoning the fish with lemon, cumin, the black pepper and smoked paprika.

Grill the fish for 3-5 minutes per side on high flame. Mahi Mahi fish cooks very fast so try to not overcook and set aside.

Then prepare the spicy mayo sauce combining all the ingredients of the list.

For serving the tacos, stuff the warm tortillas with a slice of grilled Mahi Mahi fish, then add a slice of avocado and garnish with the spicy mayo sauce and chopped green onions.

This dish is perfect for parties I am sure you will love the flavors and your guests will be surprised with a nice taco bite.
The grilling technique is the perfect solution when entertaining at home as it allows cooking for a large party while enjoying with everyone aside from the fact that the grill also adds an exceptional flavor to proteins and veggies too.
Using McCormick Mayonesa con Jugo de Limón is a flavorful way to create delicious sauces and then when adding paprika and the kick of the red and black pepper makes it a delicate sauce that can go well for dipping fresh carrots, cucumbers, and celery sticks.
Serving:
0
g
Carbohydrates:
0
g
Protein:
0
g
Fat:
0
g
Saturated Fat:
0
g
Polyunsaturated Fat:
0
g
Monounsaturated Fat:
0
g
Trans Fat:
0
g
Cholesterol:
0
mg
Sodium:
0
mg
Potassium:
0
mg
Fiber:
0
g
Sugar:
0
g
Vitamin A:
0
IU
Vitamin C:
0
mg
Calcium:
0
mg
Iron:
0
mg