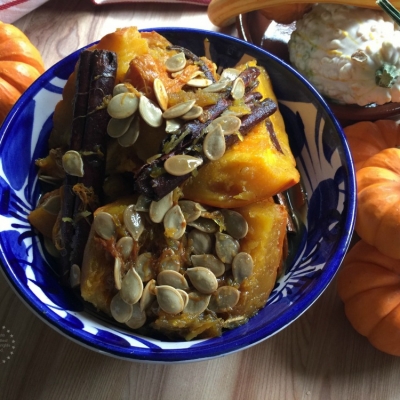 Candied Pumpkin Mexican Style
The candied pumpkin is very simple to make. You just need a pumpkin cut in pieces, water, piloncillo and cinnamon sticks.
1

medium size pumpkin

around 10 pieces

3

piloncillo cones

2

cinnamon sticks

4

cups of water
Clean and cut the pumpkin in eight to ten pieces depending the size. Do not remove the seeds. Those taste very nice after cooked.

Place the pumpkin pieces inside a big pot and add the piloncillo, the cinnamon sticks and the water.

Cover the pot and cook for 15 - 20 minutes on medium heat. The pumpkin cooks fast, When tender it will be ready. You can scoop the cooked flesh with a spoon and eat warm. Or refrigerate and eat cold.