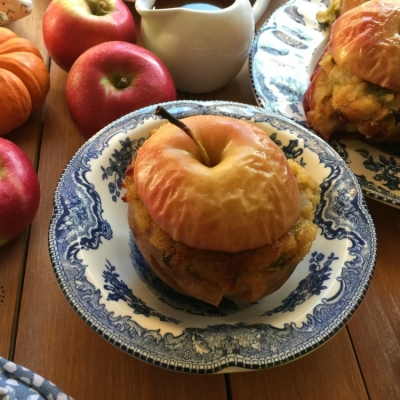 Stuffing Stuffed Apples
The stuffing stuffed apples are made with cornbread muffins, green onions, celery, apple pieces, chopped vidalia onions and butter. All combined with thyme, black pepper and chicken bouillon in powder.
Cut the apples on the top and with a melon baller remove some of the apple pulp to the point that you make a vessel for stuffing the apple.

Chop the veggies and set aside. In a sautéing pan add the butter and sauté the onions, the celery, and the apples. Season with the spices.

Crumble the cornbread muffins and add on top of the veggies. Combine well and add the apple cider.

Place the apples in a baking pan and stuff them with the cornbread stuffing. Add 1 cup of apple cider to the bottom of the dish and bake at 400 degrees Fahrenheit for 20 minutos.

Take out of the oven and serve with Chipotle Apple Beer Pork Loin or with another meat like turkey, lamb or chicken.