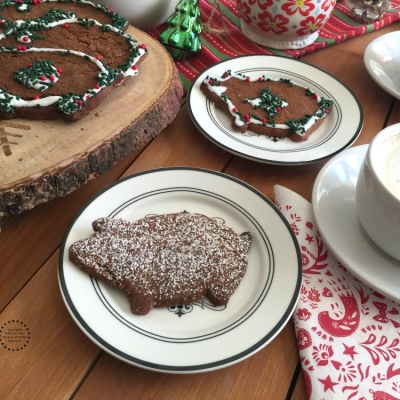 Mexican Piloncillo Ginger Cookies
Mexican Piloncillo Ginger Cookies are inspired in the "marranitos" or little pig cookies, a Mexican tradition for the holidays.
Sift the flour with the baking soda and set aside. Add the salt, the ginger and the butter and combine. You can use the stand up mixer for that.

Add the egg and the piloncillo syrup until getting a firm consistency. Take the dough of the the bowl and refrigerate for 30 minutes covered.

On a firm surface sprinkle some flour and using the rolling pin flatten the dough. Cut the cookies using a piggy cookie cutter. Cover the baking tray with parchment paper and place the cookies.

Set the oven on the cookie baking temp and bake for 15 minutes. Take out of the oven and let them get cold.

Using cookie frosting and sprinkles decorate cookies. Or simply dust the cookies with confectioners sugar and serve with a cup of frothy coffee.