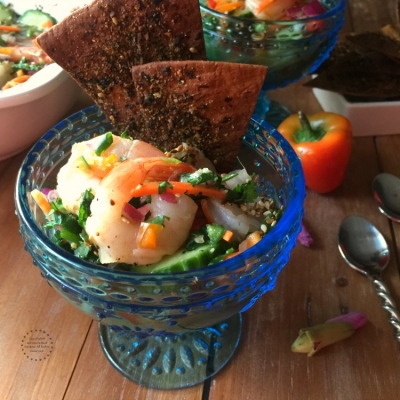 Thai Shrimp Ceviche
A yummy Thai Shrimp Ceviche for enjoying with friends this football season. It is a simple appetizer to make, with fresh ingredients and ready in few minutes.
1

package

of Flatout Bread

cut in triangules

1/3

cup

of Asian seasoning

with black sesame seeds, dried ginger, black pepper, cayenne pepper

6

dried salted shrimps

1/2

cup

of Meyer Lemon juice

1/3

cup

of orange juice

1/3

cup

of low sodium soy sauce

1

teaspoon

of fresh ginger paste

1

teaspoon

of fresh garlic paste

1

cup

of purple onion

chopped

2

cups

of shredded carrots

2

cups

of English cucumbers

cut in thin rounds

2

red sweet peppers

chopped

1

yellow sweet pepper

chopped

1/2

cup

of green onions

chopped

2

serrano peppers

chopped

5

mint leaves

chopped

1/2

cup

of cilantro leaves

chopped

1

tablespoon

of toasted sesame seeds

1

pound

of frozen precooked shrimps

medium size
First cut the Flatout Bred in triangles using a pizza cutter. Place the pieces in a baking sheet and spray with oil. Sprinkle the flat bread pieces with the Asian seasonings and bake until golden brown.

Add the citrus juice to a bowl and combine with the dried shrimps, the ginger paste, the soy sauce and the garlic paste. Whisk until all ingredients come together.

Then add one by one the rest of the ingredients leaving the shrimps as the last step. Then combine well and cover with plastic wrap.

Refrigerate for 15 minutes before serving. Serve in individual cups and garnish with toasted sesame seeds.

Pair the Thai ceviche with the flat bread crisps and enjoy.