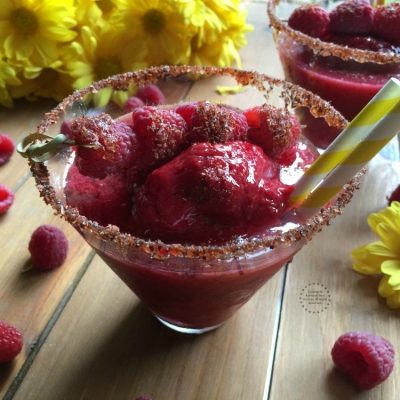 Frozen Raspberry Chamoy Margarita
This frozen raspberry chamoy margarita has only five ingredients. Fresh and frozen raspberries, orange juice, honey, chamoy and white tequila. Ready in few minutes too!
1

cup

orange juice

3

cups

frozen raspberries

1/2

cup

honey

2

tablespoons

chamoy in powder

2

ounces

tequila

1/2

cup

fresh raspberries

4

bamboo sticks
In the Vitamix add the orange juice first. Then the honey and the frozen raspberries. Blend with the lid on and using the speed marked with a little snowflake for a few minutes until the mixture has a soft serve consistency.

In order to keep the ice cream with the correct soft serve consistency, remove from the blender and add to a container with lid. Keep it inside the freezer until ready to use.

You will need margarita glasses. Adding chamoy to the rim for presentation and flavor contrast. To make the rim add honey to a dish. In another plate add the chamoy powder. Dip the edge of the glass into the honey first and then pass it over the chamoy powder. The honey will allow the chamoy to stick.

Prepare the garnish with fresh raspberries and bamboo chopsticks. Add some honey to the raspberries on a stick and sprinkle with more chamoy.

Serve the frozen margaritas adding two tablespoons of the raspberry ice cream and the add tequila. Decorate with the fresh raspberries on a stick and festive straws.
If you do not find raspberries you can use blackberries or strawberries. The result will be exquisite either way.