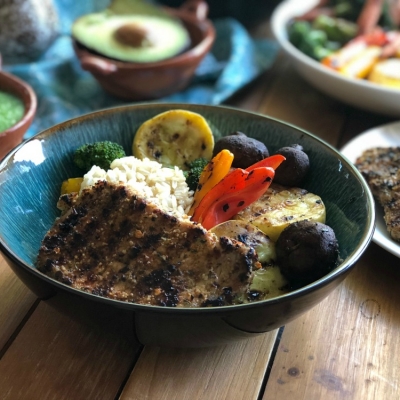 Grilled Smokey Pork Chops Dinner
Delicious grilled smokey boneless pork chops marinated with chipotle and Mexican spices and then cooked on the grill. Served two ways. Option one is a bowl with grilled seasonal vegetables and brown rice. And option two is a fresh salad with grilled tomato and avocado. Two full meals ready in just minutes.
8

boneless pork chops

1

teaspoon

chipotle flakes

1

teaspoon

Mexican oregano

1

teaspoon

garlic powder

1

teaspoon

cumin

1

tablespoon

latino seasoning

can be replaced with salt and pepper

4

cups

mixed veggies

broccoli, carrots, snow peas, sweet peppers, yellow zucchini, portabella mushrooms

4

cups

brown rice

cooked

4

cups

field greens

1

avocado

1 tomato, 1 lime, olive oil
Prepare the rub by mixing all the spices and season the boneless pork chops on both sides.

Cook the pork chops stove top on a grilling pan for few minutes.

Grill the veggies and set aside. Cook brown rice and grill a tomato.

Serve the grilled boneless pork chops on a bowl paired with the grilled veggies and brown rice.

Or serve as a salad over a bed of filed greens paired with a grilled tomato and avocado slices. Drizzle lemon juice and olive oil.
Thin boneless pork chops cook fast. Avoid overcooking by grilling on both sides for 3-5 minutes until the center reaches 145 degrees F (65 degrees C).
This recipe is intended for serving the pork chops two ways and have the chance to enjoy two meals in two different days.
Every meal that embraces Mexican flavors includes a salsa verde, avocado and corn tortillas to be considered an authentic food experience.